The History of The Tenor Narrated
The History of Jose Mojica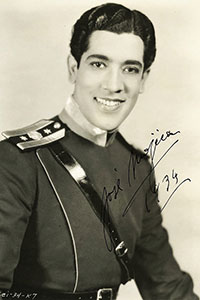 Born: September 14, 1895
Died: September 20, 1974
Mexican Tenor
Fray José de Guadalupe Mojica was a Mexican Franciscan friar and former tenor and film actor. He was known in the music and film fields as José Mojica.
Mojica joined the world of the American film industry before entering religious life. Together with Dolores del Río, Tito Guízar, Ramón Novarro and Lupe Vélez, he was among the few Mexican people who made history in the early years of Hollywood. Regarding his activity as a friar, singer and actor, he felt that religion and art have never been at conflict. If God gave me the grace of voice and singing skills, I use them for His glory, he explained.
The versatility of Mojica is reflected in his extensive discography, which he recorded for Edison[7] and the Victor Talking Machine Company.
By the time Mojica recorded for Edison in 1925, he had become an important figure at the Chicago Opera, moving into principal roles. He left Edison and joined the Victor roster in 1927 and made several successful early sound films. He moved comfortably during the 1930s through the worlds of opera, film, and concerts, but left this milieu in 1943 to become a priest. Like Edison, Mojica would eventually become completely deaf.
His popular musical recordings show an attractive lyrical voice being used with skill and imagination in songs such as Júrame, composed for Mojica by María Grever, released by Victor in 1927. The song became an instant success and has been recorded by countless singers over the years.