The History of The Tenor Narrated
The History of Ludovic Spiess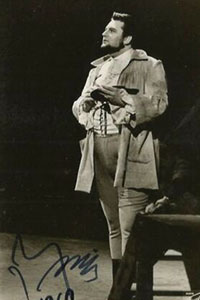 Born: 13th May 1938
Died: January 28 2006
Romanian Tenor
Ludovic Spiess enjoyed an impressive career as a tenor with a weighty voice and appreciable artistry for 14 years before being forced to give up because of damaged vocal cords; he later became minister of culture in the post-Communist government in the early 1990s and was director of the Romanian Opera from 2001 until last year.
Spiess made his stage debut as the Duke of Mantua in Rigoletto at the Romanian city of Galati in 1962, and won a singing competition in Toulouse and made his first appearance as Cavaradossi in Tosca at the Bucharest Opera two years later.
In 1967 Herbert von Karajan discovered his talents and invited him to the the Salzburg Festival to appear as Dmitri, the False Pretender, in Mussorsgsky's Boris Godunov, a performance recorded by Decca.
The following year Spiess joined the Zurich Opera, where he remained as principal tenor for some years. He had a big success at the Vienna Opera in Smetana's Dalibor and then as Radames in Aida, taking the role to the Met in New York in 1971 and Covent Garden two years later.
His career also took him to Buenos Aires, the Stuttgart Opera, the summer festival at the Verona Arena and the Bregenz Festival, where he sang another of his favourite parts, Don José in Carmen. His other roles included Calaf in Turandot, Florestan in Fidelio and Lohengrin.
Ludovic Spiess was born on May 13 1938 at the Romanian city of Cluj, and brought up in an area redolent of folklore and German culture. He left school to work in a factory at Brasov, where he joined the chorus of the works choir, in which he quickly demonstrated his talent.
After four years, he went to the town's Lyric Theatre before moving to the National Opera, where his fine physique led him to be teased that he was "born with a barrel chest".
As well as appearing on the opera stage, Spiess was celebrated as a concert artist. Four years ago, BBC Legends issued a recording him at the Festival Hall singing in Mahler's Das Lied von der Erde in 1975 with Janet Baker and conducted by Rudolf Kempe; it is a fair souvenir of his singing, which was notable for its heroic quality, flexibility and expressiveness.
After giving up singing, Spiess briefly served as culture minister in the Iliescu government. He returned to music as chief administrator of the National Opera from 2001 to 2005. But his management skills were criticized during the period, which was marked by strikes over low pay.
Ludovic Spiess, who died out hunting in a southern Romanian forest on January 28 2006, was known for his love of food and his pipe collection.