The History of The Tenor Narrated
The History of Jan Kiepura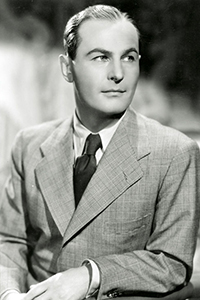 Born: 16th of May 1902
Died: August 15th, 1966
Polish tenor.
Born on the 16th of May 1902 in Sosnowiec, a quite small yet industrial town in Poland, Jan Kiepura was certainly not born in the ideal circumstances for becoming a star.
Kiepura discovered his singing voice in his youth, thus he started singing in a school choir. He wasn't set on a singing career at the time, however. His parents wanted Jan, as well as his brother W?adis?aw, to learn a real trade. Sent by his parents to Warsaw in 1920, Jan Kiepura applied to study law at the University of Warsaw, to which he was admitted in 1921. During his law studies he took singing lessons under Wac?aw Brzezin'ski (and under Tadeusz Leliwa).
Before Kiepura's modest (but actual) début he had to deal with some competition, namely Dygas and Gruszczyn'ski – the two main tenors at the time in Warsaw. Reportedly, when word got around about Kiepura's voice, it was especially tenor Dygas who got anxious regarding the newcomer. Dygas was keen on hindering Kiepura's attempts to break through as a solo singer. Hence, even though Kiepura was supported by his teacher Brzezin'ski, he began his singing in the chorus at the Wielki Theater in Warsaw. His take on the humble role of a mountaineer in the opera 'Halka' (Moniuszko) in 1924, was the very first time he could showcase his voice as soloist in an opera. He also gave his first concert in 1924.
His big début was on February 11th 1925 in the opera Faust (Gounod), also on the boards of the Wielki Theater in Warsaw. The audience that evening was in for a surprise, for the tenor to sing Faust, Dobosz, would not appear. Just before the opera started, the audience was informed that instead of Dobosz, Jan Kiepura would sing the role of Faust. The name Kiepura hardly rang a bell at that moment in time. In his biography of the tenor, Jerzy Waldorff describes the performance that evening of February the 11th. Waldorff recalls the sharp contrast between the initial disappointment of the audience due to the absence of Dobosz, and the growing enthusiasm during the performance, which started by stupefaction from the first notes Kiepura emitted, climaxing in a standing ovation at the end. In the following months Kiepura gained popularity singing in Rigoletto (Verdi), Halka (Moniuszko) and Cavalleria Rusticana (Mascagni) at the Warsawian Wielki Theater.
In 1926 Puccini's Tosca and Gianni Schicchi were added to his repertoire as well as Straszny dwór by Moniuszko. Having gained considerable popularity, Kiepura had quite a few engagements in Poland, yet he wanted to try his luck abroad, specifically in Paris. Passing by Vienna he decided to contact F. Schalk, the director of the Vienna Opera House. Schalk was very impressed with Kiepura and offered him the role of Mario Cavadarossi (Tosca), which would make his début at the Vienna Staatsoper. Kiepura was yet again replacing someone, the ill partner of soprano Jeritza. Schalk asked Kiepura: 'Can you sing in Italian?', to which Kiepura replied assuredly: 'But of course!'.
Thus, Kiepura sang Cavadarossi opposite Maria Jeritza in Tosca. And what a performance that was! The audience was so excited by Kiepura's 'Recondita Armonia' in Italian, it did not matter that immediately after the aria Kiepura switched to Polish, not being as sure of his Italian as he was in his answer to Schalk. The performance was a fantastic success; the Viennese newspapers labeled him 'King of tenors' and even ' Caruso's successor'. In light of the success, Kiepura was offered the taxing role of Calaf in Puccini's Turandot in the same year (15 October 1926) at the Vienna Staatsoper. He premiered the role out of Italy. In 1929 Jan Kiepura debuted at La Scala (Milan) where he sang Mario Cavadarossi (Tosca) and in 1931 Des Grieux (Manon Lescaut).
By 1937 Kiepura had married Martha Eggerth, a singer and actress, with whom he appeared in many movies as well as in a production of 'The merry widow' on Broadway. The merry widow was such a success that the production toured throughout the U.S.A. as well as Western Europe, and was sung in four different languages. Kiepura acquired great fame in the '30s, shifting the emphasis from opera to the big screen. On January the 10th 1938 he debuted at the Metropolitan in New York as Rodolfo in Puccini's La Boheme. Kiepura also sang in Tosca, Bizet's Carmen, and Verdi's Rigoletto at the Metropolitan until 1942. The duke of Mantua (Rigoletto) was regarded as his best role.
His golden timbre and overall generosity towards the public made Kiepura very popular. Neither the opera house boards, nor Broadway bühne, nor film sets were his only stages: arriving in Poland by train, being already famous, awaiting fans cried out 'Sing, Jasiu!' – and he did: broadly smiled Kiepura was always ready to sing for fans, and did so on many occasions.
Kiepura's voice was an outpouring of a rich, warm tone: powerful and generous singing forte, sweet and honeyed when singing piano. Equipped with such an instrument he managed to sing roles throughout virtually the entire tenor fach. He did, however, stay away from the most taxing and heavy roles such as Otello. Besides being successful as an operatic singer he was also a prolific singing movie star. One of the songs for which he was so famous was 'Brunetki i blondynki' (R. Stolz and M.Halicz) from the movie 'I love all women' (1935). The song was written for him and served as a display of the unparalleled richness and spontaneity in his voice.
His technique allowed him to sing concerts well into his sixties. Unfortunately a heart attack ended his life prematurely when he was still active as a singer. Jan Kiepura died on August 15th, 1966.