The History of Alessandro Bonci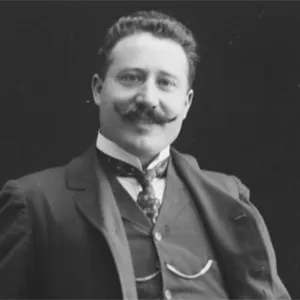 Born: February 10, 1870
Died: August 10, 1940
Italian Tenor.
Coming into the tenors born in the 1870s, we immediately encounter one of the old schools favorite sons, the celebrated Italian Alessandro Bonci, born near Bologna in February 1870. Renowned as one of the great bel canto experts of the century.
Some idea of the great determination of some of these singers, to make the grade, may be shown by young Alessandro's example.
Being poor, he had to walk 18 miles every day, nine miles there and nine miles back, to attend the Conservatorio at Pessaro, and he studied there for five years.
His La scala debut took place in 1896 as Aturo in Puritane. The role written especially for Rubini, you may remember. And he appeared there for many subsequent seasons.
Before coming to Covent Garden in 1900, to sing La bohème with Melba and Journee, he appeared successfully in Saint Petersburg, Vienna, Berlin, Lisbon, and Madrid.
At Covent Garden he appeared also in Rigoletto and returned there in 1903 to be acclaimed in Rigoletto, the Barber of Seville and Lucia de Lammermuir with Chi de Rofu making his Covent Garden debut. And finally, in La bohème with Melba and Scottie.
The Times hailing his performance as being unequaled for the beauty of the acting, and sincerity of his singing, his repose giving him distinctly an advantage over all his predecessors.
Here to start with then, is Bonci and one of his Covent Garden roles, Fra Poco from Lucia de Lammamuir
Fra Poco A Me Recovero / Lucia / 1906 – Alessandro Bonci
We already know a little of the Manhattan Metropolitan rivalry mentioned during discussion of our last singer.
By 1906, Oscar Hammerstein had gathered a formidable company of French and Italian Artists including Nancona, Arimondi, Dunalda, Dalmoes, Calvi, Renault and Melba. And he was on the look-out for a tenor to rival Caruso at the Metropolitan.
Bonci was engaged and made his debut there in his favourite showpiece in Puritani.
Enthusiasm for Bonci was so great, that encores entry was greeted with cries of "Viva Bonci" and the tenor received a roaring welcome, when he, at last appeared. The critic of 'the sun' reported that he used his voice like a great artist and stressed his delicacy, refinement, grace, and elegance.
A Te O cara / Puritani / 1905 – Alessandro Bonci
After further appearances at Covent Garden in 1907, where he appeared with Kurtz, Journee, Sammarco, Scotty, Vanimarcoo, Dunalda and Melba, he returned to New York.
His success had been so great at the Manhattan, that Conread, the Metropolitan manager, made strenuous efforts to attract him and succeeded. Bonci joining the metropolitan company for season 1907 – 1908.
Hammerstein took legal action but could not retain him, however he pulled another rabbit, or to be more correct, rabbits out of the hat, by replacing Bonci with not one, but two tenors, who were to become very famous, Giovanni Zenetello and of course, our old friend Constantino.
So it was, that on the 22nd of November 1907, that Bonci made his Metropolitan debut in Rigoletto, his colleagues being Zembrich, Stratchiari and Jurni. Of course, although Bonci had been the star tenor at the Manhatten, he was obliged to concede a first place to Caruso at the metropolitan.
No position was ever so secure as Caruso's pre-eminence as the world's greatest tenor.
Bonci sang 25 times during that first metropolitan season; Caruso sang 51 times.
His colleagues including Aaims, Gatski, Shaudeapi, Zimbra Scotty and Campinari.
He returned to Covent Garden in 1908, what turned out to be his last season, there singing in Boheme once, three times in Lucia delammamuir, six times in the Barber of Seville, one in Faust and three of the Pearl-Fishers with Tetrudeannie and Zammarco.
Time for a record, here is Donisetti, Lisi di Amoriara
Una Furtiva Lagrima / L'Elisir / 1905 – Alessandro Bonci
Bonci recorded for Phonotapaya, Edison and Colombia, a total of some 137 published titles.
Since he was an uneven singer and as the voice did not wear too well, the earlier the recording the better, and this means the phonotapaya, for whom he recorded from 1905 to 1908.
He did in fact, make six electrical sides for Colombia in 1926 in Milan, but these are not representative of the singer at anything like his best, indeed his entire Columbus series is uneven in quality and tone.
His original records were scarce and expensive. I well remember, while in London doing my national service and receiving the princely sum of 18 shillings and sixpence per week, I held Boncis celebrated phontapaya record of Spirito Gentil from La Favarito in my hands and Ronald Phillips's famous collectors corner shop in Shaftesbury Avenue.
Eyes glistening, I tangently asked how much? "5 guineas" replied Philips, without as much as a blink. 6 weeks' pay in other words.
I'll leave you to work out of current equivalent.
Spirito Gentil / Favorita / 1905 – Alessandro Bonci
Bonci continued to sing at the metropolitan until 1910. Although he spent part of 1909 at the Cologne in Bunos Aires, where he was joined by Shalyiapine, Mestizo, Darkly, Horatio, De Luca, Gerodonee and Rufo.
He sang there again in 1911 and in 1914 after appearances in Madrid. There he sang with the new sensation, Emilite Garricoursi.
In 1914 he was one of the judges in the international singing competition at Clarma, which caused a great stir at the time. The winner was Beniamino Gigli, whom Bonci new and had arranged lessons for three years previously.
1918 saw him back at the Cologne and he joined the Chicago opera company for the 1919 1920 season.
He bade farewell to Italy in 1922 at the Constanzi Theatre in Rome and retired to Milan.
He died on the 8th of August 1940 at Veterba near Rimini.
Finally then, let's hear him at his best again in a phonotapaya, this time Inverdi, the splendid restitive anaria from Rigoletto, Elemi Furapita and Parmi Veder Illagrimi, a favourite version of mine.
Parmi Veder / Rigoletto / 1907 – Alessandro Bonci

The History as it was Recorded