The History of Fernand Ansseau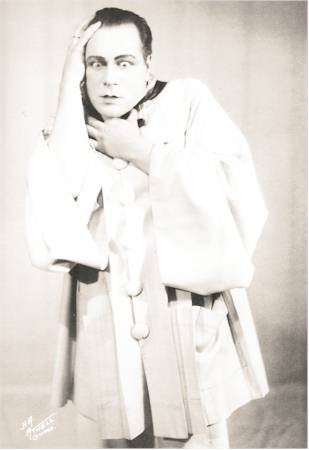 Born: 6 March 1890
Died: 1 May 1972
Belgian Tenor
From the point of view of this survey, conducted as it is, in chronological order, no two years were so rich in producing tenor talent as 1890 and 1891. Because no fewer than eight tenors of international importance and consequence were born then.
And as cosmopolitan mixed as they were. Comprising as they did, of two Italians, a Yugoslav, a Dane, a Belgium, an Austrian, a Russian and a Spaniard.
The Belgian was Fernand Ansseau, born near Mons, in 1890.
His teacher at school has noticed his voice already, and has him singing, short solos in the children's choir.
And as he grows, he sings in Masses and Vespas in the church where his father is organist.
He is further encouraged by a tourist and passes an audition before the director of Mons Conservatory.
Further encouragement finds him auditioning at Brussels Conservatoire, at the age of 17. He is accepted on trial.
After two years, he wins second prize, as a Baritone. He is unhappy and nearly gives up, but his teacher persuades him to carry on and puts him in with the tenors. Three more years, and he merges with the glittering first prize.
He is off!
His career can be divided into three parts.
From 1913 to 1919, he starts to build a reputation and gets himself a repertoire.
His debut was in Dijon in 1913, in the difficult role of Jean in Massaneet's Herodiade.
Next morning, he reads 'The great principal actor in this triumph, is without doubt, Fernand Ansseau.
Truly a character tenor with a voice clear as crystal.
His is certainly one of the most beautiful, if not, the most beautiful tenors that we have had heard.
Also, with a great ovation he received from the enthusiastic house.
It was this flame of recognition of his talents, on his first night in Dijon, which would decide his whole career, his whole life.
Other parts in Dijon included, being in Carmen, Seigard, Faust and Luiz.
Just as offers start to pour in, from all parts, war breaks out and Germany occupies Belgium for four years.
This stops his progress. Now he has to limit his appearances to Belgium. And much charity work has to be undertaken for the victims of the war.
At last, the ordeal is over and Ansseau takes part in the reopening of Belgium's greatest house, La Monnaie, on the 21st of December 1918.
This great theater, saw the original debuts of such great stars as Calvi 1882, Renault 1883, Rose Callan 1887, Melba 1887, Journee 1893, and Litvi's French Caria in 1887. And it would be home ground for Ansseau all during his career.
In 1919 he appeared there in Manon, Ruiz, Pagliacci, Rigoletto, and Aida, and of course, he was now able to travel and that meant Covent Garden, for he made his debut on the 23rd of May 1919 in Mano with that lovely French soprano, Louise Edvina.
The Aria, a fuege du semage, the famous duet had to be repeated. A rare occasion at Covent Garden at this time.
Further appearances were in Faust with Melba, and Albert Coortz, Romeo and Juliet again with Melba, under Beecham, and Tosca with Edvina, and Pagliacci with Donalda.
Unfortunately, he did not record the famous Mano duet with Edvina, but later in his career, he recorded it with Fanny Heldy.
Here is a sample.
St Sulpice Scene w Heldy / Manon / 1928 – Fernand Ansseau
Starting now on the second part of his career, Ansseau appeared at the opera Comique in Paris in 1920, as Vetra, Don Jose, Cavaradossi, and Degree and again in 1921, this time in a celebrated re-adaptation of Gluck's Orpheus, originally a castrato role as we already know.
The editor of the review Lyrica reported:
Ansseau has one of the finest tenor voices that I know. Of remarkable evenness, a powerful voice tempered by a kind of velvet. Which makes even the loudest sounds, hit you without pain. And the timbre never becomes strident.

His work on Orpheus has developed in him, gifts of flexibility, he has acquired a mezza voce, C to G, which is charming to the ear.
The noble style, grand and fine effort, considerable success.
What Is Life / Alceste / 1929 – Fernand Ansseau
In 1922, Ansseau sang at the Monte Carlo opera, in La Damnation de Faust with Dan Gigli, and again at La Monnait, before setting sail for his first American season in Chicago, and what a season.
Samson and Delilah his debut, Romeo and Juliet, Herodiade, Carmen, Louise, Faust, Maunivana, (French Opera to the fore again in the windy city, you'll notice) and in Orfanos's resurrection, and Monte Mezzo's L'Amore Dei Tre Re. Both with Mary Garden and the Russian baritone Baklinoff.
So, they were making him earn his money.
In October 1923, he also gives special performance of the San Francisco opera, Samson and Delilah with D'Álvarez and Journee.
It was a tremendous success. Ansseau had to take twelve curtain calls after the second act, and there was also L'amore Dei Tre Re with Journee, who is truly remarkable as the old blind king, with voice and gesture who made the old Archibald an unforgettable portrayal.
And to close, an outstanding performance of Aida with Ansseau, Muzio, Fer Mique, D'Álvarez and Journee.
That's what I call, making the most of your resources!
Returning to Europe, he was engaged by the Paris opera for Lohengrin, before going back to Chicago for season 1924/25.
Much the same as before, Carmen with Fermique, Louise with Fannimarcoo as the father, Romeo, Samson and adding a famous revival of Verta, with Mary Garden to the list.
Ansseau reminisced later, that Garden had the audience in tears.
Something new for him, there, was Tosca with a villainous Baklinoff le Scarpia and Claudia Muzio as Tosca.
With Ansseau considered, with all due respect to others, as a truly exceptional artist.
It seems that both Muzio and her manager were keen to get Ansseau to travel to South America and then La Scala, the usual routine for them, after the Chicago season.
But he would not agree, his holiday came first, his leisure time was sacred to him.
Air De Prinzivalle / Monna Vanna / 1929 – Fernand Ansseau
1925/26 season, Ansseau in company with Chicago Opera, undertook a vast journey across America, which took him from San Francisco to Miami, and passed through Los Angeles, Denver, Boston, Philadelphia, Washington, Cleveland, Detroit, Buffalo etc.
He was at Chicago again for the 1926/27 season, still the same favorite with the crowds, singing all their old favorites, and ending with two performances of Romeo and Juliet with Galli-Curci.
At the conclusion of the Chicago season, he returned to Europe. First call was Covent Garden for Mano with Heldy, Tosca with Selunberg Constabili alternating with Hyslop, if I remember correctly.
And Carmen with La Sherka before appearing at the Paris opera and then home based with Le Monnait for Tosca and Pagliacci.
His last Chicago season was in 1927/28, as always with the same success, he appeared in all the standard roles of his repertoire.
This for example.
Recondita Armonia / Tosca /1927 – Fernand Ansseau
Returning to Europe at the end of 1928, Ansseau was again at Covent Garden for Samson and Delilah with Falchezka.
Carmen with Journee and Tosca with Gruenberg and Stabile, and then home to Le Monet for performances there.
1929/1930, found him regularly at Le Monet and the Paris opera.
In Paris he sings in Herodiade, Samson and Monnovana. From then on, he decides to travel no more, and restricts his appearances to Belgium and France.
And so, begins, the third and final stage of his career.
From 1930 to 1939, he finds his name appearing at all the leading theaters of Belgium and France.
The Paris opera, the Opera Comique, Monte Carlo, Nice, Cannes, Marseille, Liro Leon, Antwerp and Luige, and of course, his beloved La Monet in Brussels, but he makes his farewell in February 1939 in Pagliacci.
Ansseau then taught for two years, at Brussels Conservatoire, before retiring to his garden, his odd jobs, his bowls, his angling and his archery, a man of many parts.
He died on the 1st of May 1972 in Brussels, aged 82.
Ansseau recorded exclusively for HMV.
Thirty-three acoustic sides between 1919 and 1925 and thirty-three electric sides between 1926 and 1930.
There appears to be three unpublished items included in these sixty-six sides.
O Dolce Incanto (Dream) / Manon / 1919 – Fernand Ansseau

The History as it was Recorded