The History of Antonio Cortis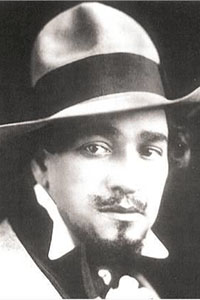 Born: 12 August 1891
Died: 2 April 1952
Spanish Tenor
The Spanish tenor born in 1891, was Antonio Cortis.
Along with Latharo and Fleta, who we have already heard, he completes the brilliant Spanish Tenor trio of this period.
He was born on August 12th, on board ship, on which his mother was returning home from Algiers.
A sad return, as his father had died eight days earlier on August 4th.
The family moved to Madrid in 1898, and it was here that young Antonio received his first music lessons, being entered at the royal Conservatory at the age of 8. He beat both Latharo and Fleta to the Real Theater, because he sang there as a boy contralto at the age of 12.
He attended an audition at the Lissio, for a job in the chorus when he was twenty and ended up with a comprimario contract for the smaller solo parts.
And in 1915, when the management of the Real, offered him engagements as a utility tenor, (a sort of second first tenor), he promptly accepted.
It was the following year 1916, that he made his debut in a leading role, Cavaradossi in Tosca, at the theatre Espanyol in Barcelona.
He was engaged for the Cologne in Buenos Aires in 1917, with a comprimario. And sang in performances there with Caruso in the lead.
They became friends and Caruso wanted him to return to New York with him.
The news of the arrival of his baby daughter decided his return home. After singing in Madrid and Barcelona during 1918 and 19, he traveled to Italy and was heard in Naples and Vari before signing a three-year contract for the Constanza in Rome in 1920.
Between his Constanza season's, he sailed for South America and made the usual rounds there, Buenos Aires, Rio de Janeiro, and Montevideo, before traveling to Berlin in 1923, to make a series of recordings for the Parlaphone company.
Here then, is one of those early records. The Aria, Avete Torto from Puccini's Yani Schicchi
Avete Torto / Schicchi / 1923 – Antonio Cortis
1924 was a red-letter year for Cortis.
After making a sensational debut in Havana in Tosca, he was offered a contract for the Chicago opera, but before his debut there, he took part in a tour of Cuba, Puerto Rico, Caracas, and Bogota. (The other big name in the company being Tita Ruffo).
Then back to his apartment in Italy, to prepare two operas outside his repertoire. Complete with the necessary costumes, shining new, for his Chicago debut, which took place on November the 3rd in la Giaconda. His companions being Raisa, Formice, and Kipnes.
The other tenors on the Chicago roster for 1924, included Schipa, Picaver and Hackett. But Cortis did more than hold his own, singing in Rochia, Boheme, Mefistofele and Boris Godunov in addition to Giaconda. And he had the added pleasure of joining his illustrious companions Chaliapin, Dalmonte, Stable, and Muzzio.
Before his next Chicago season, he was heard in San Francisco, where he teamed up with Muzzio, Fermice, Journee, Dalvarez and Rosina Tori.
Cortis was a shining star in Chicago, along with Tito Schipa, and Ferno Ansal. And was engaged there, every season, from 1924 to 1932, the year of the great depression. When the opera, like almost everything else, went bankrupt.
For his final season there, he had, like everyone else, taken a 20% cut in salary, but even at that, was of no avail.
A couple of years later, opera returned to Chicago on a shoestring budget, and it slowly began to climb back to becoming America's second most important house. But Cortis, never returned.
Ah Non me Ridestar / Werther / 1930 – Antonio Cortis
During his years at Chicago, Cortis had of course appeared elsewhere between seasons. San Francisco has already been mentioned.
Other important cities visited included Los Angeles, Santiago, Valparaiso, Valencia, Barcelona, Milan (la Scala) the Verona arena, Naples, Florence, Turin, and Monte Carlo.
His Covent Garden debut was on the 2nd of June 1931 in Turandot with Maria Demit and Adenine Arena under Barbarelli, how I would loved to have heard that. And he also sang there with Rosa Concelle in Romani's Fedora.
After the collapse in America, Cortis returned to Europe, like most of the other foreign opera stars of the US opera houses.
He sang in Barcelona in 1933 and all over Italy in 1934 and 1935. But he sensed of the coming of war and returned to Spain, buying a house in Valencia, and singing now only in Spain.
Unfortunately, he had jumped from the frying pan into the fire, right into the beginning of the horrendous Spanish civil war. And he spent the next four years, dodging the bombs and bullets like everyone else.
Indeed, after a performance at the Alessio in Barcelona in 1939, he was knocked unconscious by an exploding nearby bomb and came to, to discover himself, badly bruised but otherwise unhurt.
1940 to 1950 were hard times in Europe and Cortis sang only in the principal cities of Spain and Portugal.
In 1951 he took ill, with an intestinal hemorrhage. Lingered on until April the 2nd 1952 when he died in Valencia
Nessun Dorma / Turandot / 1929 – Antonio Cortis
Cortis recorded four Spanish items for a little-known Spanish company in 1918.
No transfers of these have ever come to light. And another rare group are his 20 acoustic items for gramophone.
Recorded in Berlin in 1923, better known and the finest of his records are his electricals.
11 items for Victor recorded in the USA, between 1925 and 1927 and 20 items recorded in Milan for HMV between 1929 and 1933.
Collectors all over the world have long cherished his recording of the two Arias from Giordano's rare opera, La Chenna de la Beffe.
Nobody else seems to have recorded them both and there is really no need for anyone to try. As they could hardly be bettered.
The first aria describes his resentment at being scorned by a hated rival and his desire for revenge, and his final laugh tells us that he means to have it.
While the second describes his revenge, when he enters the naughty lady's bedroom window.
She, being accustomed to nocturnal visits and proceeds to perform the role usually taken by his rival.
Mi Svestri / C-Beffe / 1927 – Antonio Cortis
Ah' Che Tormento C/Beffe /1927 – Antonio Cortis

The History as it was Recorded