The History of The Tenor Narrated
The History of Piero Schiavazzi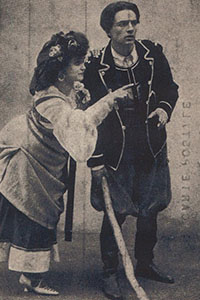 Born: 1875
Died: 1949
Sardinian tenor.
Piero Schiavazzi (1875-1949) was a Sardinian tenor who was active on the stages of Europe and America during the first three decades of the 20th century. Born in Cagliari, he spent his childhood in poverty, working as a painter's assistant. From an early age, he gained a great deal of attention for his singing and performed chorus and comprimario parts with the local opera company. At the age of 20, Schiavazzi was sent to study at Pesaro's Liceo Musicale Rossini, his tuition covered by a fund from his home town. It was here that he became acquainted with Pietro Mascagni, then director of the school. Schiavazzi was still a student when Mascagni entrusted him with creating the role of the Ragman in the premiere of Iris at Rome's Teatro Costanzi in 1898. The young tenor's friendship with Mascagni proved to be fortuitous, and the composer helped to guide his career. After one final student production at the Liceo Musicale (the title role in Mascagni's Silvano), Schiavazzi left the school and found himself taking on a number of roles in quick succession. There was Rodolfo in La Bohème, Turiddu in Cavalleria Rusticana, Edgardo in Lucia di Lammermoor, des Grieux in Manon Lescaut, the title role in Roméo et Juliette and the lead tenor role of Osaka in Iris…all within a four-month period.
By the early 1900s, Schiavazzi's reputation was spreading throughout Italy. He sang the first Naples performances of Mascagni's Le Maschere at the San Carlo in 1901 and was Giorgio in the Italian premiere of the same composer's Amica at Rome's Teatro Costanzi in May of 1905. His La Scala debut came about on March 7, 1906 as Prince Dmitri in Alfano's Risurrezione. By this time, the tenor was in demand throughout Europe and North Africa, with performances in Rome, Bari, Pisa, Bologna, Genoa, Venice, Turin, Lisbon, Barcelona, Odessa, Bucharest, Cairo and London.
In the fall of 1902, Schiavazzi made his North American debut in a series of concert performances. Reports that the tenor sang with the Metropolitan Opera are erroneous. Schiavazzi DID sing one performance at the Metropolitan Opera House in New York, but it was not actually under the auspices of the company itself. The tenor's appearance in New York was as part of a tour by the Mascagni Opera Company (a troupe assembled by the composer himself) which, in spite of the auspicious venue, played to a half-filled house. A tour of North America followed with appearances in Boston, Philadelphia, Scranton, Chicago, Fort Wayne, Indianapolis, Los Angeles and other cities, but with mixed results. Legal battles ensued, with Mascagni being arrested during a performance in Winnepeg! Although the tour was largely a failure, audiences went wild over Schiavazzi's boyish good looks and exciting vocalism and the tenor garnered some of the finest reviews of his career. It is interesting to note that, in spite of their friendship, there was friction between Schiavazzi and Mascagni. A report in the Musical Courier from September 5, 1908 states, "At the last performance of 'Iris' at Livorno, finding that the tenor Schiavazzi was too much applauded, thus detracting from the intensity of the ovation tendered the composer, Mascagni suddenly left his orchestral seat and absolutely refused to return." The two men, it would seem, managed to patch up any differences that arose from this incident.
Schiavazzi enjoyed enormous popularity in South America with appearances at the major houses of São Paulo, Buenos Aires, Valparaiso and Santiago. He returned to Italy at the beginning WWI and spent two years in the service of his country. After returning to civilian life, Schiavazzi became a matinee idol of sorts, starring in over 20 silent films. He also made a name for himself as a painter and caricaturist. Schiavazzi continued his operatic career until the early 1930s and concentrated on teaching and directing after his retirement from the stage. He passed away in Rome on May 25, 1949 at the age of 74.
Schiavazzi was a versatile singer whose repertoire of some 80 roles encompassed Italian, French, German and even Russian opera. It was in the verismo school, however, that the tenor made his mark, even if it stretched his voice to its limits. The Musical News in 1906 stated, "Signor Schiavazzi is a brilliant tenor who sings with refinement, but he often exaggerates his expression, and his emission is false and makes one fear for the duration of his career." The tenor's recordings, made for G&T, Pathé and Fonotipia between 1903 and 1909, reveal these exaggerated effects, particularly in the spreading of the vowels in the upper notes. In spite of pushing his voice to cope with the demands of the music, Schiavazzi is a remarkably effective singer on records. Here, Schiavazzi sings "Addio alla madre" from Mascagni's Cavalleria Rusticana. This recording was made in Milan for Fonotipia on October 25, 1906.