The History of The Tenor Narrated
The History of Piero Schiavazzi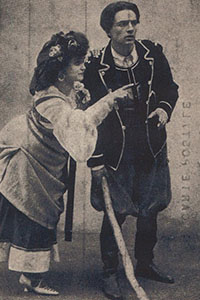 Born: 1875
Died: 1949
Sardinian tenor.
The Sardinian tenor, Piero Schiavazzi was born in March 1875, and studied singing under Mascagni himself, at Pezero.
He made his debut in 1899 in a Mascagni opera, Silviano.  Like his soul mate, Barnardo DeMuro, he was more interested in the elemental passions of the new verismo school, bel canto was not for him.
And for the first 15 years of the century, his impetuous, aggressive, and fiery portrayals, sent Latin audiences the world over, into raptures.
His final appearance was in Fedora in Palermo in 1924.
He died in Rome in 1949.
His Phonotapaya and Pathe records have always been very hard to find.
The one we are going to hear, is from Mascagni's Cavalleria Rusticana.  The scene leading up to the duo.  His partner being Ferruccio Corradetti.