The History of The Tenor Narrated
The History of Alessandro Valente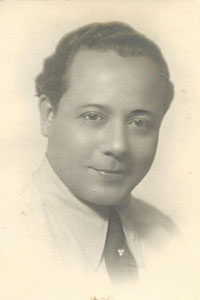 Born: Born 9 Jan 1890 Turin
Died: Died 7 Oct 1958
Italian tenor.
The earliest was Alessandro Valente, who holds a special place in my memory, because he was one of only two singers introduced to me by my father, the other being Tetrazzini.
I would have been 13 years old then and we discovered that there was only one record of each in the current HMV catalogue of 1941.  Both eagerly snapped up.
Valente was born in Turin in 1890, and turns up at the Hippodrome in London, in 1912, with an Italian troop under the baton of the composer Mascagni.
War came, and he disappeared into the Italian army.  Reappearing in Vodivol, again in London.
As far as I know, no one has ever found out why Miguel Fleta, who was an exclusive HMV celebrity artist and who had created the role of Calli in Puccini's last opera, Turandot, did not record the two great tenor Arias from the opera.  For some inexplicable reason, Valente was chosen by Fred Ginzburg, the HMV Recording manager.
The record was a great success, and this led to Valente recording a short series, 19 titles in all, plus the first complete electrical recording of Leon Cavalla's Pagliacci.  But all issued on the cheaper from label.
One Sunday afternoon in the 1950s, his Nessun Dorma from Turandot was broadcast by the BBC, and record shops were inundated with requests for the record, which of course had been deleted for many years.
Such was the public response, that HMV were persuaded to reissue the disc.
This time, however, the record appeared on the prestigious red label series.
Valente's final elevation to celebrity status, was a quarter of a century after the original record was first offered to the public.
Naturally every tenor since, have recorded a Nessun Dorma, Valente was first and I've always thought, best.