The History of Carlo Bergonzi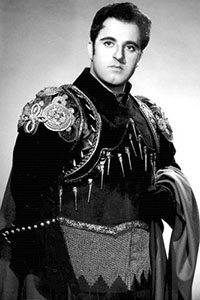 Born:13 July 1924
Died: 25 July 2014
Italian Tenor
More than any other Italian tenor on record, he combines power, beauty, intensity, and elegance.
He's a tenor with fewer faults per 100 grooves than any other.
Jon Steane.
A superior vocal civilization.
Magda Olivero.
He is only to open his mouth, and sing a single phrase, for all the instinctive impulses that bind me to Verdi, to spring alive.
Rodolfo Solette.
A miracle.
Jon Vickers.
His voice is a beautiful quality, well-modulated and well defined. He uses it with taste and discretion, with a sure elegant and lively sense of lime. His characterizations, if not very individual, ring true and at his best, he the most winning Italian tenor of his time.
Harold Rosenthal
All students of tenor singing, should, as an obligatory part of their education, listen as often as possible, to him in Verdi.
Dr. Ardishere Combater.
Quando Le Sere / L-Miller / 1958 – Carlo Bergonzi
That was a Quando Le Sere from Verdi's, Louisa Miller, recorded in 1958.
Carlo Bergonzi was born on the 13th of July 1924, in the hamlet of Vidalenzo, just four kilometers from Verdi's Villa, at San Agatha and equally close to his birthplace of Busseto.
So, it seems, that destiny had a hand in producing this great Verdi specialist.
His father, a cheese maker by profession, was an ardent opera lover and introduced his little son to opera, at the age of six. Taking him to see a performance of il Trovatore, in Posseto.
Next day, he was found in the family kitchen, brandishing cooking utensils in lieu of Manrico's sword and singing at the top of his voice, what he could remember of il Quillapiera.
Later he was on call, at local churches singing countless Ave Marias, and been told, by one and all, that he should have his voice trained properly.
His decision to finally take this advice, came about in an unusual manner.
Working in the cheese factory, on a very hot August day, he was pushing a wheelbarrow, full of coal and singing away, probably to help ease the drudgery.
When the boss suddenly appeared out of the blue, 'either you work or sing' declared the boss. "You cannot do both at once", presumably expecting a humble Bergonzi to shut up and get on with it.
Hot, tired, and exasperated, young Carlo replied, 'that in that case, he preferred to sing' Flung away the wheelbarrow, and left the workplace forever.
Although only 14, a professional baritone named Grandini, heard him and as he was retiring shortly, offered to give the boy, singing lessons.
He remained with Grandini at Brescia, studying as a baritone, by the way, until the onset of the war, when he became an active anti-Nazi.
In 1943, he was captured by the Germans and spent the rest of the war in a German prisoner of war camp.
Time now, for another record.
Here is his 1967, Come Rugiada from Verdi's Ermani.
Come rugiada al cespite / Ernani / 1967 – Carlo Bergonzi
At the end of the war, his passion was feeling stronger than ever, he returned to Italy and enrolled as a full-time student, at the Boito Conservatory in Parma. Where he studied for three years.
His professor of singing at Parma, also classified him as a baritone, as did the famous operatic conductor Julio Serafini, for whom Bergonzi auditioned at La Scala, in 1947.
He, himself, always thought of himself as a tenor, but could hardly contradict such experienced authority.
And so it was, that at Letta in 1948, Carlo Bergonzi made his debut as Figaro in the Barber of Seville, as a baritone, and for the next three years, sang the baritone roles in Lucia de Lammermoor, Don Pasquale, Eliseev Damore, la Traviata, La Fuenciulla de la West, Adriano Macoeuvrer, and even Rigoletto where he replaced Tito Gobi.
And furthermore, he had the unique experience of singing next to six famous tenors, as Skipa, Dalveen, and Angelia.
Discovering himself, that he could effortlessly reach high 'C', he decided to change to the tenor register, using the gramophone record of four singers, as his only aids.
The singers were, Gigli, Pertile, Skipa and in his own words, the incomparable Caruso, whose voice sounded as if it had never needed any training at all.
Three months after deciding to switch to tenor, (a courageous decision for a young man, recently married, his wife was expecting their first baby), Bergonzi made his tenor debut as Andrea Chinai in 1951 at Bari
Come Un Del DI DI Maggio / Chenier / 1958 – Carlo Bergonzi
And to the new theatre in Milan, he sang his first Verdi tenor roles, as Ricardo in the Masked Ball, and Alvaro in La Forza del Destiny.
Then came Faust in Boito's Mephistopheles, at the Bass of Caracalla in Rome, and Alvaro in Catania Sicily, before his la Scala debut in 1953 in a new work – Napoli's La Paniello.
His first British appearance was in 1953, at the Stole theatre and his American debut was at the Chicago lyric opera in 1955, in Cavalleria Rusticana.
He also sang in il Pivaro and L'Amore dei tre re there, that season.
This led to his debut at the Metropolitan Opera, during the 1956/57 season, in Aida and Trovatore. The first of sixteen consecutive seasons there.
By now of course, he was in demand all over the world.
He began to make regular, annual, and variably triumphant appearances at the Verona arena.
In 1962, he made his Covent Garden debut in the Force of Destiny, and he returned to sing most of his Verdi and Puccini roles there.
He also started to appear regularly in Russia and South America and of course, he was to be heard in all the leading theatres in Italy.
Strangely, La Scala, in somewhat, lagged behind.
After further appearances there in 1955 and 1956, it was not until 1963, that he was heard there again and then they couldn't get enough of him.
Let's hear him now as Maurizio singing ardently of his love for Adriana Lecouvreur from Cilea's opera.
La Dolcissima / A-Lecouvreur / 1958 – Carlo Bergonzi
Bergonzi was a prolific recording artist and featured in many complete operas. Particularly during his prime years in the 60's.
Looking through my own operatic highlights for this survey, I was surprised to find him appearing on thirteen occasions. And of course, there is that now celebrated pre-records set for Philips, of Verdi Aria's which he recorded during the 70's.
From this set then, here is Sento Avvampar from Verdi's, Simoni Boccanegra.
Sento Avvampar / s-Boccanegra / 1970 – Carlo Bergonzi
Bergonzi's carefully trained voice was built to stand the test of time. So that when I heard him, in his now famous concert, in the Theatre Royal Glasgow on Sunday the 16th of May 1982, he was still in fine voice at 57.
Indeed, he was far from finished as an international star, appearing at Covent Garden in April 1985 with Joan Sullivan in Donizetti's Lucia de Lammermoor. To end with ovations and universal critical acclaim.
The Times stating that the attack and accuracy of this tenor remain undimmed and the way Bergonzi started his next step, could be a moral for all aspirant Edgardo's.
While opera felt that all young singers should make a point of seeing this performance as part of their education.
This concert was set up by a young amateur opera enthusiast, Dr. Rodrick MacLeod, of Glasgow, then aged, just 37.
And was a tribute, to just what an ordinary opera lover can achieve if determination and effort are combined with a bit of daring and resort.
So, what did he sound like at 57 then?
Well let's hear him in one of Tosti's songs "Malia", recorded less than a year, after the Glasgow concert.
Malia / Tosti / 1983 – Carlo Bergonzi
To conclude then, it must be Verdi.
From the 1965, Don Carlo, I've chosen that wonderfully dramatic and poignant ending to the opera, when Don Carlo secretly meets his beloved Elizabeth, sung here by Renata Tebaldi, who unfortunately is the wife of his father, King Phillip.
The lovers are surprised, and Don Carlo is handed over to the officers of the inquisition, to lead the unhappy Prince away, to an awful death.
But the final words, I leave to Bergonzi himself.
Singing is a great sacrifice, because it means you hardly ever get to really explore the cities you sing in and thus, lose the train of life, of a normal person. And the only thing that makes this bearable, is love for your work and for music.
If you don't feel this love, to an extraordinary degree, you cannot make these sacrifices.

There are many people with very beautiful voices, whose careers lasted only a very short time, because they weren't prepared to make sacrifices. It is something you must, yourself, feel with every fiber of your being.
If you do feel yourself to be a singer, then you simply throw yourself at it and if you have this passion plus a good voice, then you will succeed. That is the secret.
Carlo Bergonzi
Final w- Tebaldi / Don Carlos / 1965 – Carlo Bergonzi

The History as it was Recorded