The History of The Tenor Narrated
The History of Renato Zanelli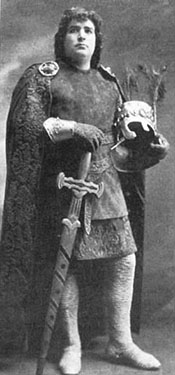 Born: April 1, 1892
Died: March 25, 1935
Chilean tenor.
Narrative 1
And now at long last, our first South American tenor appears in our survey.
Rather a surprise I think, considering the enormous popularity of opera in South America, that our survey has highlighted.
The Cologne in Buenos Aires is certainly one of the world's greatest houses. And they might have expected an Argentinian tenor perhaps, for strangely to this day, no Argentinian tenor of international consequence has appeared.
Nor has there other Latin American Brazil produced one either.
It is to little Chile, that we turn to introduce Renato Zanelli, our next subject.
Actually, his correct name was Renato Zanelli Morales and as his brother Carlo had made his debut in Italy as the baritone Carlo Morelli, he decided not to confuse matters and used his middle name for the stage.
His brother Carlo became quite well known in fact and recorded for Columbia. Renato himself was a baritone to begin with.
I personally have always considered him to be a better baritone than a tenor.
Indeed, his baritone records contain some memorable performances. But we're jumping the gun. Let's go back to square one.
He was born on the 1st of April 1892 in Valparaiso, his mother, a member of a distinguished Santiago family raised one daughter and seven sons.
He didn't stay long in Chile, for at the age of two, he was taken to Europe for his education, spending his time in Switzerland and Turin.
In 1910, at the age of 18 and having completed his education, he returned to Chile with two of his brothers to take over the responsibilities of his father's prosperous saltpetre factory in Valparaiso.
His lovely voice had already been noticed, but he had military service to undertake and then in 1915 he met and married Donna Rusi Roaldan of Santiago, and it was in Santiago that they settled.
It was here that he met Angelo Kerez, a voice teacher of note in Chile and it was he, who became his teacher for three years.
Kereze correctly placed him as a baritone, and so it was that in July of 1916, that the 25 year old Zanelli made his debut as Valentine in Faust, in the beautiful theatre Municipale of Santiago.
During 1917 he sang in Trovatori and Pagliacci there, before spreading his wings in Montevideo and Buenos Aires.
He now returned his thoughts to Italy, but again, as so often in our survey, the war intervened and he chose instead to introduce himself to a fellow South American, then singing regularly at the metropolitan. That fine bassoff Andrea Porella Iserfuerola.
Iserguerola immediately saw the great possibilities in the singer. And after arranging some concerts introduced him to Gaetti Casazza, the metropolitan manager. The result of which, was a contract for the 1919/1920 season.
The Victor company also got wind of the new find and signed him up for an exclusive contract. Indeed, he had six recording sessions with them, all as a baritone of course, before his metropolitan debut.
The debut was in November the 19th, 1919 at Amanasro in Aida. With another debutant Gabriella Betzazone. Muzio and Martinelli were also in the cast.
And he was to add roles in Pagliacci with Caruso and Muzio, the Force of Destiny with Consell, and then Rimsky's Korsakoff, the Golden Cockerel, in which he sang with Maria Barrientos that season.
So, our first records must show him as a baritone, for he is unique, in that he is the only singer in this survey, to have been one of the world's finest baritones and then become one of the world's finest tenors.
Both baritone and tenor gramophone records appearing only on Victor, Red Celebrity label. 21 sides as a baritone, 3 unissued and 14 as a tenor.
Narrative 2
In 1920, Zanelli was heard in Chicago for the first time, singing in Trovatore, Aida, Carmen and Pagliacci there. And then he was in Havana, before a tour through eastern Canada and the eastern States of America.
Back at the Metropolitan for 1921, he sang in Aida with Muzzio and Martinez, and in La fort de Celestino with Crème and Martínez, as well as several concerts on the metropolitan stage.
These concerts of operatic events by the great singers being extremely popular in those days.
1922 saw him a member of the metropolitan company on tour in western America, and then later in the year back at the Met itself, for Pagliacci with Boret and Salazar, Faust with Fahrar and Martinelli and Aida with Muzzio, Salazar, and Martinez. In 1923 his metropolitan appearances included, Trovatore, Lucia and Pagliacci.
Now 31 years old, Zanelli was not entirely happy with his progress at the metropolitan. Most of the choice's baritone roles, Gaetti Casazza gave to his fellow Italians, Amato, DeLuca, or Scotti. So, when he was offered his contract for 1924, he turned it down.
Deciding a change was needed. He went on a concert tour of South America ending of course, in his native Chile. He gave a final New York concert on October 28th, 1923, as a baritone. Before setting sail for Italy with his brother, who also wanted to study singing.
Little knowing that he was about to embark upon an entirely new career.
Here he is as a baritone singing an Aria from Catalano's La Wally
Narrative 3
In Milan with his brother, Zanelli visited some voice specialists, for their opinions and decided to change his register. After a year of intense study, he made his tenor debut at the San Carlo in Naples in les Eugenols on Oct 28th, 1924. Appearances in Turin, Rome, Palermo, and Florence followed, and it was in Florence that he began to study Othello, the role which was to give him his greatest tenor success.
After a visit home and fulfilling of a contract in Cairo, he first sang Othello at the end of October 1926 in Turin at the Regio, and he was a failure.
He redoubled his studies to perfect the role, but it was as Lohengrin in 1927, that he experienced great enthusiasm for the first time as a tenor, from both critics and public.
Now came the turning point. Othello at Parma and Potenza in 1928 was universally acclaimed.
Covent Garden called later that year and his appearances there in Othello were highly praised. Indeed, he was back again the following year for further performances.
The Cologne in Buenos Aires heard him in 1928, with Tita Ruffo, Viago, and then back to a hero's welcome in Chile where he sang in Tristan, Othello, Pagliacci and Lohengrin.
Here he is in Andrea Chenier, telling his accusers that he was once a soldier
Narrative 4
In 1929, Zanelli was in Rome with Otello, Norma and Valkyrie, before his La Scala debut later that year.
He sang at La Scala, until 1933, his Tristan being particularly popular there, in addition to Otello. He had a greater role for 1931, Giuseppe's, Rose Chinyere.
The opera was well received and Zanelli highly praised.
To drop out of the repertoire after a time. In 1933 Zanelli returned to the cologne of Buenos Aires. Then to Santiago, before making a reappearance in the United States in 1934. His first visit there since he sang at his baritone concert in 1923.
Contracts were signed for operatic appearances, but he was heard only in concerts and radio, as he was already suffering from the illness that was to cause his death.
Doctors were consulted and cancer was diagnosed. But the decision to operate, was postponed.
He returned to Chile for a rest, and underwent an operation for cancer of the kidneys, on the 21st of March 1955.
The operation came too late, and he never regained consciousness, and died just a week before his 43rd birthday.
Here he is then, singing the great monologue, Dio Mi Potevi from Otello. Generally considered to be his finest contribution to the gramophone