The History of Giacomo Lauri-Volpi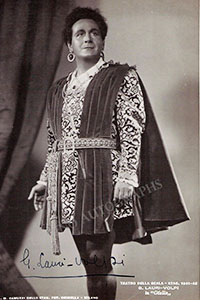 Born: December 11, 1892
Died: March 17, 1979
Italian Tenor.
The date was the 9th of May 1947, the venue, the Royal Albert Hall in London.
An expected audience was eagerly awaiting the first reappearance after the war, of a much-loved artist.
Among the most excited was a young soldier, getting his very first opportunity, to hear an artist of international standing.
Stanford Robinson the conductor, led him in.
Small, thinning, in evening dress, with one small medal in his lapel.
Great applause.
Hushed silence.
Nod to the conductor…
E Lucevan Le Stelle / Tosca / 1946 – Giacomo Lauri-Volpi
Cielo E Mar / Gioconda / 1946 – Giacomo Lauri-Volpi
That was Giacomo Lauri-Volpi. Recorded in 1947, the year I saw and heard him that evening.
I was overwhelmed, he was magnificent, or so I thought, and yet the people in the foyer at the interval were saying that he was past his best now.
Wonder what he was like 15 years ago. Does all this sound familiar?
I hope so, because I chose the same words to describe our imaginary visit to hear Mario way back in Tape 4.
I was pointing out then, how fortunate were those with access to sound recording. In Mario's case, we would never have known, how he sounded earlier in his career.
In Lauri-Volpi's case, I can choose any of his eighty odd recordings or three complete operas.
And indeed, he does sound very much better 15 years earlier.
Again, I say, how fortunate we are compared to those who have gone before us.
He was born on the 11th of December 1894 near Rome.
When the time he was 11 years old, he had lost both his parents.
He was sent to the Albane seminary, and it was here that he had his first music lessons.
He was a keen student and studied law at Rome university, from which he duly graduated.
His vent towards music could not be curbed however, and he auditioned for a place at the Academy of Santa Cecilia. He was placed second, and was assigned to Catone, the great baritone as a pupil.
As we've already noticed with many other tenors of this period, the outbreak of the Great War affected his progress. He had a distinguished military record, serving on three fronts, wearing three decorations, and quickly rising to the rank of captain. When we stop to think of it, he could quite easily have been killed and we would never have heard of him.
After the war, he returned to Rome, but Cantone had died, and he did not agree with the methods of his new teacher. So, he took private lessons from Rosati, Guili's teacher.
He auditioned for Emma Corelle at the Constanza and was given a treasured contract for the 1920 season.
Meantime he was told to gain some experience.
So it was, on the 2nd of September 1919, at little Viterbo, outside Rome, Giacomo Lauri-Volpi made his brilliant debut in Bellini's very difficult Il Puritani.
It was on the 3rd of January 1920, that he made his Constanza debut in Masani's Mano with Storchio and Pinza. And he was immediately successful. Indeed, this Mano ran for 15 performances.
With the entire Constanze company, he embarked on his first trip to South America, but he was not in the best of health and was only moderately successful. He actually broke his contract to return home to make his first series of records.
This with the Phonotapaya company in 1920.
I do not know of any other tenor who made gramophone records, the same year of his major debut.
And yet, frustratingly, for record collectors, he was to be largely neglected during his best years.
Yet in demand again when he was past his best.
After some further appearances, in Italy at Trieste, Genoa,  Milan and Bologna, he ventured abroad for a second time, this time to Spain. He sang at the Real in Madrid, in Boheme, Tosca, Faust, La Favorita, and Puritani with Ballientos. And then at the Lessio, in Barcelona, in Mano, La Favorita, and Rigoletto, with Berloni Bargeze. In between, he was at Monte Carlo.
Here is a wonderful example of his Il Puritani debut role Arturo, A Te O Cara.
A Te O Cara / Puritani / 1928 – Giacomo Lauri-Volpi
In 1922, Lauri-Volpi visited South America for a second time. Mascagni was in the company and asked him to sing in his Cavalieri Rusticana.
During rehearsals, Mascagni overwhelmed with joy at the tenors singing of his music, declared, 'my son, only Roberto Stanio, has sung to me as you have sung today. You will be the Tammagnio of the new generation of singers.
Of course, Lauri-Volpi was very flattered, but more importantly, Mascagni's remarks made him realize, that his voice was admirably suited to heavier roles than he had hithered to been singing.
His La Scala debut brought him into contact with Toscanini. Now these two men were never going to get on, because Lauri-Volpi had an enormous conceit. Tenors and Sopranos were the stars, the rest were there to make up the numbers.
During rehearsals of Rigoletto, Toscanini refused to let him sing the traditional cadenza, in la Donne Immobile. So, after a few performances he suddenly developed laryngitis, left La Scala and Toscanini, and made his way to New York, where he had secured a contract at the Metropolitan Opera.
His debut on the 26th of January 1923 in Rigoletto with Galli-Curci, De Luca and Routhier, was not particularly successful.
But further appearances in Boheme, Traviata, Tosca and The Barber began to attract more attention.
His second Metropolitan season 1923/24, saw him add Andrea Chinae and Lewadara Hore, and in the next 1924/25 season, he sang Radames in Aida for the first time, and a new Montemezze opera Giovanni Galareze, which you may remember, as originally meant for Martinelli who took ill.
His Covent Garden debut was on the 2nd of July 1925, in Andrea Chinae with Margaret Sheridan and Franchi.
Well received but not raved about.
Paris heard him next, in what should have been a fascinating Tosca with Mary Garden and Vanimarcou.
A few performances in Italy, then back to the Met for 1925/26 season. New operas there included La Giaconda, Lucia, L'Africaine, Faust and Yanischiki.
1926 also saw a triumphant tour of South America.
At the Cologne, he sang his first Trovatore with Muzio and in Pagliacci.
He also sang in Turandot and Carmen, for the first time that season, and he was back again in 1927, adding to his growing fame.
His big Metropolitan event from 1927 was the North American premiere of Turandot, which he sang with Yeritza and DeLuca. The other outstanding venture that season being Spontini's, La Vistali, with Lauri-Volpi and Ponselle.
Two new Metropolitan roles were included for 1928.
Monrico in "Il Travatore", which brought forth the following:
Better performances have not been given since the fabulous days of Caruso.
His singing so spirited and white hot, from the anvil of what seemed realistic passion, that even in musicians in the orchestra, lifted their geided heads at the end of the scene, rose in a body to join the general uproar of applause and cheers.

The other new role was in Bellini's "Norma" and while nothing from the Trovatore was recorded, (why ever not one wonders), he made his "Meco Al Nar" from Norma at this time.
Mecco Al 'Tar / Norma / 1928 – Giacomo Lauri-Volpi
Before his 1929 Met season, Lauri-Volpi was heard in Rome, and in the Cologne, Buenos Aires.
His only new role at the metropolitan was Pagliacci.
He was a member of La Scala company at Berlin in 1929 and then came a Grand Tour of Europe, finishing in Paris, where he had the unusual experience of singing at both the opera and the Oprah Comique, in quick succession.
His 1930 Met season was cut short in order to take part in a Centenary performance of William Tell, at La Scala. But not before a famous run of Verdi's "Louisa Milla" with Lauri-Volpi, Poncelle, Telva, DeLuca and Pazzaro.
After the "Tell", he sang in Rome in Naples, before visiting the Cologne once again.
For the 1931 Met season, he introduced his "Tell", his only new role that season. 1932 there was no new role for the Met but for 1933 he sang in Mano, La Sonneambula, before leaving with most of the other Italians, because of the great slump.
His rivalry with Gigli at the Metropolitan, was legendary. At times, comic.
With Gigli getting $1500 performance, Lauri-Volpi held out for more.
He was offered $1500 and 10cents, which he accepted with great delight, so that could boast his salary was higher than Gigli's.
And then, there is the famous telegram from Joffrey Tori, of Covent Garden trying to engage either Gigli or Laurie-Volpi for 1934.
Gigli indignantly refuses, and Lauri-Volpi will never recover from insult of my offer, returning London immediately.
So now, as in Gigli's case, he could be heard all over Italy during the regular seasons.
The Florence Festival in 1933 in a brilliant William Tell, which was heard and seen by our own Desmond Shaw Taylor:
Lauri-Volpi combines a charm of mezzavoche, and a distinction of phrasing, at times reminiscent of Lucia himself. And with some robust singing which must rank among the best heard since Caruso. After an excellent C Sharp, in Atiocara, he electrified an already well enthusiastic audience, in the third act, by taking and holding two genuine High D's.
After that, I almost expected him to attempt the High Fs in the subsequent ensemble, a feat unattempted, I suppose, since Rubini himself. 1934 saw him in Rome, singing in Rigoletto, in La China Del Abethe, then Paris where he was acclaimed in Tosca.
On 28th April 1926, he reappeared at Covent Garden after an absence of 11 years.
He sang in Rigoletto, Tosca, and in Aida with Rutberg and Pinza.
He recorded the great Nile scene from Aida, complete with Rutberg and DeLuca in 1930.
One of the treasures of the Gramophone. Here is the final trio.
Nile Scene w Reth w De Luca / Aida / 1929 – Giacomo Lauri-Volpi
Lauri-Volpi was at the Florence Festival in 1937. And then in Buenos Aires, in Rio, singing in Aida, Trovatore, Tosca, Louisa Miller and Andrea Chinae. 1938, saw him in Rome, and in Belgrade at the instigation of the Italian propaganda minister, Alfieri.
A long tour now followed in Belgium and Germany, before his 1939 appearances at Monte Carlo in the Cologne, Buenos Aires.
After performances of Turandot at LA Scala Milan, and his first Otello portrayal, he was called upon by Mussolini, (whose favorite tenor he was), for act of service and immediately promoted to Colonel.
However, he turns up in Spain at the Alessio, Boheme with Catzia, and Aida with Bosetti and Tagliabui, and at La Scala for the 50th anniversary of Pagliacci. And in 1942, he is at Balboa and Bordeaux.
1943 sees him in Rome and other Italian cities, but the allied advance makes things rather hot for our tenor, who makes a hasty exit to Spain via Paris.
Lauri-Volpi now settled in Spain for the rest of the war, frequently singing in Madrid, Barcelona, Seville, he also sang in Portugal during 1944.
He returned to Italy in 1946, for the big revival of William Tell at the Constanza. Also singing, Andrea Chinae, Trovatore and Tosca there.
In 1947 he sang in a much-publicised Mano, at the Constanza, where he walked out, after falling out with the young prima-donna, who would not take his advice of his long experience.
Then came the concert that I attended, interestingly Lauri-Volpi mentions this in a subsequent concert in one of his books.
Stating that the "English were harsh and as always, apathetic and dividint".
By the way, Lauri-Volpi wrote five books in all and was an outstanding observer and critic of the local art during his long career.
Later in 1947, he did another of his Paris double bills, first of the opera Comique for Tosca, and then over to the opera for Rigoletto in Aida.
Three roles in five days for a man of 53, and he was not finished yet, before 1947 was out, he had sung in Copenhagen, Stockholm, and Paris again.
1948 finds him in Naples, Paris, and Brussels in Rigoletto and Boheme at the Mone.
In 1949, after a Concert in Italy, Giovanni Martinelli approaches him and suggests he comes back to the Metropolitan. As his voice is in such good condition, Martinelli assures him, he is much needed there.
Now Lauri-Volpi was singing regularly with a new generation of singers. In Rome in Louisa Miller in 1950, with Cornelia, Silvery and Nery. And in Tosca with Cornelia and Gobi.
In January 1951, he sang in Trovatore in Naples, under Serafin, with Callus, Elmo and Salvery.
In 1952, he is with Tebaldi, Barberie, and Nery in Aida. And at Rome again with Maria Callas in Il Puritani. Where the two great artists hurled out the top notes in brilliant fashion.
At the Viz Badin Festival, he sang in his old War Horse Trovatore, with Stella, Barberie, and Becki. And it is reported that that there were 64 curtain calls.
The Callus and Lauri-Volpi partnership continued into 1953 at Florence. But by 1954, he was being severely criticized for exaggerations and his inability to sustain a good vocal line.
Truth to tell, only the top notes were now left, but for many Italians that was enough, and his record collector discography, chose him still in action in 1957.
What a pity that he did not record more in his prime years.
He made a complete Trovatore in 1951, aged 57, and long past his best. But perhaps, even then, it catches a glimpse of that moment in 1928, when the jaded heads of the musicians in the Metropolitan Opera orchestra, rose from their seats in a body, to join in the general uproar of applause and cheers.
De Quella Pira / Trovatore / 1951 – Giacomo Lauri-Volpi

The History as it was Recorded