The History of The Tenor Narrated
The History of Giacomo Lauri-Volpi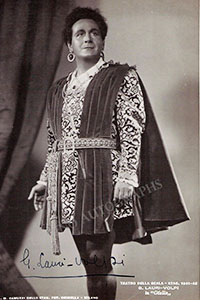 Born: December 11, 1892
Died: March 17, 1979
Italian tenor.
The intense, sometimes febrile art of Giacomo Lauri-Volpi seemed, during his early prime, a natural extension of his voice — powerful, edgy, and possessed of a rapid, nervous-sounding vibrato.
Described as "a law unto himself" by soprano Maria Carbone, Lauri-Volpi eventually settled into a somewhat more measured (though scarcely less competitive) artistry and may be considered one of the most important Italian tenors of his age.
He continued to sing well into his sixties, although by that time, mere loudness was the primary attraction.
An intelligent man behind the temperamental façade, he wrote perceptively of his own singing and that of other contemporary artists.
Following studies at Rome's Accademia di Santa Cecilia with Enrico Rosati and Antonio Cotogni, Lauri-Volpi made his stage debut in Viterbo in the role of Arturo in Bellini's I Puritani. He sang that 1919 production under the name of Giacomo Rubini. The following year, he introduced himself to Rome, singing the role of Des Grieux in Massenet's Manon (opposite the famous Rosina Storchio) as Giacomo Lauri-Volpi. His La Scala debut came in 1922 as the Duke and he remained an important singer there throughout the 1920s and 1930s.
Lauri-Volpi first appeared at the Metropolitan Opera on January 26, 1923, as the Duke, opening a decade-long relationship with that house singing, among other roles, the first American performance of Rodolfo in Verdi's Luisa Miller. He sang in the November 16, 1926, American premiere of Turandot, Calaf being a perfect match for his firm legato and brilliant top notes. The tenor's debut had brought a positive verdict from veteran critic W.J. Henderson who deemed his voice of "excellent quality," but questionable health held more comprehensive evaluation at bay. Subsequent seasons brought a greater appreciation of his gifts, although he never won the level of acclaim that greeted him in his native country. At the end of the 1932-1933 season, he was not re-engaged.
The tenor's debut at Covent Garden in 1925 as Andrea Chénier found the tenor's "top notes and Italian vulgarities" pleasing those in the gallery but not many others. Apparent fee problems kept Lauri-Volpi away from London until 1936, when he returned as the Duke in Rigoletto and refused, perhaps because of a tepid reception, to take even a single curtain call. As Radames and Cavaradossi, the tenor had better fortune, being well-received in both roles and, in the latter, showing his ability to out-sing a too-loud orchestra. His high fees, however, precluded a re-engagement.
Seasons at Paris and at the Teatro Colón in Buenos Aires brought generally positive reviews. Among honors in Italy were his assignment of the title role in Boito's Nerone to open the Teatro dell'Opera in Rome in 1928 and his engagement for the role of Arnold in La Scala's centenary mounting of Guillaume Tell. From the mid-1930s on, Lauri-Volpi's performances took place primarily in Italy and Spain. Although he retired at 67, he occasionally appeared at public occasions to sing an aria or two, most notably at Barcelona when, at age 80, he sang "Nessun dorma" from Turandot.
Lauri-Volpi wrote five volumes of memoirs and singing treatises, his two final publications, Voce parallele ( 1955) and Misteri della voce umana (1957), being the best-known and most influential. He was remembered by the public and colleagues alike as an uneven, but often electrifying singer.
~ Erik Eriksson, All Music Guide