The History of Plácido Domingo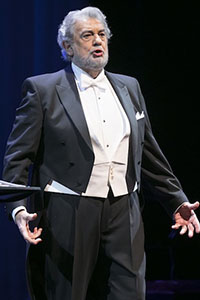 Born: 21 January 1941
Spanish Tenor
And so, at long last, to the final tape of our survey.
Placido Domingo appears out of chronological order of course. For he was born in Madrid, on the 21st of January 1941. Seven years earlier than Carreras and nine earlier than Araiza, two of our previous Spanish tenors.
However, as the reigning tenor of the day, it seemed appropriate that he should bring our main survey to a conclusion.
There are one or two others, who shall be mentioned later. They represent the younger generation, and our hopes for the future perhaps.
Meantime, at 49, the star of Domingo is at its zenith, truly a great singer actor, at the apex of his career.
To be a tenor today, one must be a combination of things.
One must have musical intelligence, a good physical appearance, and hopefully a charismatic stage presence.
Above all, one must be an experienced singer and actor. In a way, the voice need not even be the most important thing.
Of course, the voice counts for a lot. But to conjure up a vivid characterization, that's what's vital.
That's much more important, than coming on stage as a senior ex.
When all these qualities are wedded to a great voice, then one is in the presence of a great artist. And for me, Placido Domingo represents this ideal.
These remarks by Jose Carreras, illustrate perhaps better than any other, (knowing the keen rivalry that has always existed between the great tenors), the esteem in which Domingo is held today.
Well let's see if we can find some of these qualities in our first record.
Testa Adorata / Boheme (Leon) / 19xx – Plácido Domingo
That of course was the Teste Adorata from Leoncavallo's, La Boheme.
Domingo's parents were La Zarzuela singers. La Zarzuela being a kind of Spanish operetta. And they had their own company.
They moved from Spain to Mexico in 1949, when Placido was eight years old. So, he grew up with music and theatre in his blood, and he took part in many of the children's parts, in his parents' productions.
At the same time, he took piano and harmony lessons at the Conservatoire, but nursing a secret dream to become a bull fighter.
After his voice changed, he made his first stage appearance, as a drunk, in the chorus of, believe it or not, My Fair Lady, at the age of 16.
The next two years were spent singing in La Zarzuela, as a baritone. Even this range was giving him trouble at the top, and he began to consider giving up singing altogether.
He was already married and had a baby son. So, to make ends meet, he was sometimes to be found, playing the piano at various night clubs.
He was rescued by a singer friend, who urged him to give up this tedium and go for an audition at the local Opera House.
He sang the prologue from Pagliacci and in Nemico Della Patria from Andrea Chenier.
Yes, they liked his voice, but thought that he was a tenor. Would he try a tenor aria?
Placido had a go at, Amor ti vieta from Fedora, but cracked on the high A.
Undeterred, the panel affirmed, he was indeed a tenor and offered him a contract singing mainly small parts. What we know as comprimario roles.
Now he made his operatic debut as Borza, in Rigoletto 1959, a minor role and stayed on at the Mexico City Opera, for nearly three years.
His first major role there, being Alfredo in la Traviata, in 1960.
During this time, he had two very important engagements.
In 1961, he sang Arturo in il Puritani with Joan Sutherland at Dallas, his American debut.
Where did he find the top notes, I wonder?
And then Eduardo in Lucia de Lammermoor, at Fort Worth, opposite Lily Ponse.
Time for another record, surely a la Zarzuella in remembrance of those early beginnings.
SECOND ARIA – Plácido Domingo
In the autumn of 1962, Domingo left Mexico for Tel Aviv, in Israel.
With him, went his second wife, the soprano Marta Ornelas. By all accounts, a most astute and formidable women.
It was here in Tel Aviv, that Domingo began developing in earnest.
They worked hard on his voice, enlarging it in size and colour, as well as on its direction and projection.
He was still unsure of the very top notes and realised, that the reason for this, was his failure to support the voice properly from the diaphragm.
From a teacher friend, he set about learning the secrets of correct breath control, positioning himself against a piano in the process of pushing the thorax out during high notes.
In 1966, after nearly three years in Tel Aviv, Domingo sang in Washington, in Carmen, before joining the New York City opera.
He had sung in 300 performances in Israel, in 12 operas, most of them in Hebrew.
He made his debut in New York, in the title role of the Argentine composers Gina Stera's little known opera Don Rodrigo.
Now followed a string of international debuts.
The Hamburg opera, in Tosca.
The Berlin State Opera in the Masked Ball. And the Vienna State Opera in Don Carlo, all in 1967.
The Metropolitan Opera in 1968.
La Scala, Milan, in Irnani, in 1969.
Madrid in Giaconda in 1970. And Amiza Solemness at the Vatican, in the same year, with Pope Paul in attendance.
His metropolitan debut in 1968 was rather interesting.
He was rushed over from the city opera to replace Franco Corelli, who had called off, just 35 minutes before curtain-up.
The Opera was Adriana Le Couvrier.
Sitting in the buzzing audience, beside his excited father, was his good friend, Giacomo Aragall.
Song of the Sword / H / Sevillano / 1974 – Plácido Domingo
Into the 1970s, Domingo's international reputation, simply took wings.
Covent Garden, 1971.
San Francisco as Vasco da Gama, in L'Africaine, 1972.
The Sicilian Vespers in Paris, 1973.
Otello for the first time at Hamburg in Paris, in 1975.
Cavan Pag at the Lesion in Barcelona, in 1976 and again at Covent Garden.
His name on the new operatic gramophone records, guaranteed heavy sales all over the world. And of course, he was asked to record everything.
Only the early bel canto operas were omitted, they were left to the specialists.
On looking through my own collection for this survey, I was to discover highlights from 21 complete operas, and what a range.
Early, middle, and late Verdi. Puccini of course.
The Verismo composers, Mascagni, Giordano, Giulia.
The French operas, Carmen, Le Cid, Luis, Hoffman, the German Oberon, and even Bellini, his Norma. And there are many more.
He is now recording Wagner for example.
And we can see him on film and video. I have seen the films of Carmen, Traviata, and Otello. All outstanding in their own way.
For in addition to being a great singer, he's an outstanding actor. A fact which puts him on a pedestal of his own.
Who can forget, Lord Olivier's' impression of his film, of Otello for example.
"My God, not only does he act it, as well as I do, but the bastard sings it as well".
My own sad story of Domingo is to record my one and only failure, to obtain a ticket for a performance I desperately wanted to see.
Carmen at the Edinburgh Festival, with Teresa Braganza, singing the title role for her first time.
But I'm still keeping my fingers crossed.
Someday perhaps.
Meantime there's always the records. The next two give us a chance to sample his versatility.
Did you notice for example in the televised concert of The Three Tenors, that Domingo sang in French, German, Italian, and Spanish?
Here we hear his German, the Prayer from Weber's Oberon.
And his French, au Souverain from Massenet's Le Cid.
Prayer / Oberon / 1971 – Plácido Domingo
O Souverain / Le Cid / 1976 – Plácido Domingo
For some years now, Domingo has been developing his other musical love, conducting.
He takes this very seriously indeed and hopes to become a full-time conductor when his singing career is over.
He's already conducted at Covent Garden, Munich, Vienna State Opera, and the Metropolitan and the reviews have been encouraging so far.
His ambition is to conduct the entire opera repertoire, he sang as a tenor.
Like Pavarotti and Carreras, Domingo too has passed over that invisible line, between purely operatic fame and mass popularity.
Of course, there was his popular operatic films with the world-famous director, Zeffirelli.
But it was his expansion into popular music that drew him to the attention of the general public.
His record with John Denver "Perhaps Love", sold over half a million copies in the United States alone and he has continued, from time to time, to try and sing songs in the popular idiom.
His aim of course, is to try and attract a wider public to opera.
Who knows, he may have succeeded. Here is an example.
Si Vorai / Popular Song / 1976 – Plácido Domingo
Domingo's response to the Mexican earthquake, in which he lost some close relatives, is well known.
He gave up operatic performances for six months and only sang a few charity concerts, in aid of the victims.
Having himself taking part in the digging for survivors, this was no symbolic gesture of goodwill, but the response of a man who abandoned an important premier of Otello at the Chicago Lyric Opera, to rush and search for his relatives.
He still bears the scars of the shock of finding them dead.
His out-standing contribution to the victims of the disaster, comes as no surprise to those who know the man.
Despite his great intelligence, Domingo has always been ruled by the heart. This quest for understanding and his identification, with the characters he plays and the composers he serves, with such tireless devotion, comes from the heart, rather than the mind.
Caruso too had this same reputation, this indispensable ingredient of a great singer.
To conclude our main survey then, our tales of the great tenors.
Let's join Plácido Domingo, Joan Sutherland, and Gabriel Bacquier in the epilogue to those other tales, the Tales of Hoffman.
Extracts w Sutherland / T – Hoffman /1972 / 1976 – Plácido Domingo

The History as it was Recorded