The History of Florencio Constantino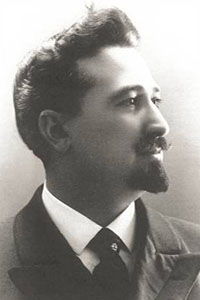 Born: Bilbao April 9, 1869
Died: November 19, 1919
Spanish tenor.
The last tenor born in the 1860s, that we're going to hear is another Spaniard, Florencio Constantino. Born in Balbao in 1869.
He studied in Italy, and it was at the San Carlo in Naples that the great German conductor, Arthur Niccish heard him and took him to Saint Petersburg, where he proved to be quite a success.
After successful appearances in Berlin and Madrid, he turns up at Covent Garden in 1905 and sings Intraviata with Melba. Also doing turn about as Donnatavio and the Duke of Mantua with Caruso.
It was at this particular time, that the great rivalry began between Oscar Hammerstein's Manhattan opera company in New York and the Metropolitan, a fascinating piece of operatic history if ever there was one.
The metropolitan had lured Bonche away from the Manhattan but were in terrible trouble for the more lyrical role as he had been taken ill.
They promptly offered Constantino an engagement but seizing his opportunity he played one off against the other and emerged with a contract at the Manhattan for five years, making his debut there in December 1908 in Rigoletto with Tetrazzini and Zammarco.
Here then is a memento of that performance. Questa O Quella from Rigoletto.
Questa O Quella / Rigoletto / 19xx – Florencio Constantino
The Manhattan contract didn't last long.
After one season, Henry Russel offered him the leading contract with the newly formed Boston opera company in 1909 and Constantino accepted, making his debut there in November in Magiaconda with Nordica, Batlaeinoff and Homer.
He sang with the company for three seasons before taking off for South America, where he sang until the beginning of the First World War.
His South American performances, included some gala occasions at The Colon in Argentina and The Municipal in Rio, the two great South American Theaters.
To mention just a few:
Aggiaconda with Burtsio and Rufo.
Atosca with Darkliai and Guerotoni.
Aiada with Burtzio and Deluca.
A Lucia de Lelamamoore with Barientos and Rufo.
Rigaletto with Barientos and Rufo again.
and Don Carlos with Diangiolos and Rufo.
He recorded for G&T, Pathe, Victor and Columbia. The popular columbia's where the ones that turned up most often, the rest being scarce.
Here he is in Beze's Opera the Pearl-Fisher, the perfect vehicle for any Spanish lyric tenor.
Mi Par D'udir Ancore / P-Fishers / 19xx – Florencio Constantino
Unfortunately, Constantino's bad habit of breaking contracts every now and again, cost him dear.
The lawsuits took their toll, and our next report finds him unconscious on the street in Mexico City where he had settled.
He was taken to a charity hospital and died there on the 19th of November 1919, which is a strange and sad ending to a singer who had brought a great deal of pleasure to many thousands of people throughout the world.
Costa la de Levant / Marina / 19xx – Florencio Constantino

The History as it was Recorded