The History of The Tenor Narrated
The History of Florencio Constantino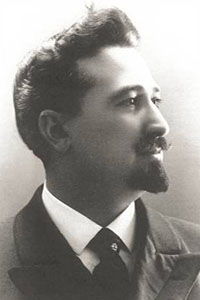 Born: Bilbao, Spain on April 9, 1869
Died: 1919
Spanish tenor.
He was born Florencio Constantineau in Bilbao (Basque part of Spain) on April 9, 1869 and finally immigrated to Argentina in 1889.
While working as a ship's engineer he discovered a voice of natural beauty and after a brief period of training with Leopoldo Stiatesi, a student of Lamperti , Constantino made his debut in Bréton's La Dolores at the Teatro Solis in Montevideo, repeating the role in Buenos Aires at the Teatro Odéon.
After spending some years in South America, he returned to Europe in 1896 for further study and sang in Italy, Spain, Germany and the Netherlands, mostly in provincial theatres. He appeared in the following roles: The Duke, Alfredo, Don Ottavio, Almaviva, Raoul, Ernani, Fernando in La Favorita, Enzo and Guglielmo Ratcliff.
A turning point in his career was an engagement to the Teatro Real Madrid in 1899. There he enjoyed tremendous success opposite such famous singers like Hariclea Darclée and Ramón Blanchart.
At Lisboa, he made his debut as the Duke opposite Mario Sammarco in Rigoletto. Travelling from Spain to Poland he sang together with Luisa Tetrazzini, Salomea Kruszelnicka, Mattia Battistini, Josefina Huguet and Adamo Didur.
At the turn of the century he was invited by the Tsar to St. Petersburg where he debuted as Enzo in La Gioconda. It was in Russia (St. Petersburg and Moscow) where he enjoyed a great reputation, singing in Lohengrin, La Traviata, Rigoletto and The Demon. Covent Garden did not invite him until 1905.
In 1906, he created the French version of Puccini's Manon Lescaut (the first in France) at the Opera Municipal at Niece. His Duke, probably his most successful role, was favorably received by the public, but not by the critics. Thereafter he never returned to Covent Garden.
In North America, as leading tenor of Henry Russel's San Carlo Opera Company, Constantino made his debut as Don José in New Orleans. Within two months he appeared in eleven different operas. The company embarked on a huge continental tour. Boston was to be the most important town in Constantino's career. Eventually this success led to the opening of a new opera house under the direction of Henry Russell. The company offered La Gioconda with Constantino, Lillian Nordica and Luise Homer. In 1908, the artist joined Hammerstein's Manhattan Opera. The company consisted of the best singers at the time. Despite his success he broke his contract which resulted in a long-winded case against him.
Constantino was a disputatious personality and commanded high fees. On the other hand he was a generous man and announced his intention of building an opera house!
It was unsuccessful and cost him a 250 million dollars. The famous bass Giovanni Gravina lost his right eye as a result of being stabbed by Constantino during a swordplay. It cost Constantino another 50'000 dollars.
From there his career went steadily downhill. He went off to South America, where he appeared at the Colón and other theatres in the heavier repertory (Radames, Lohengrin, Sinodal, Dick Johnson and Ernani).
In 1918 he was sued for having ruined the Boston premiere of Moore's Louis XIV by forgetting his words and drinking cognac between the acts.
Shortly afterwards he went to Mexico City where he died in a hospital for the destitute, having been found lying in a street.