The History of The Tenor Narrated
The History of Miguel Fleta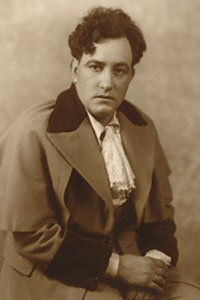 Born: December 28, 1897 in Albalate de Cinca
Died: May 30, 1938 in La Coruña, Galicia, Spain
Spannish tenor.
Fleta was one of the reigning tenors after Caruso, famous for his vocal virility and passion, a recording superstar, creator of the role of Calaf in Puccini's Turandot, and a figure almost as dramatic in his personal life as on the opera stage.
Like his compatriots Alfredo Kraus, Giacomo Aragall, and Plácido Domingo, he made a point of performing and recording zarzuela music, contributing to its continued popularity in the non-Hispanic countries. His command of dynamics was remarkable, with an exceptionally fine diminuendo, though he was often accused of over-using this effect, and his high notes had a powerful ring, though again, he was accused of drawing attention to them at the expense of the rest of the vocal line.
His singing potential showed at an early age, though he had only basic musical education from a local priest. He entered a Jota competition (a song/dance style from Aragon, Spain), and while he did not win, was advised to persist. His brother arranged for him to audition for the Liceo Conservatory, and one of the teachers, Luisa Pierrich, became his mentor there. She later took him to Italy, where she introduced him to Riccardo Zandonai.
Fleta made his opera debut as Paolo in a production of Zandonai's Francesca da Rimini in 1919 at the Teatro Comunale in Trieste. He was given other roles, and soon appeared at the major theaters in Europe. He and Pierrich married after her divorce was final. In 1922, Zandonai engaged him to create Romeo in the world premiere of his Giulietta e Romeo. In the same year, Fleta began a series of performances in Mexico and Central and South America, and also made his famous recording of Osman Perez Freire, which sold more than 100,000 copies, incredible sales for that time. He made his Metropolitan Opera debut the following year.
His La Scala debut was in 1924, as the Duke in Rigoletto. He was scheduled to sing at the Met for the next two seasons, but decided to sign with the Teatro Apolo in Madrid instead. The Met's general manager, Gatti-Casazza successfully sued Fleta for breach of contract. In 1926, Fleta returned to La Scala to appear in the world premiere of Puccini's Turandot, specifically chosen by Toscanini to sing Calaf.
In the late '20s and early '30s, he experienced vocal problems, as well as divorcing Pierrich and marrying Carmen Mirat in 1927. In 1936, he began teaching at the Madrid Conservatory, and also became active in politics, strongly supporting the Falangists. He died at the age of 45 from kidney disease.