The History of Miguel Fleta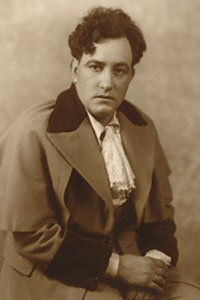 Born: December 28, 1897 in Albalate de Cinca
Died: May 30, 1938 in La Coruña, Galicia, Spain
Spanish Tenor.
But Lazaro was not the only sensation that season, earlier in 1922, Miguel Fleta had appeared at the Real, for the first time and created a furor in Carmen and Tosca.
Both singers began to gather their own followers, when they both appeared the following season, it was quite like old times, when the presence of Guarri and Massine, split the city into two camps.
The demand for tickets was extraordinary and the scenes at the box office rivaled those of the days of Anselmi and Battistini, when at nine in the morning, the queue wound round the entire opera house.
Miguel Fleta had been born in Questa in Spain in 1897 and even as a boy attracted attention, singing Spanish popular songs in a bar owned by his father. He was encouraged to enter the competition at the Ragoza, won a prize and was advised to take up singing professionally.
He entered the Conservatory at Barcelona and must have greatly enjoyed his lessons there, and his Belgium teacher Louise Pinni, for he later married her, though they parted later.
He was attracted to Italy for his debut, which took place at Trieste on November the 14th 1919, in Zandonai's, Francesco di Rimini. It was so successful, that there were twelve repeat performances, and he was asked to sing Aida as well.
With this initial success, contracts came fast and furious, Potenza, Leghorn, Venice, Naples, Bologna, Monte Carlo, and to culminate his whirlwind success, the Constanza in Rome, where after Aida and Carmen, he created Romeo in the world premiere of Zandonai's new opera Romeo and Juliet on the 14th of February 1922.
Julietta Sanio / Romeo / 1922 – Miguel Fleta
After the success, Fleta sang in Austria, before returning to Spain, to sing at the Real in Madrid in Carmen and Tosca.
And it is at this point, that of course, the famous rivalry with Lazaro began, which has already been mentioned.
Spanish speaking countries could not get the new sensation quickly enough, and the Cologne in Buenos Aires was gearing up for his debut there.
After the expected acclimation, he was hurried off to Monte Vedeo, before arriving in Brazil, for appearances at San Polo and Rio De Janeiro.
This was the year 1922, commemorating the centenary of Brazilian independence, and the large and notable cast was invited to sing in Rio during the celebrations. Including the tenors Fleta, Lazaro, and Lauri Volpi.
The opening night was a patriotic one, Gomez's il Guarani being the appropriately chosen opera. Mascagni conducted and Fleta sang the role of Perri.
After appearances in Cuba and Mexico, both clambering to hear him, Fleta finally arrived at the Metropolitan on November the 8th 1923, making his debut there in Tosca with Yaritza and Scotti.
One of the repeat performances was a Gala, to honor Scotti's 25th anniversary at the house. So obviously he still had ze arms and ze legs.
During this and the following season, he sang frequently in Aida, Rigoletto, Boheme, Pagliacci, Andrea Chine, Tales of Hofmann, Enrique Fritz, and Carmen.
He was well received, enthusiastically as Don Jose in Carmen.
Then off to Chicago to the lyric opera where he sang in four entirely different operas, Faust, Mano, il Barbieri and Traviata, and we notice yet again, the popularity of the French operas in Chicago.
For 1923 and 1924 he was back in South America singing Tosca with Muzzio, and Carmen with Betzinzoni, as well as Mano and Lohengrin.
Indeed, he sang at the Cologne every season from 1922 to 1927.
During these years he was also heard in Europe at La Scala in Milan, Prague, Vienna, and Budapest, and of course, in his beloved Spain. Namely at Valissio in Barcelona or at the Real in Madrid.
The Spanish government decorated him twice with the medals Grand Cru, Isabel la Catolica, and a Grand Cru del Fonte 13th.
O Paradiso / L'Africaine / 1927 – Miguel Fleta
I suppose it would be fair to say that from a historical point of view, Miguel Fleta's reached the pinnacle of his career on the 25th of April 1926. When he created the role of Calif in Puccini's last masterpiece, Turandot at La Scala in Milan with Toscanini conducting. He also appeared that season in les Huguenot and La Favorite.
The same year he toured Spain with Heena Spani, 1927, with his farewell to South America in Rio and Rigoletto with Dal Monte, Gileffe and Pinza.
He was to have sung at the Metropolitan this season, but called off, pleading liability for military duty in Spain, which led to a court action between the metropolitan management and the singer.
He was always far too busy, and tours of Japan, China, Brussels, Athens, Warsaw, Oslo, Stockholm, and Copenhagen left him practically voiceless at 36 years of age.
From 1928 onward he could find himself to his native Spain, singing mainly in the Spanish Zarzuela's, a form of light opera.
He continued until, at 41, he had an attack of uremia and died after an operation, at A Coruna on the 31st of May 1938
Una Virgine / Favorita / 1927 – Miguel Fleta
After the gramophone records, Fleta recorded exclusively for HMV. 38 sides were made acoustically and 59 by the electrical processor, a total of 97 sides in all.
Lazaro on the other hand, started off with five sides for HMV in 1911 and from then on recorded exclusively for Colombia.
40 pre-electrics sides from 1916 to 1924 and 88 electrical sides from 1926 to 1931, some 128 titles in all.
Lazaro has left us with an autobiography, unlike Fleta, and in it, it is quite clear that his conceit equaled the size of his Top C.
He regarded himself as the world's number one tenor, stating that in Rome, he was acclaimed as the King of Tenors, and he considered his rejection by the metropolitan in 1940, to be an insult to the greatest tenor in the world.
In his book, he also blames Mussolini, Jourdano, Recorde and Toscanini at various times for obstructing his career.
It is to his credit that he praises many Spanish singers, among them, Barrientos, Barreto, Hidalgo, Maria Guy, and Madronas.
He names Angelo Massine, as the greatest Italian tenor and Ruffo as the finest baritone. And he has also high praise for our own Eva Turner.
By the way, you may be interested to know, that on the other hand, Massine in an interview in 1925, while praising Lazaro's magnificent high notes, thought that Fleta was the best Spanish tenor of the period. However, it is to Fleta that we return for our final record of these unique artists.
The obvious choice would be Nessun Dorma from Turandot since he had created the tenor lead in this opera. But strangely, as with several other cases already mentioned throughout this survey, he made nothing from this opera.
So, I thought that you would like to hear, the world's first golden disc.
Fleta recorded Ay, Ay, Ay and it was the first disc, as far as I know, to sell over 1,000,000 copies.
A golden oldie indeed.
Ay, Ay, Ay. / (Perez) / 1922 – Miguel Fleta

The History as it was Recorded