The History of The Tenor Narrated
The History of Feodor Chaliapin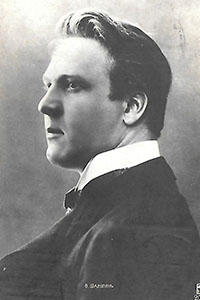 Feodor Chaliapin
Born: February 13th, 1873
Died: April 12th, 1938
Russian tenor.
Feodor Chaliapin was the first Russian singer to establish a great international reputation. He was to a great degree self-taught. In developing his performance style, he studied actors and painters as well as singers.
His style of acting and singing was very broad, sometimes over the top, but never boring — he believed in painting a picture when he performed a role.
When he first performed outside Russia, it was in the "traditional" bass roles. According to Henry Pleasants, "His characterizations in these roles have been acknowledged as not only original but unique, unbecoming to any other singer or actor." He began his career in Russia, performing with the Marinski Theater company and the Bolshoi. He made his European debut in Milan in 1902 and his New York debut in 1907. But it was not until Diaghilev brought Boris Godunov to Paris in 1908 and to London in 1913 that Chaliapin could establish himself fully as the great artist he was.
He was known for his exuberance in life, as well as on the stage, and for his carefully thought-out performance of his roles. He was a perfectionist with regard to his makeup, costumes, dramatic and musical preparation, and was very attentive to the staging of shows he performed in. He was more actor than singer in his approach to opera, and he used this same approach on the concert stage.
Chaliapin remained in Russia for a while after the revolution (he thought of himself as a man of the people and was therefore basically sympathetic to socialist aspirations), but eventually found the Communist regimentation as distasteful as the Romanov, and he subsequently emigrated. He went into exile in 1922 and was denounced as an "anti-revolutionary" and deprived of all his Russian property and titles.
He died in Paris in 1938.