The History of Bernardo de Muro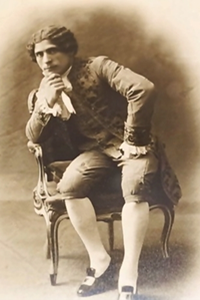 Born:November 3, 1881
Died:27 October 1955
Sardinian Tenor
The Sardinian tenor, Bernardo De Muro was born on the 3rd of Nov 1881. The eldest of four brothers and four sisters.
His book published posthumously "When I was Falco", the significance of this title will become apparent later. Paints a vivid picture and shows a touching nostalgia for his childhood and youth in the beautiful Sardinian countryside, where he grew up with the same freedom and love of nature as a part of all to display. A part associated with him all during his career.
When singing at a local concert, he was heard by some touring professional singers. Advised him to study seriously. And this led to his choosing Rome as his place of study.
He was ready for his debut at the Costanzi in 1980, but he should have been in Mascagni's opera, Iris. But both leading sopranos refused to sing with a debutante. Poor De Muro then took ill. And it was two years later before he finally made his debut at the Costanzi, in Cavalleria Rusticana and March 12th, 1910.
His success was instantaneous, here is what the critic of the newspaper Il Presente had to say:
De Muro was a real eye opener, his remnant of Siciliana amused the audience. At the end of the performance, the tenor making his debut, was greeted by indescribable ovations, and had to give five encores.
The voice of a singer, for whom Paul could predict a great future, is of remarkable beauty. The range is dazzling, his high B Flat and High C are impressive, artistic and secure. His diction is perfectly clear, and he exhibits an absolute assurance on the stage, such as its scarcely ever met with in an artist making his debut.
His mesovoca is heavenly. The performance was a continuous, uninterrupted triumph with him, he had to give encore with the duet with Vantutza, Fantasise, Lieder, Allimadi, in short, the whole opera.
After a few other appearances, the reputation of De Muro was made at La Scala, Milan, in the Italian premier of Mascania's opera, Isabeau, in the role of Falco on Jan 20th, 1912, under Touro Seraphin.
Like Zena Tello's Otello, this was a role that would always be associated with him, unfortunately it was no Otello, but as long as he was around to sing it, it remained in the repertoire. Made it was almost forgotten, as indeed as Demure himself.
Well, we'll remember both him and it now, here is an extract from his most famous role Faulco, in Mascagni's opera Isabeau.
E Passera / Isabeau / 1912 – Bernardo de Muro
Thanks to De Muro, Isabeau triumphed in Italy, in all opera houses where he sang the part.
In his first La Scala season he sang it 22 times and he premiered the opera at Ravena, Bari and Madrid. He also sang it in many important repeats of the opera, among them at Buenos Aires and Rome.
In all, he sang the work 382 times during his career. He sang in an unusual event at La Scala in 1912, a performance of the Russian opera the Maid of Pskov with Chaliapin as Ivan the Terrible. And in 1913, a very successful revival of Verdi's Don Carlos, nine performances with Russ, Gileffe and De Angeles.
Other roles at La Scala included Cavalleria Rusticana and Carmen.
For a few years he was a regular visitor to South America singing his Falco, in addition to Carmen and Cavalleria. Later he added Andrea Chinar, who also became a great favourite in Spain at the Lesion.
The last season before the First World War was particularly brilliant at the Cologne in Buenos Aires.
He sang in Aida, the Girl of the Golden West, L'Africaine and Carmen there, in a company included Caruso, Latarro, Rosa Rozsa, Ruffo, Samarco, Henna Spinet, Geneviève Ricks, Denese and Frascani.
Hear something from his Andrea Chinar, here is what professor Eduardo Anoias, one of South America's most famous authorities of singing collecting has to say of his improvisso:
"His version of the improvisso, is one of the best of the famous exert, if not the best of all, but the multiplicity of expressive detail, that with his generous rope of powers, he displays here with remarkable intelligence and sensibility.
From the beginning, some with a dreamy expression of distance, to the Ocee Venetta Bella, endearingly whispered. It will suffice to point his examples Athoro Patramia, the contrast from forte to piano in Ivoire Pei me Damore Parga.

The phrase Del Munda anima d'ebithe, said with ardent passion, but without the vulgar emphasis with which we so often hear it.

In this strictly vocal effects, but always in expressive function, we should note the very long Thato in Non Conasettie Amore, famous in his interpretation, forward without taking breath by the high D flat, brilliantly admitted and sustained".
Un Di All'Azzurro / Chenier / 1912 – Bernardo de Muro
De Muro served in the army during the war and gave a total of 32 benefit concerts during his service. Il Trovatore was another De Muro speciality he sang it 190 times during his career.
Di Quella Pira / Trovatore / 1917 – Bernardo de Muro
De Muro never tackled Otello, although he had the ideal voice for it. Even the Metropolitan tried to get him to sing it there, but he considers himself too small for the role, he was indeed a very small man with a very large voice, shades of Dupree.
He states in his book, that had he been four inches taller, he would have sung in Otello and Norma and in other operas, which, to his way of thinking required a suitable physique. Fortunately, there are some extracts from Otello amongst his recordings.
De Muro went to Buenos Aires for the last time in 1920, making his reappearance at the theatre Colosseo in a season which had Juliee and Lauri Vopri on the roster.
In 1921, he was in Cuba singing at the Havana and in 1924 he was at the Costanzi in Rome in Andrea Chinae, then the San Carlo Naples in Il Trovatore.
An unusual item was his appearance in Peru, where he was extremely popular. And the invitation of the President to take part in a series of concerts to celebrate the centenary of the battle of Ayacucho.
It was a fortunate invitation, where he met the singer Elaina Waite there, and they married soon afterwards.
In 1925 he sang in Philadelphia in a spectacular production of Aida, elephants, camels, horses and all. But his voice began to show signs of deterioration shortly after and by 1930 he was no longer in demand in the great theatres.
He lived for many years in the United States where he devoted himself to teaching, but it was during one of his periodical visits to Italy, that he died.
It was in Rome on the 27th of October 1955, he was 74.
He made 49 sides in all for HMV Victor, from 1912 to 1928. The last group of six sides, two of which were unissued, were made electrically.
His last appearance in a major house was in 1938 in his beloved Isabeau, the bass of Caracalla in Rome, with the composer Mascagni himself conducting.
Surely a fitting end to a fine career.
The critic, Lounges wrote of this performance:
"The years have passed also for him, but in a song of Falco his voice reached once more defiantly into the loftiness of the evening sky".
Song of Falco / Isabeau / 1912 – Bernardo de Muro

The History as it was Recorded