The History of The Tenor Narrated
The History of Bernardo de Muro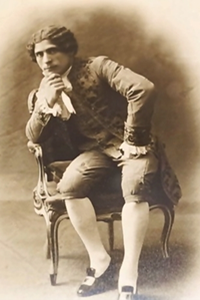 Born:November 3, 1881
Died:27 October 1955
Sardinian Tenor
Bernardino de Muro was born on November 3, 1881, in Tempio Pausania, Sardinia, to Antonio Maria and Jeanne-Marie Demuro. His father was a small landowner. Bernardo's formal education ceased at primary school. Initially self-taught, he began singing in a café in Tempio.
Moving to Rome, he participated in a competition for admission to the Conservatory of St. Cecilia in 1903. He studied under A. Sbriscia and Alfredo Martino. His operatic debut was on May 12, 1910, at the Teatro Costanzi in Rome, performing in Cavalleria rusticana by Mascagni.
He received flattering reviews for this performance. In the next few years he performed in Madama Butterfly, L'Africaine, Carmen, and further performances of Cavalleria rusticana. Although he was long a star at La Scala, he was largely unknown to American audiences until he began to tour there.
His continued career carried him to such places as the Solis in Montevideo, Uruguay in 1916,the Dal Verme in Milan (performing Mefistofele),the Hippodrome, St. Petersburg, Florida, in 1927,and The Dell Ofrecie Grand Opera Company of New York (performing Aida).