The History of The Tenor Narrated
The History of Paul Franz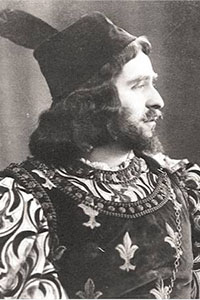 Born: 1876
Died: 1950
French tenor.
Narration 1
A very fine French tenor born in 1876 was Paul Franz, a direct successor to Affre and Escalis and France's leading dramatic tenor.
He had a very unusual beginning because he was at 32 years of age, when he took first prize in a singing competition organised by a music magazine, which eventually secured him his operatic debut in Nau in Lohengrin, at the age of 33, a very late starter indeed.
Consider for example, that Anselmi had been singing for 13 years by the time he was 33. However, such was his initial success, that within a month, he had secured a contract at the Paris opera, for the same part as Lohengrin.
It was the beginning of an illustrious career at the opera, and in performances of Segued, Faust, Dan Houser, Sigmund, Radames and in particular, Samson & Delilah, he was often compared, not only to Affre but to Deresce himself, who had been idolised above all others at the Paris opera.
He first appeared in London in 1910 and despite strong competition from Dalmores in particular, he established himself at Covent Garden as leading French tenor until the war.
His debut was in Samson & Delilah, with Ruiz Courbellun, and he was to repeat his success in this opera during his Covent Garden seasons.
So, let's hear him then, in his Covent Garden debut role of Samson in the aria Arêtes O Mes Freres
Narration 2
In Paris, he had also become the leading vigneron interpreter in succession to Ernest van Dijk.
Making a great success in master singer, Tristan, and Siegfried and in 1913 he was the first pathe fal at the opera. In addition, he received acclaim in other operas, such as Le Cede, Profit, Herodiade by Jeuive, the damnation of Faust, Helene, and the Trojans.
As well as many contemporary works no longer in repertoire. His fore's abroad were not particularly frequent.
In 1915 he appeared at La Scala in Milan. Inevitably as Samson. And in 1918, he was at the Cologne in Buenos Aires.
In 1923 he was engaged by Ginzburg at the Monte Carlo opera to create a tenor lead in Ginzburgs own composition by Christopher. But from then on, he preferred to remain at his beloved Paris opera, where he made his farewell in 1938, at a benefit gala for the Paris Conservatoire.
Here he is in a beautiful version of the Flower Song from Carmen, where after some lovely opening phrases, the voice builds up to a splendid ringing climax.
Narration 3
He recorded for three companies, HMV, Pathe and Colombia. The selections already heard, were from HMV records. Choosing two final records, I suppose, I should have included a Wagner selection, because of his fame as a vigneron singer. But of course, he sings the items in French, and this never sounds right to me, no matter how well sung.
So I have chosen a French aria, Salut Tombeau from Romeo and Juliet and then a rare electrical Columbia record, made long after the HMV's, when the singer was in his late 50s and still showing a marvelous voice and a wonderful feeling for the music, in an aria from Masani's opera Herodiade which I hope you will recognise, as you heard it in the previous tape.