The History of The Tenor Narrated
The History of Paul Franz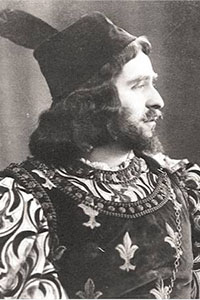 Born: 1876
Died: 1950
French tenor.
He was born François Gauthier in Paris and assumed the name Paul Franz.
Initially an employee of the French railways, he did not start vocal tuition until the age of nearly 30 (!).
In 1908 he won a competition for amateur singers and immediately attracted the attention ot the director of the Grand Opéra in Paris. His debut that same year as Lohengrin in Nantes was a remarkable success and he subsequently joined the ensemble of the Grand Opéra, where he remained as an admired member until 1938.
He was not only compared with Jean de Reszke but also with the great Ernest van Dyck and Charles Rousselière. Apart from his extraordinary vocal qualities, Paul Franz also enchanted his audiences with his impressive stage appearance. His French repertoire inluded roles such as Eléazar in La Juive, Roméo, Faust, Samson, Don José, Sigurd, Jean, Roderigue in Le Cid and Enée in Les Troyens. Outstanding assumptions in his Italian repertory were Radames and Otello.
His Wagnerian repertoire included Tannhäuser, Parsifal, Stolzing, Siegmund, Siegfried and Tristan. He was much acclaimed at Covent Garden where he sang between 1910 – 1914 (Raoul, Julien in Louise, Radames and Otello).
In 1915 he appeared at La Scala and in 1918 at the Teatro Colón in Buenos Aires. After his stage farewell he was appointed a professor at the Conservatoire National de Paris.