The History of The Tenor Narrated
*Martinelli & Pertile have been combined due to the way the narrative was recorded.
*Martinelli & Pertile have been combined due to the way the narrative was recorded.
The History of Giovanni Martinelli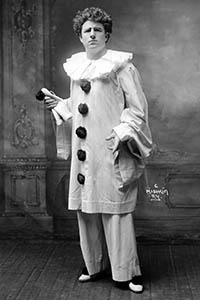 Born: 22 October 1885
Died: 2 February 1969
Italian tenor.
Giovanni Martinelli was born in the Italian village of Montagnana on 22 October 1885, only two weeks before Aureliano Pertile, also a native of Montagnana.
His first role was in 1908 as the messenger in Verdi's Aida, and his professional debut came in 1910, firstly in Rossini's Stabat Mater at the Teatro dal Verme in Milano on 3 December, substituting the tenor Giuseppe Sala who had major difficulties with the taxing aria "Cujuus animan." Martinelli did not and the immediate success led to his appearance as Ernani at the same theatre on 29 December.
Trained by Maestro Giuseppe Mandolini in Milano and under the protection of conductor Tullio Serafin, he was chosen for the role of Dick Johnson in the Rome premiere of Puccini's La Fanciulla del West in 1911, after having been summoned for a an audition with Casa Ricordi where Puccini, Toscanini and Ricordi were secretly present. His immediate success within Italy brought him to Monte Carlo and London in 1912 (Cavaradossi, Tosca), and in 1913 he was invited to join the Metropolitan Opera of New York, of which he became an associate until his retirement in 1946, giving the insuperable amount of 926 performances in a total of 38 operas.
At the Met he befriended the great Caruso, who was widely impressed with Martinelli and at one point passed on his own costume for Canio in Pagliacci to Martinelli. After Caruso's death in 1921, Martinelli assumed many of his dramatic roles, and he developed into a first-class interpreter of the Verdian tenors; two thousand of his four thousand five hundred performances were in Verdi roles. He betrayed a voice of robust build and relentless stamina, and was showcased at the Met in taxing roles with high tessitura, such as Guglielmo Tell (Rossini), Samson (Samson et Dalila), Canio (Pagliacci), Manrico (Il Trovatore), Radamès (Aida) and Otello (Verdi). To the audiences of Covent Garden during the late 30's he was the epithome of Otello, receiving unhibited acclaim for his interpretations after an 18 years absence with the company. He was also a much beloved Calaf in Turandot, with his clarion ring and distinctive legato.
He made his last performance in Turandot as the Emperor Altoum at the age of 80 in 1965. He passed away in New York on 2 February 1969. He was then 84.
Giovanni Martinelli ranks amongst the greatest tenors of the century, and perhaps came to be the true Caruso-succesor after Caruso's death in 1921, turning into the Met's prime rooster for twenty years. He had a very distinct sound, with ringing top notes and a very forward emission with sustained notes, yet, he had his detractors, Lauri-Volpi for instance, his rival at the Met in the 1920s, who saw him as an obsessed Caruso-imitator, which eventually seriously flawed his emission with embottled notes (nota imbottigliata) as he sought to artificially darken his timbre.
Appreciation or despise of his vocal qualities apart, his long lasting career and achievements places Martinelli among the legendary tenors of this century, perhaps even at level with his predecessor and master, Enrico Caruso.