The History of The Tenor Narrated
*Martinelli & Pertile have been combined due to the way the narrative was recorded.
*Martinelli & Pertile have been combined due to the way the narrative was recorded.
The History of Giovanni Martinelli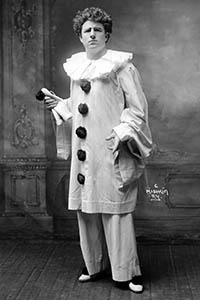 Born: 22 October 1885
Died: 2 February 1969
Italian tenor.
I have already mentioned the strange coincidence, that our British Isles tenors that were illustrated in our previous tape, were all born in the same year. Perhaps even stranger is the fact that our next subjects, the great Italian tenors Aureliano Pertile and Giovanni Martinelli, were not only born in the same year, 1885, but in the same small provincial town of Montagnana near Padova, only two streets apart and within a fortnight of each other.
And so, I propose to discuss these two singers simultaneously, and it should be a most interesting experience because, both vocally and artistically, they were as different as the proverbial chalk and cheese. And because their extraordinary careers moved in entirely different directions as we shall see.
But first a word of warning to those not acquainted with these artists. These singers are among the most controversial on record. Their uniquely individualistic, and arguments have raged among critics and collectors over their merits since they and their records first appeared. So, before looking at their individual careers and listening to their records, perhaps it would be a good idea to hear a little of what has been mentioned and written about their voices and performances.
Martinelli
John Stein
Martinelli's records effects listeners in different ways. With him, as with Callas, there are few who failed to recognise a distinction. But many more who find little to delight their hearing. To some, the recorded voice is rather wearing, sometimes, downright unpleasant, lacking in richness and beauty, while to others, it is the most exciting sound on earth. I admire the fire and excitement of his singing.

John McCormack.
I could not admire his singing; he must have had vocal cords of steel and he swung on his high notes like a dog waring a bone.

Marguerite D'Alvarez 1914.
A voice was golden hue and so ingratiating in its warmth, that it caressed the ear.

Giuseppe De Luca.
By 1936, his voice had taken on the monotonous coloration that marred delay years of his career.
Colliden in the history of the Metropolitan Opera. Now some Covent Garden notices. His tone is strong and resonant above the orchestra, his quality is luscious, ringing, musical, and delightful to hear, and again it has a beautiful quality of its own, which does not tempt comparison with any other, and again a brilliant resonance, which without any special exertion, cuts through the massive sound by virtu, merely of its quality, not its strength.

John Stein again.
He drew sound with a thin definition of a pencil line but glowing brightly as if the pencil were pointed with fire. The voices characteristic being a kind of shining precision.
Now Pertile.
Herrmann Cline, the most respected English critic of the period.
Pertile is by a long way, the best Enrique I have heard since Tamagno and perhaps the best Italian tenor that has sung here, at Covent Garden since Caruso.  Pertile made one of the most inconspicuous debuts on record at the Metropolitan Opera, he sang for one season only, and never returned. Colinden in his history of the Metropolitan Opera. Sing, sing, sing, like Pertile sings. Toscanini exhorting the strings of La Scala orchestra. Of all the tenors, he was the most exciting to go over the top with.

Dame Eva Turner.
I never liked the voice; he didn't go for tone and pentalene like Caruso did. And like the rest of us, struggled to do. I felt he used to hypnotize the audience, by nailing them to their seats.

Tom Buck.
He used to want to do so much more with his performance, than words and music actually asked him to do, but next to Chaliapin, he was the greatest actor in the voice I ever heard.

And John Stein on his record of Mal Regendo.
Pertile seems unwilling to allow even single notes, let alone phrases to tell their own tale. They must be pushed and squeezed, pummeled, and wrenched. The notes are given a quivering kind of vibrato and during the first sixteen bars, aspirates break the flow eight times. Going with this, over strenuous style, is an exceedingly bright edgy tone. The brilliance of which has been gained partly at the expense of the natural vocal sound. But later on, the same writer concludes, Pertile is all the more remarkable, as a symptom of his times, when one knows that he was an intelligent conscientious artist, a favourite of Toscanini, vastly admired by Seraphin. A singer in whom there was a genuine greatness. Many considered him the supreme tenor of his time, and some of his records show why.

And finally, Paul Morbi.
For there is also the unique personality of Pertile, an immense vitality of timbre. An immaculate Mezza Voce in breath control, and above all, a tangible sense of wonder and awe, that I find he always conveys to me. To Pertile, singing was a communication. It was not a technicality measurable only by tradition and by regulation. For a few years around 1920, a phenomenal tenor artist of such theatric presence and of such vocal splendor and musical intelligence, that a new era of world tenor dominance could have been expected. No singer, I have heard, has had so mature and interpretive stature in his early career as Pertile shows.
Martinelli was the eldest of 14 children and although the family was anything but rich, he did receive some musical training, singing with the town choir and playing the clarinet in the town band. And his father even managed to take him to hear Tamagno in Turin and De Lucia in Batiste in Venice.
He was drafted into the army as a Bandsman, and was heard singing by the bandmaster, who advised him to study singing seriously, and he secured him, leave of absence to audition in Milan.
He was signed up by the Theatrical firm of Zervini Zerboni. To an agreement that they would finance his lessons in return for 20% of his earnings, for a score of years when he began his professional career. Thus his 2 years of lessons, ended up costing him almost $1,000,000.
His debut in Milan, was at the Dal Verme on December the 10th 1910 in Rossini's Stabat Matta. But it was on December the 29th that he appeared in his first leading role, in Verdi's Ermanno.
He forgot his lines, cracked on a top note, and dropped his sword at a crucial moment, and vowed never to sing again. Until he read his reviews which were favorable, despite his mistakes.
After an appearance in Ancona, he was summoned back to Milan for an audition for Recorde, the music publisher. When the lights went up to reveal his audience, he found not only Recorde, but both Puccini and Toscanini. He had in fact been auditioning for the Italian premier of Puccini's La Fortuna del West (The Girl of the Golden West) to be given in Rome. Amadio Bassi had been promised the first night, but his contract with Covent Garden would allow him only that. And a substitute must be found for the remaining performances. Martinelli had now been chosen for that role.
After the successful Rome appearances with Toscanini at the Constanza, he was at Bresscier in Ventula again, with Carmen Nelis and Virioni Bergassi, Tanini again conducting. Then onto tour Turin with his first Aida.
He was in particular demand for his Ventula of course and now came appearances in this, in Naples, at the San Carlo, his only appearance there, then Genoa and then on to Monte Carlo before crossing the channel for his Covent Garden debut in Tosca, with Louise Edvinas and Samarco on April the 12th 1911, and further appearances there in Jewels of the Madonna, Manor Lesko, the Girl of the Golden West, and Aida.
Let's introduce him now then in a favourite role of his Andrea Chinai, here is a lovely Come un-Bel Di Maggio.
Narritive 2
After Covent Garden, Martinelli returned to the Dalverme, in Milan. And to his first creation in Zandinai's Millines with Mutzio. It was a failure. By the way, it was one of Martinelli's misfortunes that of the five operas in which she sang, the creator tenor leads, all were failures. That is to say, that the opera's did not become popular enough to enter the regular repertoire.
He made his debut and farewell at La Scala, all in one go, in La Fortuna del West on December the 29th 1912, with Seraphin conducting. La Scala had wanted Bernardo de Muro, but it was Puccini himself, who insisted on Martinelli. So, if anything, he did even less well at La Scala, than Pertile did at the Metropolitan. Something for us to ponder over.
But if La Scala didn't like him over much, how about this, from Monte Carlo. He is the finest tenor we have seen here since Tomagno, his voice is magnificent and he sings, power, purity and belcannto and such youth. Where today are their equal?
He is already great; he will become even greater. After Monte Carlo he sang in Budapest and then back to Covent Garden for repeats of Tosca, Jewels of the Madonna etc before setting off, for what was to become a glittering career at the Metropolitan Opera in New York. His debut was on November 20th, 1913, in La Boehme with Boret, Scotti, and Deduerre. And his last appearance there, was on March 18th, 1945, in Norma, with Milanov and Turrelle. After caruso's death, Martinelli took over his heavier roles, while Julee sang the lighter ones, and when Juliee left in the mid-1930s, Martinelli reigned supreme until his retirement. One highlight was his world premiere in Guidano's Madam Sangin with Geraldine Fahrar in 1914. His most enduring creation. Lasting for three seasons at the metropolitan. 1923 saw him in a famous production of Rossini's, William Tell, with Poncele, Denese, Mardinez and Didua. Let's listen in.
Narritive 3
Outside his Met activities, Martinelli appeared at Monte Carlo and Covent Garden in 1914, with Melba in La bohème, and in 1916 his first South American appearances, in a company that included Barrientos, Le Stipa, Journee, Crème, Ruffo, Valin and Merle.
For 1918, it was back to Covent Garden for Tosca, Pagliacci, Faust, La bohème, Mass Ball, and Butterfly. His heroines included, Destine, Melba, Vena, Donalda, and Sheridan, and they were to be his last Covent Garden appearances for 18 years. 1920/21 saw him back in South America.
This time he chooses a West Coast route to Buenos Aires, via Chile, connecting with the trans Andean railway. Snow falls block the line, but undaunted, our intrepid hero makes his way across the Andes by hiring a caravan of mules and made it just in time for his debut.
Those were the days. 1923 saw him in Havana, and also that year he had the unique distinction of singing in the very first performance given by the newly formed San Francisco opera. That was in La bohème on the 26th of September 1923. In 1924, he sang in his hometown of Montagnana and Tosca and Trovatore. His first stage roles in Italy for 10 years.
Both singers were outstanding Mon Ricco's, Emile Trovatore. So, our next records of them both is A Si Ben Mio from that opera, so we shall be able to immediately compare the two versions. However, a word of explanation is necessary regarding the Martinelli version. When he made the record in 1915, he did not include the restitutive and he never recorded the aria again commercially. He did include it, in an introduction to his electrical version of Di Quelle a Pira made in 1927, so I've included this for completion's sake and will also give us opportunity to compare the difference in voice over a period of 12 years.
Narritive 4
Back in New York for the 1924/25 season, Martinelli had prepared for two new roles. The first, E'lisar, in La Ju eve. It had been Caruso's last role and it was almost Martinelli's.
He was struck down with typhoid fever and for a time, was dangerously close to death. But the iron constitution, which so often sustained him, as he sang three or four performances a week, soon had him back on the Met stage.
Lauri Volpi had taken over his intended second role, that of Giovanni Galluressi in Monte Mezza's opera, but by the time Martinelli recovered, it had already been permanently retired to moth balls.
1929 saw Martinelli make one of his rare appearances in Italy, and it really was not of his own choosing. Museveni was trying to establish the Constanza in Rome, as Italy's Number 1 Opera House, probably because Toscanini at La Scala, was such a rabid anti-fascist, and he had summoned Martinelli home from the metropolitan. The tenor with property, family, and citizenship in Italy, could hardly refuse, and so he appeared in Aida, La For de Del Castano, Tosca, Pagliacci, and Andrea Chine there, his fellow artists including Scrattiari, Mutzio, Stignani, Franchi, Redverg, and Di Angeles.
Mussolini was not going to stint. He took the opportunity to visit Milan and was persuaded by the local fascist to sing at the Dal Verme in Irmanni in Manna Lescaut. Andrea Ashine was also planned but never took place. It was his last appearances in both Milan and Rome, yet he was to sing on for another 16 years. Here then is his No Pagliacci Non Son from Pagliacci.
Narritive 5
Back at the Metropolitan, Martinelli continued to sing regularly and from 1945. Highlights included a revival of Verde's Simon Boca Negra in 1932 with Mueller, Tibit and Pinza under Seraphin. And an oddity, his one and only Tristan, to the Isolde of Tuscan Flagstaff that in 1939. He sang at the Florence music festival on one of his rare visits to Italy in 1934. One opera only, La Forte Deville Crostino, and he was indisposed for the opening night. Guess who was asked and agreed to come to the rescue, Aureliano Pertile. Strangely it was not the metropolitan that saw his first Othello, that took place in San Francisco in 1936. And the next performances were in Chicago the same year. Covent Garden saw it next in 1937. Martinelli's first appearance there for 18 years and for good measure his first Calif in Turandot, also partnering Eva Turner in her greatest role.
He also took over Don Jose in Carmen, from George Theale, whose coronation night, Radames in Aida, had not pleased, and who, in effect was dismissed for the rest of the season. It was a very bad choice for Tao, who although, no Radames, was a very fine singer indeed, and shall hear later on in this survey.
After London, a specially mounted Othello, was arranged for the Paris opera with the outstanding cast of Martinelli, Norena and Tibbit. This was his last appearance in Europe. He appeared in the Metropolitan, in Othello, late in 1937. His last new role there.
Where his very last complete opera there, took place on the 18th of March 1945 in Norma. Martinelli's retirement was not the sad forgotten life to which so many artists are condemned. He was wealthy. He summered in Italy and wintered at the Buckingham hotel in New York, attending operas, concerts, and parties, a Grand Senior to the hilt. He lectured all over America and in London and was rather conned into appearing as the old emperor in Turandot in Seattle in 1967, at the age of 82.
I even remember Eamon Andrews doing a 'This Is Your Life' on Eva Turner, and on bounces Martinelli, to say his peace.
On January the 30th 1969, Martinelli, arose in his New York apartment, collected the newspaper, made his morning coffee, and went back to bed, propping himself up to write a letter to his wife.
His Aorta snapped, he was rushed to Roosevelt hospital for open heart surgery, but in vain. While his damaged heart held out against the massive injuries of the original attack, his wife and children rushed by plane from Italy, and were present when he died, without having regained consciousness at 5:30 AM on February the 2nd 1969.
He was survived by two brothers, four sisters, eight grandchildren, and two great grandchildren. His estate was estimated at $900,000 but his contribution to the world of opera can never be counted.