The History of The Tenor Narrated
The History of Jan Peerce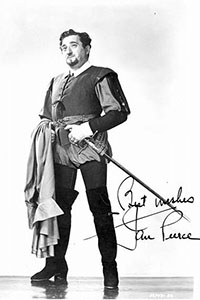 Born: June 3, 1904
Died: December 15, 1984
American tenor.
Jacob Pincus Perelmuth, better known to us, as Jan Peerce, was born in New York in 1904.
Before turning to opera, he played the violin in dance bands, sang at Radio City music hall, and became a broadcast favourite throughout the United States.
He first sang with Toscanini, who became his mentor in 1939, the Beethoven nine.  Toscanini, then the world's most famous conductor, chose Peerce for broadcast and complete recordings of Boehme, Traviata, Delio, the Massball, and the last act of Rigoletto.
He made his stage debut in Philadelphia, in Rigoletto on the 14th May 1938.
Joined the Metropolitan as Alfredo, on the 29th of November, 1941.  H
e stayed with the Metropolitan until 1968, he sang with all the leading American companies and appeared overseas in Austria, Germany, and Holland.  He was also the first American to sing with the Bolshoi opera, before the war, this was in 1956.
His brother-in-law was his contemporary and rival, Richard Tucker.