The History of The Tenor Narrated
The History of Jan Peerce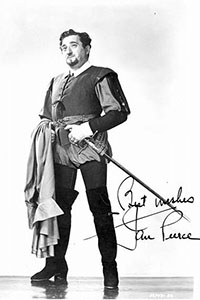 Born: June 3, 1904
Died: December 15, 1984
American tenor.
Jan Peerce (real name, Jacob Pincus Perelmuth), grew up in the New York City streets, and attended De Witt Clinton High School and Columbia University.
Like so many others of his generation, he had taken violin lessons, and his first regular money was earned by playing the violin in public. As part of the program he would also sing popular songs, and the discovery came almost accidentally that he had an extraordinary voice.
In 1932 an engagement followed as tenor soloist with the Radio City Music Hall company. Its radio broadcasts and stage programs embraced light classical music and great moments of opera, and Jan Peerce soon had a nation-wide following.
Concert engagements came, and then a sudden and extraordinary leap to fame. He made his operatic debut in May 1938 Philadelphia as the Duke of Mantua in Rigoletto, and gave his first solo recital in New York in November 1939.
Jan Peerce's lyrical voice attracted attention. The great conductor, Arturo Toscanini, heard him and found him to be the tenor he had been looking for to sing the leading roles in his broadcasts and recordings of opera and choral works. The recordings that followed these broadcasts are among the outstanding musical legacies of our time. Soon the "living" operatic stage beckoned in San Francisco and then New York.
Jan Peerce made his debut with the Metropolitan Opera Company on November 29, 1941 singing Alfredo in Verdi's La Traviata. He sang also the parts of Cavaradossi in Tosca, Rodolfo in La Bohème, and Charles Gounod's Faust. He was hailed by the critics as the "All-American successor to the 'greats' of opera's almost extinct 'Golden Age.'"
He has since become a celebrated name in the world's musical centres, and in 1956 made a sensation in Moscow as a musical "cultural exchange" ambassador, being the first American to sing with the famed Bolshoi Theatre opera.
He remained on the staff of the Metropolitan until 1966, appearing again in 1966-1967. He was pressed to return not only to sing but also to teach a master class. He continued to make occasional appearances until his retirement in 1982. He was the brother in law of Richard Tucker.