The History of The Tenor Narrated
The History of Mario Del Monaco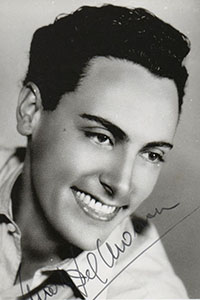 Born: July 27, 1915
Died: October 16, 1982
Italian tenor.
Del Monaco was born in Florence to a musical upper-class family.
As a young boy he studied the violin but had a passion for singing. He graduated from the Rossini Conservatory at Pesaro, where he first met and sang with Renata Tebaldi, with whom he would form something of an operatic dream team of the 1950s.
His early mentors as a singer included Milocchi, his teacher at Pesaro, and Maestro Raffaelli, who recognized his talent and helped launch his career.
That career began in earnest with Del Monaco's debut on December 31, 1940, as Pinkerton at the Puccini Theater in Milan. (His initial appearance in an opera had occurred the previous year, however, in Mascagni's Cavalleria Rusticana at Pasero.)
He sang in Italy during the Second World War and married, in 1941, Rina Filipini. In 1946, he appeared at London's Royal Opera House, Covent Garden, for the first time. During the ensuing years he became famous not only in London but also across the operatic world for his powerful, metallic voice. It was heldentenor-like in scope but Del Monaco was no Wagnerian, confining his activities overwhelmingly to the Italian repertoire.
Del Monaco sang at the New York Metropolitan Opera from 1951 to 1959, enjoying particular success in Verdi parts such as Radames. He established himself as one of the Italian tenor "superstars" of the 1950s and '60s, along with Giuseppe Di Stefano, Carlo Bergonzi and Franco Corelli. His trademark roles during this period were Giordano's Andrea Chénier, Verdi's Otello. He first tackled Otello in 1950 and kept refining his interpretation throughout his career. It is said that he sang Otello an astonishing 427 times.
Del Monaco made his first recordings in Milan in 1948 for HMV. Later, he was partnered by Tebaldi in a long series of Verdi and Puccini operas recorded for Decca. On the same label was his 1969 recording of Giordano's Fedora, opposite Magda Olivero and Tito Gobbi.
In 1975 he retired from stage. He died in Mestre.