The History of Mario Del Monaco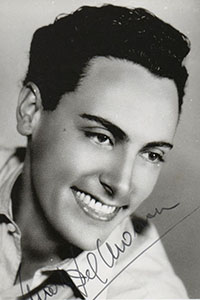 Born: July 27, 1915
Died: October 16, 1982
Italian tenor.
First class dramatic tenors have been very scarce, since the Second World War.
Windgassen was almost totally Wagnerian, the true heldentenor in fact.
Tucker developed from the Spinto into the dramatic parts rather as Caruso had done.
The only Italian to emerge since the war has been Mario Del Monaco, born in Florence on the 27th of July 1915.
He studied at the Pizzaro Conservatory. At 13, he sang Masani's Cantata, Narcissus. In 1935, he won first prize in a competition for a place in the Rome Opera School.
He made his debut at Pizzaro in 1939, but regards his official debut, a performance as Pinkerton in Madam Butterfly at Theatre Puccini, Milan, in January 1941.
The foundations of Del Monaco's international career, were laid during the 1945/46 season, when he sang Radames at the Verona arena and Cavaradossi Canao, and Pinkerton at Covent Garden, with Asan Carlo company from Naples.
I wasn't into the Pagliacci performance and didn't enjoy it much.
It would be interesting I think, to compare him immediately with his American rival Richard Tucker.
So, here he is in the O Tu Che In Seno from Verde's La Forza del Crostino.
O Tu Che In Seno / Forza / 1958 – Mario Del Monaco
Del Monaco established himself during the 50s, at La Scala, Milan. Singing in the heavier operas such as, Norma, La Giaconda, Andrea Chinai, Lohengrin and Samson.
In 1950, he had made his North American debut in Aida at San Francisco. Rudolf Bing heard him and engaged him for the Metropolitan Opera, where he made his debut, the following year.
He was to remain a regular visitor to the Metropolitan, until 1959. He was also heard at the Cologne in Buenos Aires and in the leading opera houses of France, Yugoslavia, and Germany. Another highlight was his tour of the Soviet Union in 1959, and his appearance at the Bolshoi in Carmen with the emerging Russian star, Arena Archabbey.
Here he is singing Ah! La Paterna Mano from Verde's Macbeth.
Ah! La Paterna Mano / Macbeth / 19xx – Mario Del Monaco
Harold Rosenthal, the opera historian critic, summed up Del Monaco as follows:
Del Monaco possessed a thrilling natural voice of enormous power, his defamatory style was reminiscent of Pertiles'. Though a reluctance to sing below mezzo forty, was criticized. Yet at his best, he could give moving and sensitive performances. His Otello at Covent Garden in 1961, was greatly praised for its sincerity and feeling, as well as for vocal splendor.
Niun Mi Tema / Otello / 19xx – Mario Del Monaco
Mario del Monaco was a mainstay of the Decca record company, all during the 50's and early 60s.
A tremendous rivalry ensued between the Del Monaco / Tebaldi, combination on Decca and the DeStefano / Callus combination on Columbia. Opera after opera was issued on the new long-playing format featuring these great singers and many a friendly argument raged as a konusente discussed this or that version.
All spurred on in the ad, by the comments of the reviewers, in the indispensable gramophone magazine.
So, to finish, I'm going to play an extract from the Massball and then something from that wonderful Del Monaco, Tebaldi combination.
Ma Se Me Forza Perdita / Un Ballo / 19xx – Mario Del Monaco
Vicino A Te w Tebaldi / Chenier / 19xx – Mario Del Monaco

The History as it was Recorded