The History of Róbert Ilosfalvy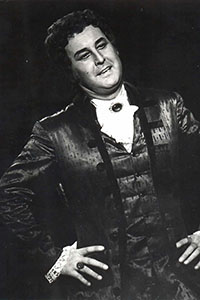 Born: June 18, 1927
Died: January 6, 2009
Hungarian Tenor
Reti came two years after Konya, two years after Reti, came Robert Ilosfalvy. Born in 1927.
He first attracted attention as a soloist, with Hungarian army choir. And was snapped up by the Budapest opera in 1954.
Like Kraus, Vanzo and Pavarotti, he was essentially a lyric tenor in his early days. Gradually developing into a spinto, as he got older.
His first big success was in National Operas, in Nadivaslo and Bank Ban, both written by the Hungarian composer Erkel.
Then Puccini's Manolescu brought him further critical acclaim before Alvaro in Verdi's La Forza del Destino saw him introduced as a fully-fledged spinto.
During the 1960's, Ilosfalvy started to appear on the international circuit, with some success.
Vienna, Amsterdam, San Francisco, New York, and Moscow, all heard him, and he was to be heard in complete recordings of Roberto de Vrouw, Traviata, and Rigoletto.
In 1966 he joined at the Cologne opera, which he used as his base, while pursuing his international career.
We hear him now in Toledo's farewell from Cavalleria Rusticana, and then an extract in his native language from an opera by Hungary's most famous operatic composer, Erkel.
Banks Aria from Act II of Bank Ban
Mamma Quel Vino / Cavalleria / 1966 – Róbert Ilosfalvy
Ban's Aria / Bank Ban / 1965 – Róbert Ilosfalvy

The History as it was Recorded