The History of Alfredo Kraus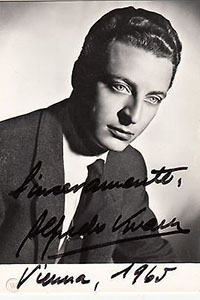 Born: 24 November 1927
Died: 10 September 1999
Spanish Tenor
The two lyric tenors we are about to discuss, may be regarded, at this point in time, 1990, as the last of the great French tenors and the first of a new generation of Spanish tenors, who are to dominate the operatic tenor scene for the remainder of this survey.
The first born, was the Spaniard, Alfredo Kraus, born in 1927 at Las Palmas in the Canary Island.
Son of an Austrian father and a Spanish mother. As a child, he learned to play the piano and continued to study on this instrument during schooling and later when working as a property valuer. So that, he became and remains an accomplished pianist to this day.
His lovely voice was also apparent, early. So that, when a Connoisseur of singing heard him at a soiree in a friend's house, he persuaded him to consider singing as a professional career.
First lessons were at Las Palmas, then in Valencia, moving onto Barcelona and eventually to Milan, where his teacher was a Spanish soprano, Mercedes López. Who had been well known in Spain and Italy in the 20s and 30s, and had sung at La Scala, under Toscanini.
After winning first prize at the Geneva international singing competition, he was snapped up by the Cairo opera.
Where he made his debut in 1956 as the Duke in Rigoletto.
A part in which he was to become, world famous.
Ella Mi Fu Rapita / Rigoletto / 1962 – Alfredo Kraus
After his successful Cairo debut, Alfredo Kraus was invited to sing Alfredo, in Verdi's, la Traviata.
Firstly, in Venice and subsequently in Turin and Barcelona during 1957, and at the Stole Theatre in London in 1958, where his partner, was the then, equally unknown young soprano, a Renata Scotto.
But the highlight of 1958, was his singing the role in Lisbon, opposite Maria Callas. An occasion, he recalls, with gratitude and special satisfaction.
Overawed by Callas' fame and reports of her difficult temperament, offstage and on, he was understandably nervous.
To his surprise, she proved an outstandingly supportive and sympathetic colleague, whose stimulating presence was a contributing factor to his own success.
So, let's join that glittering audience, assemble at the San Carlos, in Lisbon, on the evening of the 27th of March 1958.
And listen in to our hero and heroine, prompter and all, direct from the stage.
Un Di Felice w Callas / Traviata / 1958 – Alfredo Kraus
Parigi O Cara w Callas / Traviata 1958 – Alfredo Kraus
After such success and acclaim, Kraus was invited to la Scala, where he made his debut as Alvino in Bellini's, La Sonnammbula, and then Covent Garden, where he sang in Lucia de Lammermoor, opposite Joan Sutherland.
Here in the same year, 1959, he first sang a role, that was to become another great favourite, Arturo in Il Puritani.
The conductor Tulio Serafin thought that the role was made for him, with his fiendishly difficult Tessitura, culminating in a series of D naturals.
When he was eventually asked to record the role, he was rather past his prime.
Another tragedy, for Krauss should have been visually employed recording all the so-called belcanto roles of Rossini, Bellini, and Donizetti, during the 60's.
However, we can hear his D natural, in a short but exciting extract from Rossini's, William Tell.
Il Piccolo Legno Ascendi / William Tell / 1968 – Alfredo Kraus
In season 1965/66, Alfredo Krauss made his Metropolitan debut, as the Duke in Rigoletto.
And in 1968, sang Donnatavio at Salzburg Festival under Von Karajan.
But although he enjoys hearing other colleagues in Mozart's roles, he does not particularly enjoy singing them himself.
Krauss now felt that his voice was ready for the slightly heavier lyrical French roles and began to study these parts seriously.
The rest is now operatic history, the French magazine Opera International, in 1984, being moved to call him the greatest French singer of the post war era. And that, with Gedda and Vanzo as competition.
He first sang Verta, one of his most celebrated parts in Rome in 1970. And subsequently in Chicago 1971, la Scala 1976, Florence 1978, Covent Garden 1979, and the opera 1984.
He has recorded opera complete and also Manon and a Romeo and Juliet, all to universal critical acclaim.
Faust was another popular choice, and he has sung the role extensively, including portrayals at Covent Garden in 1977 and 1983.
So, we certainly must hear him in French opera.
Pourquodi Me Reveiller / Werther / 1968 – Alfredo Kraus
Di Pescatore Ignobile / L-Borgia / 1967 – Alfredo Kraus
Just in case you didn't recognize the music, I should tell you, that that was from Liam Cavallo's bohème, not Puccini's.
Poor Liam Cavallo, his opera was produced one year after Puccini's overwhelming success and almost instantly consigned to oblivion.
We haven't yet heard Alfredo Kraus in one of his acclaimed belcanto roles, that must now be rectified, for he was outstanding in these parts.
Nor have we heard him in Spanish song, in which he is idolized in his native country.
But before that, we should all be interested in an interesting comment he made, during an interview.
Alfredo Kraus:
The singer's job is to educate the public, even if this means being less popular at a mass level.
The way for singer's to do this, is by constantly striving to improve and surpass themselves. This helping the public surpass themselves too and arrive at a deeper understanding of opera and the art of singing.

It would be simple for us to deliver our voice, such as it is, without particular excellence of style and without purity of line.
The public would accept this all too easily. No one can pretend that 100% of the public, who come to their performances really understand what we are trying to do.

For the artist has a duty to be a teacher, an educator, beyond popular tastes and fashion.
Instead of singing to the gallery, we should sing for that section of the public, be it 50, 20, 10 or even 1%, who really understand.

I deeply believe in elitist standards, not from the snobbish social aspect, but from the point of view of quality and excellence.
In singing for this minority of the public, capable of truly appreciating what you do, we also help raise the level of understanding of the majority, who have now heard and will know the difference between excellence and mediocrity.
Maybe not today, but certainly tomorrow, or the day after.

What does it matter if one's temporary antagonized.
I give my art, it is the public who should come to me, not vice versa.
This is the way of the bequeathing something valid and worthwhile to the future of our art.
Rafael's Song / La Dolorosa – Alfredo Kraus

The History as it was Recorded