The History of The Tenor Narrated
The History of Alfredo Kraus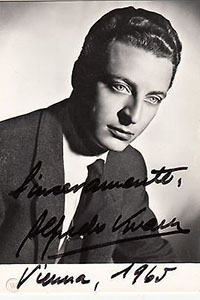 Born: 24 November 1927
Died:  10 September 1999
Spanish Tenor
The first word that came to mind when comparing Alfredo Kraus with the other international tenors of his day was "aristocratic", and it applied to his personal manner as much as to his immaculate vocal style. It applied too in the best sense of the word, for he was warm as well as courteous in manner, ardent as well as polished in his singing.
Even in his later years he cut a debonair figure, slim and always elegantly dressed – he never received visitors in his dressing-room until he had removed his make-up and changed into a suit – and he kept his voice in similar good trim. Although his father was Viennese, he was born in Las Palmas and was wholly Spanish in appearance and temperament.
Kraus managed both his voice and his life with total success. He graduated as an industrial engineer before turning to singing as a career, so was a comparatively late starter. But once he had made his decision and studied for a time in Milan with Mercedes Liopart, he knew exactly which roles he could sing with comfort.
His voice was bright and had a Mediterranean warmth, not large but more than usually metallic and concentrated. He was able to project it even in the largest opera houses as long as he chose his repertoire with care. The top of his voice was absolutely secure, which made roles in Donizetti's Don Pasquale and Lucia di Lammermoor and Bellini's La Sonnambula and I Puritani ideal for him, as were Verdi's Rigoletto and La Traviata. It was in these roles, starting with the Duke in Rigoletto at Cairo in 1956, that he made his name at Covent Garden and La Scala, subsequently becoming a great favourite with audiences in New York, Chicago and Dallas.
Kraus received many tempting offers to take on the heavier, crowd-pulling roles in Puccini and the later Verdi operas, but resisted them all. "A singer is like a weight-lifter," he once explained to me. "If you try to lift more than you can support, or you fight with someone who is heavier than you are, then you will lose." Thus he never ventured beyond the dramatic weight of Massenet's Werther, a role that he made very much his own.
He felt no need to compete with others tenors, Franco Corelli and Giuseppe Di Stefano in the 60s or Luciano Pavarotti and Placido Domingo in the 70s and 80s, because he knew he could not be surpassed in his chosen field. No other tenor equalled his wonderful control of line and poetic eloquence of expression, especially in the bel canto roles in which his singing was the connoisseur's delight. His voice retained its qualities because he nursed it carefully, resting it every year while he spent a full month's holiday with his family at his home in the Canary Islands, where he kept a watchful eye on his business interests in property and a record company in Spain.
It was because he owned his own recording company that during his early years he was seldom invited to record for the leading British and American companies, though he can be heard in a memorable Così Fan Tutte with Elisabeth Schwarzkopf and as Alfredo to Maria Callas's Violetta in a Traviata recorded live in Lisbon in 1958, and released 22 years later.
Eventually, in the 70s, he was able to record most of his best-known roles. But he never cared for recording, considering it cold and artificial.
Kraus was a considerable actor, his natural elegance on the stage being ideally suited to nobly romantic roles. The finest tribute to him as a complete artist in the opera house was paid by one of his most distinguished colleagues, Victoria de los Angeles.
When I asked her which tenor she considered the finest among her many partners, she replied that she could not answer such a question as they had included such artists as Jussi Björling, Mario del Monaco and Giuseppe Di Stefano. Then she added: "But I can tell you the most wonderful experience I ever enjoyed on the stage. Almost always in the opera house I was aware of the singer as a person as well as the character he was portraying, but when I came to sing in Werther with Kraus he was not my friend Alfredo but Werther himself, and he made me feel that I was really Charlotte." There could have been no higher praise.
In 1996, Kraus undertook an international tour to mark his 40th anniversary on the operatic stage.