The History of The Tenor Narrated
The History of Richard Tauber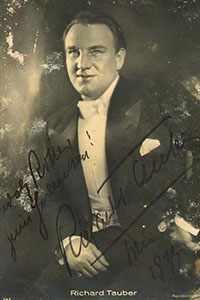 Born: 16 May 1891
Died: 8 January 1948
Italian tenor.
Second only to the great Caruso, Austrian opera singer Richard Tauber is revered as one of the world's finest Mozartian tenors to come out of early to mid-20th century Europe.
He was born in 1891 of modest means in Linz, Austria, the illegitimate son of soubrette Elisabeth Seiffert, who sang locally as well as toured.
His father, Richard Anton Tauber, a legit actor, was not married to his mother and, in fact, was unaware of his parental status for quite some time after his son's birth.
Richard traveled with his mother at a young age where he developed an ardent passion for the musical arts, but it proved a grueling and impossible undertaking for the actress who was continually on the road.
The boy was finally sent to live with his father at age 6 who then took over his upbringing. Trained in voice, Tauber initially seemed to lack fire and dimension, drawing unimpressive responses from his music masters.
Unequipped to sing the heavy scores of the Romanticist composer Richard Wagner, who was his idol, Tauber subsequently studied piano and composition before coming under the tutelage of famed voice teacher Professor Carl Beines.
It was Beines who redirected his pupil back to voice with the prospects of interpreting the classical works of Mozart.
Finally realizing and acknowledging his operatic niche, Tauber progressed quickly and made his public concert bow in 1912.
A year later came his stage debut as Tamino in Mozart's "The Magic Flute" with the help of his father, who had become the Intendant of both the Municipal and Stadt-Theater in Chemnitz.
A few days later he played Max in "Der Freischütz" and, as a result, was offered a five-year contract with the Dresden Opera.
The Vienna and Berlin companies were to follow where he worked up a rich repertoire of roles in such operas as "Don Giovanni," "Tosca," "Mignon," "Faust" and "Carmen."
He met and married frequent British co-star Diana Napier in 1936. Making his London operatic debut with "The Magic Flute" in 1938, the U.S. was willing to embrace Tauber with open arms but the artist remained true to England throughout the war years.
As there was no opera staged in wartime Britain, he made ends meet with concerts, conducting and composing operettas, radio broadcasts and recordings. One of his operettas, "Old Chelsea," produced his signature song, "My Heart and I."
In 1947, Tauber sought help for an aggravated cough which was subsequently diagnosed as lung cancer. Despite extreme difficulties in breathing and the collapse of one lung, Tauber gave a bravura performance in one of his favorite roles, Don Ottavio in "Don Giovannia" at Covent Garden on September 27, 1947 and fulfilled this engagement the following day at the Camden Theatre, having begun and ended his formidable career performing Mozart.
Three days later, on October 1st, he entered Guy's Hospital for the removal of a cancerous lung; the surgery took place the next day–only five days after his final performance.
Tauber died of complications on January 8, 1948. His devoted second wife Diana published her first biography of her husband a year after his death; her second "My Heart and I" was published in 1959.