The History of The Tenor Narrated
The History of Richard Tauber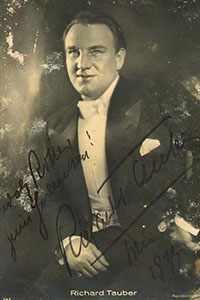 Born: 16 May 1891
Died: 8 January 1948
Italian tenor.
Narrative 1
Pattiera's friend Richard Tauber was born at Lintz in Austria on the 16th of May 1891. The illegitimate son of Elizabeth Seaford, a widow.
His father Richard Anthon Tauber was quite unaware of the arrival of his son, as he was touring America in a play. However, when it became financial difficult for his mother to keep him, his father took him under his wing, until he could fend for himself.
Like Pattiera, he decided early that he wanted to be a singer. His father sent him to Leopold Demute, the celebrated baritone of the Vienna opera, for a voice test.
He tried to bellow Wagner and came back with an unflattering report, that the voice was much too small, and all ideas of a singing career should be dropped.
An interesting pronouncement for someone who recorded 735 sides for the gramophone, the most prolific tenor of the century.
He was now entered at the Conservatoire at Frankfurt, to study piano, composition and conducting. He conducted the school orchestra, wrote some songs in a one act opera.
Then to Bahl Conservatory, where he again took up singing, this time with more success, and with a lighter repertoire. He was offered a contract at Manheim but refused in favor of another year's study and at last on the 2nd of March 1913, at Schemnocks, he made his debut as Tamino in Dazobo Flota, The Magic Flute.
So, Count Zibak had spotted another talent, this one extremely versatile, because of his musical as well as singing talents.
Tauber became known as the SOS tenor from Dresden, willing to sing anything at 48 hours' notice.
When Picaver took ill in 1915, it was Tauber who was rushed to takeover at short notice. His actual debut on the stage of the Dresden opera was on the 31st of August 1913, in Obour's Massinuello. And he was contracted there, from 1913 to 1922.
When he broke his contract to accept one from the Vienna state opera. The discography in the record collector, shows over 60 different operas sang during his Dresden association. And they make interesting reading. From Donizetti, daughter of the regiment to Wagners Tannhauser from Mozart's Don Giovanni, Magic Flute in a seraglio to Verdi's Traviata and Falstaff.
From Puccini's Turandot, Tosca, Butterfly and Boehme to Richard Strauss's Salome, Rosen Cavalier and Adriana of Naccshaus.
And many of these were after 1923, when he was able to appear again at Dresden, as a guest artist.
Now contracted to the Vienna state opera, he began rather naughtily, by accepting a lucrative offer to sing in Operetta Frascita, at the theater and their vine, during the break, after the Salzburg Festival.
This was of course the beginning of his brilliant association with this genre, of course in Germany and Austria such lighter music was not thought all that inferior. Indeed, all the leading houses included Jon Strauss's operetta, in the repertoire.
And it wasn't long before Layhad became quite acceptable also.
For Tauber, it was a refreshing change, but he never seriously considered giving up Mozart Puccini and Verdi, for which he was contacted for over half the year.
Here he is in one of his best remembered Dresden's triumphs. Smetena's Opera, the bartered bride.
Narrative 2
Richard Tauber sang at the Vienna state opera from 1922 until 1938.
Some of the many highlights included La Traviata and the Mass ball, both with Courts and Battistini.
Frieda Maus with Tauber. Slezak, Elizabeth Schumann and Vera Schwarz.
And the world premiere of Lahad's Botita with Tauber and Novotna, at treble the usual prices and with 120 video microphones taking the performance.
This was in January the 20th 1934.
During the 1937/38 season, he was heard in the Bartered Bride, Don Giovanni, Pagliacci, The land of Smiles, Butterfly, Boheme, and the Magic Flute.
These were to be his final appearances in the house, but this was not realized at the time.
Tauber was at the Berlin State Opera from 1919 until 1928 and his reputation there was as high as in Vienna.
One item of particular interest to us, was the Berlin state opera Tosca of 1924, where the great Italian baritone Pasquale Amato was making some of his last appearances and with the outstanding Freda Lidar as Tosca.
The critics noted a reversal of the usual order of things, the Austrian Tauber sang bel canto. And the Italian Amoto, now past his best, sprecht ge sang.
Just to take one example of these wonderful Berlin years, we read of his 1924, Don Matavio.
There is no necessity to write more in these columns which have long spread his fame, about the culture of his singing. He is a polished fine musician, who not only knows his part but the whole score and creates from the complete work. That is extremely important with Mozart.
So, we get from Tauber, that musical dramatic fusion of character, which not only the German, but on the world stage, is so difficult to find.
One feels this especially with his Donna Tavio in Mozart's Don Giovanni, which is perhaps his best part. The usual run of tenors regard the role with scorn and consider it unthankful because he cannot sing it.
Tauber makes a fine character study of it. He gives a nobleman, rather unkindly handled in opera, a manly refine Mien and a certain quality.
He sings the two arias incomparably. How he gives by the power of his Cantilena, the end of the G major Aria, a soaring poised line to that brocht octave leading melody.
How he fills the coveratura, of the B flat major Aria with dramatic life is quite unprecedented.
In yesterday's performance at the state opera, nobody was in the same class.
Narrative 3
Tauber was guesting at Dresden in 1924 and with many others awaiting the German premiere of Turandot, when the tenor was taken ill, and Tauber was begged to take the part.
He burnt a lot of midnight oil but sang the part under Bush after only two days study, an astonishing feat.
Dresden showed a thanks with 4000 marks for performance and cancellation of the remainder of his fine for his 1922 contract breaking.
Of course, Richard Tauber's name will always be associated with those wonderful operetta's that he made famous during the 1920s and 30s.
Particular those of France Lenhard, who wrote so much for him, always including a Tauber song in his creations.
These Tauber leads were always eagerly awaited and brought the house down.
Narrative 4
Now there were films, and like his friend Tino, he was in demand.
He made five German films and most successful being, the film version of Lehard's the Land of smiles.
In 1931, he was in London with the Land of Smiles and then across to America for a tour, which was very successful.
Then back to Britain for a tour here. In 1932, he was singing in Berlin. But with seven million unemployed and brown shirts everywhere, the days of elegance and style were outnumbered.
Tauber was an Austrian citizen and a non-political animal, but he was accosted by rowdies on leaving his hotel one evening and left the country. After touring Sweden, Belgium, and Holland, he arrived back in London for another big hit, Lilac Time.
This was so successful, that it led to a British Film contract which eventually produced four films, Blossom Time being the best known. It produced even more.
He met Luid and married the actress Dana Napier during his filming, his second marriage of one which was to last forever. Now he was singing, filming, and broadcasting opera and operetta in Vienna and London and touring America, during the busy years of the 1930s.
And he was composing and conducting as well. He was on American radio six times with Grace Moore, Erna Zack, and Alexander Kipnis.
And at a White House concert with the President Roosevelt.
He toured Italy in 1937, singing in Rome, Milan, Bologna, Turin, and Naples. Before arriving in London in May 1938 for his debut at Covent Garden in the Magic Flute with Tauber, Berger, Lemnitz, Hoosh, Jansen and Stridenz. Beecham conducting.
Narrative 5
After his Covent Garden appearances in 1938, Tauber toured Australia and South Africa, to great acclaim.
In Melbourne for example, the six arranged concerts had to be extended to nine, to cover the demand for tickets. And in 1939, after operatic appearances in Bahl, Zurich and Bern, he toured the USA and Canada for the third time.
Before returning to London in April for his second season at Covent Garden. He was heard in The Bartered Bride with Connetzi under Beecham and then in a wonderful Don Giovanni with the glittering cast of Tauber, Rittberg, Pinza, Conetzi, Favera and Lizari under Sir Thomas Beecham.
After a Scandinavian tour, it was off to South Africa with the Land of Smiles. Mr and Mrs Tauber were by now, stateless persons, and had to wait in Switzerland for the naturalization papers coming through.
Then it was back to a blacked-out London for Land of Smiles and old Chelsea.
He sang and conducted in Britain all during the war. In 1946 he was back in New York and then toured central and Southern America returning to London with a bad cough. This became so troublesome, that he consulted a specialist who told his wife, that he had cancer, and that one lung was practically gone.
Tauber himself was never told this, merely that it was advisable to operate to remove an Abscess.
But the Vienna state opera were coming to Covent Garden and had invited him to sing with his old colleagues. He told his Dr, I must and will sing in this performance, in my own language, with my own people. Nothing in the world will stop me. Afterwards, you can do with me what you like.
So, on the 27th of September, 1947, he sang Octavio with Schaeffler, Jebotari, Sivortzkopf, Geden, Coontz and Veda.
How he performed this apparently physically impossible feat, will forever remain a mystery. Apart from those close to him, nobody in the audience, or the critics, knew of his condition. Little did they know that they were witnessing the farewell of a much-loved artist.
He entered guy's hospital on October the 4th, and his left lung was removed but the tragic discovery, was that his other lung was affected also. Fortunately, the end came more quickly than expected, after a bad boat of coughing, he was taken to hospital, on the afternoon of January the 7th 1948 and died early the next morning.
On Friday the 20th of February, a memorial concert was arranged for the Anglo Austrian Music Society, in aid of a Richard Tauber memorial scholarship in the Albert Hall. The concert was broadcast both in Britain and abroad, and music was all Austrian.
7000 voices are said to have joined the orchestra, in the Tauber lead from the Land of Smiles, Dine me En Ganstahertz, You Are My Hearts Delight