The History of The Tenor Narrated
The History of Giuseppe Di Stefano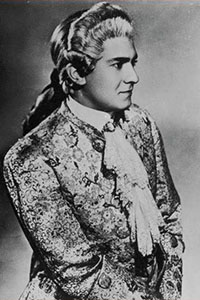 Born: 24 July 1921
Died: March 03, 2008
Italian tenor.
Giuseppe di Stefano began to study voice as he trained for the priesthood in a Jesuit seminary in Milan; his teachers included Luigi Montesanto and Mariano Stabile.
Mobilized into the Fascist army at the age of 19, di Stefano helped make ends meet by singing popular music under the pseudonym of "Nino Florio". Deciding he'd had enough of service under Mussolini, di Stefano deserted to neutral Switzerland in 1943. Though di Stefano was interned as a refugee, he made his way singing on Swiss radio broadcasts, succeeding in building a small following. At war's end, he returned to Italy and began his singing career in earnest, debuting as Chevalier des Grieux in Massenet's Manon at a performance held in Reggio Emilia on April 20, 1946.
Word spread like wildfire throughout Italy about di Stefano's talent, and he made his La Scala debut less than a year later, repeating his role as des Grieux. Di Stefano's reputation was further assisted with a series of recordings undertaken at this time in which he sang Neapolitan and other kinds of light Italian songs. Some of these early di Stefano recordings are yet regarded as the finest in this genre. The Metropolitan Opera of New York soon became interested, and di Stefano made his bow at the Met in Rigoletto on February 25, 1948.
For many opera lovers, the name of Giuseppe di Stefano is inextricably linked with that of legendary soprano Maria Callas. Di Stefano first appeared with Callas in a production of La Traviata given at São Paulo on September 9, 1951. Afterward he appeared frequently alongside Callas on-stage and in recordings, the most celebrated of the latter being a 1953 EMI of Tosca, regarded by many in the operatic fold as the finest recorded Tosca in existence.
Clearly there was some compatibility between Callas and di Stefano; both emphasizing emotional, powerful singing colored with sensual warmth. With Callas, di Stefano recorded a total of ten complete operas. Di Stefano also partnered Leontyne Price in a celebrated Tosca led by Herbert von Karajan for London/Decca in 1961.
As in the case of Callas, problems with di Stefano's voice began to surface early on. In the late '50s, di Stefano began to take on heavy roles, such as Calaf in Turandot, wreaking havoc on his clear and light tenor voice. By the early '60s, di Stefano was unable to sing a true pianissimo, resorting instead to shouting, aspirating, and breaking registers. Nonetheless, he maintained a full schedule of engagements throughout the '60s and into the '70s. In 1973-1974, di Stefano and Callas embarked on an ill-advised world concert tour. The end result, unfortunately, was that the public got to hear what pitiable wrecks these two great singers had made of their voices.
This disastrous tour spelled a sad end to both their professional careers. However, di Stefano returned to the stage to sing minor roles on occasion, the last recorded instance being in Rome in 1992. While the efforts of his later singing have injured the reputation of di Stefano in some quarters, there's no denying that he was one of the finest tenor voices to emerge in the wake of World War II.
Di Stefano suffered severe injuries during a robbery at his villa in Kenya in 2004 and spent the final three years of his life incapacitated in a Milanese hospital. He died of complications from his injuries in March of 2008.