The History of Giuseppe Di Stefano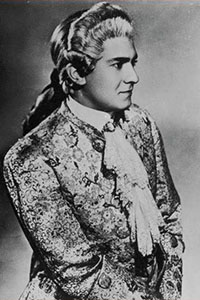 Born: 24 July 1921
Died: March 03, 2008
Italian tenor.
Cantu a Timuni / ( Trad ) / 1947 – Giuseppe Di Stefano
That haunting Sicilian song, a favourite record of Toscanini's by the way, introduces the Sicilian tenor, Giuseppe Di Stefano.
Who was born in Catania, Sicily, on the 24th of July 1921.
The record was made in 1950, just four years after his debut at the Municipal Theatre, Regio Amelia, as the Des Grieux in Masani's Manon.
For a study of his career, I quote from Michael Letchford's excellent article on the singer:
When Giuseppe was 6 years old, the family moved to Milan on mainland Italy, where his father was a Carabinieri, and his mother supplemented the family income as a seamstress. The boy sang in a local church choir.

At the age of 16, shortly after his voice had broken, a small but significant event took place.
Giuseppe had a very good friend at that time, who was a few years older than himself.
The friends habitually played cards together and Giuseppe habitually lost.
One day, Giuseppe's luck was in, and he won a game. In unexpected triumph, he broke into song, his friend with rare discernment, suggested quite seriously that Giuseppe should have his voice trained.
The result was lessons with the tenor Adriano Torquay, whom today Di Stefano fondly remembers.
Two years later, the singer's vocal studies began in earnest. When he was accepted as a student, by the celebrated baritone Luigi Montesano, in Milan. Another famous baritone Mariano Stabile, who makes a brief appearance in this story, at this time.
He impressed most firmly upon Di Stefano, the importance of diction and singing, a lesson never forgotten.
The young Giuseppe was now drafted into the Italian army and in 1943, was to be found making some of his earliest public appearances at the Costallo in Milan, along with dancers, comedians, and magicians.
Later that year, the Italian army broke up and Di Stefano escaped to Switzerland, where he was interred in a refugee camp.
It wasn't long before his talents were noticed and brought to the attention of the artistic director of Radio Lazan, broadcasts and concert appearances soon followed. And in Switzerland, he became something of a celebrity, making his first recording there in 1944.
The war over, Di Stefano was repatriated and return to Milan, and he studied with Montesano. His debut has already been mentioned and by the time he visited the EMI recording studios in St. Johns wood in the winter of 1947, his triumphant La Scala and Rome debuts behind him, and his metropolitan debut less than three months away. He was on the point of being an international artist and so, records had to be made for international release.
During this visit, he met the legendary talent scout and record producer Fred Gizburg, who 45 years earlier had recorded the 29-year-old, Enrico Caruso in a room of the Grand Hotel, Milan.
Here is a sample from that 1947 session.
E La Solita Storia / L'Arlesiana / 1947 – Giuseppe Di Stefano
Di Stefano's Metropolitan debut took place on the 25th of February 1948, when he sang the Duke in Rigoletto, opposite Leonard Warren.
A few weeks later, he sang the Des Grieux to Albinoni's Manon in Masani's opera.
During the next five years, Di Stefano made regular appearances at the Met. In addition to Rigoletto and Manon, he appeared in Lucia Demore, Yaniskiki, Falstaff, la Boehme, la Traviata, and Madame Butterfly.
His leading ladies included Badu Isao, Doris Kiersten, Albanese, Lily Ponzi, and Delos Anglaise.
Di Stefano also appeared in many cities, throughout North America, during this time including, San Francisco, Los Angeles, Boston, Cleveland, St Louis, and Memphis.
After a few years absence, Di Stefano returned to the Met for the 1955/56 season, where he was heard in Rigoletto, Faust, Carmen, and Tosca with Zinke Milanov and Tito Gobi, making his Met debut.
In September 1951, at the municipal theatre, San Paolo, Di Stefano appeared on the operatic stage opposite Maria Callas, for the first time in the performance of La Traviata with Tito Gobi.
During May and June, of the next year, Callas and Di Stefano appeared together in Mexico City, singing in performances of Pertain, Triviaka, Lucia de Lammermoor, Rigoletto, and Tosca.
Within the next five years, Callas and Di Stefano had recorded 10 operas together for Columbia.
These volatile and individual singers appeared regularly on stage and recorded together into the late 50s.
Their unique partnership lives on in their recordings and in the minds ear.
Hearing one voice invariably conjures up the other.
So, let's sit back now and enjoy some of those wonderful Di Stefano, Callas moments, among the most exciting the gramophone has to offer.
Duet w Callas / Cavallaria / 1954 – Giuseppe Di Stefano
Duet w Callas / Un Ballo / 1955 – Giuseppe Di Stefano
Duet w Callas / M/Lescaut / 1954? – Giuseppe Di Stefano
Di Stefano was quickly and firmly established, as one of the leading operatic artists of his day.
And was in great demand, both on the operatic stage and the concert platform.
He made his British operatic debut in 1957, when he appeared in Ellesse Damore with the Piccolo Scala company at the Edinburgh Festival.
But it was not until 1961, that he made his Covent Garden debut, when he sang three performances of Tosca.
In 1963, he made a further solitary appearance in La Boheme.
I, myself, saw Di Stefano in Glasgow, when he sang a few songs at a gala concert, in aid of the Italian earthquake fund.
He was in his early 60s, but of all the many singers I have seen, his voice was in the worst condition.
Hardly anything of that wonderful voice was left, and the top note had all but disappeared.
The fact is, that he could have disappeared from the main operatic scene, during the mid-60's, having sung himself dry.
In his book, Douglas Bing, the Metropolitan manager, gives perhaps a typical example of his waywardness.
He had signed a contract for the Met but had not turned up for the rehearsals. The telegram stated that he was ill in Milan.
Bing was suspicious and sent a telegram to a friend in Milan to check on the singer.
Di Stefano was in fact, giving a few extra performances at La Scala. For a few extra pennies, as he put it.
Bing cancelled his contract, accounting for the few years' absence from the Met, mentioned earlier.
Thankfully, Di Stefano was extensively recorded during his best years. Unlike Lori Volpi for example.
And all his popular repertoire is still available.
The two examples I have now chosen, are rather less well known though.
Another Sicilian song, that you will want to hear over and over again, the way Di Stefano sings it.
And from Giuseppe Pietri's opera, Maristela, the aria Il lo Conosco un Gardino.
La Barcillunisa / ( Trad ) / 1959 – Giuseppe Di Stefano
Io Conosco un Gardino / Maristella – Giuseppe Di Stefano
Finally, a surprise, I think.
It is 1974, Callas has retired, the new Diva is Montserrat Caballe.
What about a Di Stefano, Caballe gramophone partnership?
Remember how they brought out the veteran Lori Volpi, to sing with Maria Callas, when she emerged.
And it did the same with Lemeshev and Nierskia.
Could they be persuaded to record together. Dare they ask?
Well, we can only try. At least Spanish Colombia did.
Sento Una Forza w Caballé / Il Gurany / 1960 / Maristella – Giuseppe Di Stefano

The History as it was Recorded