The History of Andrei Labinsky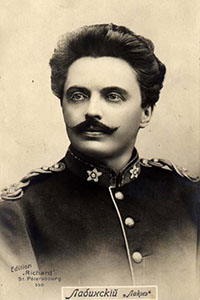 Born: 1871
Died: 1941
Russian Tenor
To change from Paoli to the next singer born in 1871, the Russian lyric tenor Andrei Labinsky is to recognise, once and for all, that comparison between certain tenors is just not possible.
To use a footballing parallel, (common enough in Scotland), it would be like trying to compare Billy McNeil with Jimmie Johnson or Terry Butcher with Davie Cooper.
We can say that of Paolis 53 sides for HMV, not one would ever be sung by Labinsky and vice-versa.
Labinsky's career at the center of Russian opera lasted for 25 years.
He made his debut at the Marinski theatre in 1897, transferred to the Bolshoi in 1912 and after the revolution, appeared at Zimmons opera in Moscow.
In 1920, he was appointed professor of singing at the Moscow Conservatoire and not long before his death in 1941, was principle vocal coach at the Bolshoi.
He himself was a pupil of Stanislav Gable at Saint Petersburg Conservatoire.
His operatic roles included all those of the basic Russian repertoire, but he was also a famous Lohengrin in Almaviva, which he sang in an All Star Barbara of Seville, the Bolshoi in 1913 with a Nishdamava, Karakas and Chaliapin.
He also enjoyed a special success in concert work.
He was a prolific recording artist, although this is not generally known. His records were made for the Russian company A 'moor, which were never available in Britain, to my knowledge. And all, were withdrawn early.
Our first example is a lovely performance from Rimsky Korsakov opera the Snow Maiden, So Full of Wonder is the aria as indeed is the singing.
So full of wonder / Snow maiden / 1905/9 – Andrei Labinsky
Labinsky's records are usually compared with the other great early Russian lyric tenors Sobinoff and Smirnoff, whom we are still to hear.
John Stein sets one against the other and finds Labinsky, holding his own in this Auguste company he finds it wasn't Smirnoff and Labinsky have the ability to convey a feeling of sadness and yearning through the tone and inflexions. And also comments on the expressiveness to be found on most of his Labinsky's records.
He compares him favorably against Sobinoff, generally regarded to be the greatest of Russian tenors, in arias from Eugene, Onegan and Falka.
Here he is in a rare piece, an Aria from Cruito's Opera, The Poet
Luidy's Aria / T-Poet / 1905/9 – Andrei Labinsky
He also recorded some scarce material and John Stein served a comparison to Labinsky's Ivan Suzanne in aria, he found he had to advance it to 1959, to find a record of this aria and that from a complete set of the opera with Nicolai Geda.
Here is what he has to say on the Labinsky's version:
"But what a performance he gave in the old studio. The vitality, the brilliance and those 5 top 'C''s, that record alone earns him a place in the Hall of Fame".
Brothers in a Storm / L-Tsar / 1905/9 – Andrei Labinsky

The History as it was Recorded