The History of The Tenor Narrated
The History of Jon Vickers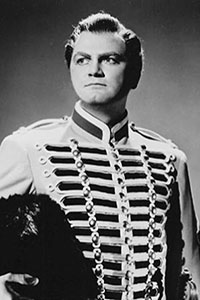 Born: October 29, 1926
Died: July 10, 2015
Canadian tenor.
He was born Jonathan Stewart in Prince Albert, Saskatchewan.
He intended to pursue a career in business until he was 22, singing in choirs and amateur musicals as a hobby.
He then studied at the Royal Conservatory of Music in Toronto. After appearances in Canada as the Duke in Rigoletto, Don José in Carmen, in oratorios and operettas (!), he joined the Covent Garden Opera in 1957, making his debut as Gustavus III (Riccardo). He also sang Don José and Aeneas in Berlioz' Les Troyens.
In 1958 he added Radames to his repertory, he sang Don Carlo in Visconti's production conducted by Carlo Maria Giulini and made his debut at the Bayreuth Festival as Siegmund. He appeared as Samson in Handel's oratorio and as Jason to Callas' Medea in Cherubini's opera.
In 1959 Vickers was invited to the Vienna Staatsoper, he made his San Francisco debut as Radames and was a successful Parsifal at Covent Garden. He joined the MET in 1960, making his debut as Canio, and stayed there for more than 25 years. He had a long career at Covent Garden where he was particularly admired.
His repertory included not only roles such as Florestan, Aeneas (Enée), Tristan, Peter Grimes, Siegmund and Otello, but also Radames, Renato, Don José, Canio, Andrea Chénier and Don Carlos.