The History of The Tenor Narrated
The History of Alain Vanzo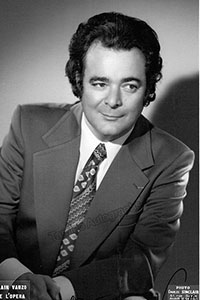 Born: April 2, 1928
Died: January 27, 2002
French Tenor
Narrative 1
The French tenor, was Alain Vanzo, born in Monaco on the 2nd of April 1928.
Like so many of our previous subjects, he began his musical life as a boy soprano, in his parish church, Son Chariot de Monaco.
It was there, that his teacher, and also a town councillor, Monsieur Avenair, noticed the boy's vocal talent.
Vanzo taught himself the accordion, piano, and drums, and went on at the age of 18, to form his own small band, which played at local dances and cafes.
In 1946, he met a retired vocal teacher, Madam Oudha, who recognised the perfect voice and offered to give him lessons, free of charge.
After his military service, Vanzo decided to try his luck, in Paris.
He joined the Venezky orchestra as a 'Jack of all trades', playing a number of different instruments but most importantly, he worked on his voice, with Rorem darkheur.
For one entire year, he was made to sing scales and do solfeggio. His teacher refused to allow him to study a single aria.
At the end of the year, he could reach high E flat. Then came the years of apprenticeship, for this promising singer who had never been inside a Conservatory.
He learned everything right on the stage, starting in 1952 at the Paris Chatelet theatre, where he began his trade as an understudy.
For our introductory record of him, I have chosen, the air, Qui Je Par Le Monde, from Thomas' opera, Mignon.
Narrative 2
At the Cannes competition for tenors, organised in 1954, there was not one, but five winners.
Vanzo was one of the five. He had sung arias from French and Italian opera. And as early as this, his French Italian repertory was beginning to form.
In November of this year, 1954, he got an engagement at the Paris opera in a minor role, in Weber's opera, Oberon.
The main role being sung by Nikolai Gedda. A random coincidence of casting, or an irony of fate.
In any case, these two performers were destined to dob each other's footsteps throughout, the rest of their careers.
Real recognition came to Vanzo, in 1957. His debut at the opera, was believe it or not, as The Duke in Rigoletto, the same role that Kraus had sung at his debut. To be followed by one of his most famous roles, Gerald in Lakme, which he sang at Opera Comique.
Commenting on his complete recording of the opera, with Joan Sutherland, Rodolfo Selete wrote,
Vanzo is very fine in the role of Gerald. This internationally renowned tenor has a light pleasant voice. He uses falsetto with musical intelligence, uses great taste in elaborating a musical line. Phrases surely, and with feeling and brings the required assurance to full voice B flats and B naturals.
Altogether, a thoughtful, elegant, and expressive singer.
Narrative 3
For Alain Vanzo, his successful appearances at the opera and the opera comique, opened the floodgates to offers from all over France and the continent.
The international career had begun.
A few highlights:
1957 to 1961, Don Giovanni at the Paris opera
1959 and 1965, the Masked Ball of the opera
1959, la Traviata at the opera
1960, Lucia with Joan Sutherland at the Opera
1961, Lucia with Joan Sutherland at Covent Garden
1962, his first Romeo, at Leon
1968, Don Carlo at the Paris Opera
1969, his first Benvenuto Cellini, at Toulouse, again in
1972, at the opera and
1982, at the Cologne, Buenos Aires.
1973, his first Sonnammbula at Nice
1976, Faust at the Metropolitan, New York, alternating with Gedda
And of course, Manon, countless times, the world over.
Here he is now, in the Angels of Paradise aria from Gounod's Mirelle.
Narrative 4
Vanzo and Krauss are what we would call, long-lifed tenors.
Both taking great care of their voices in relation to their repertoire. Neither sang Verta before the age of 40, and Vanzo was 45 before he would tackle Bizet's Carmen. Being a consummate musician, like Krauss, Vanzo knew very well the importance of adding to his repertoire, only when his voice was ready for heavier parts.
I should perhaps mention here that Vanzo had successfully written an operetta and an opera.
Produced at Leon in 1972 and Avignon in 1982, respectively. Vanzo's repertoire has therefore carefully been built up over the years to include both French and Italian roles.
He had sang in Traviata and Rigoletto, dozens of times at the opera. Boheme and Butterfly at the opera comique.
He sings Mierbeirre, Eugonos, for the French radio in 1976, and Robert the Devil at the Paris opera, in 1985.
He did turn down a complete recording of the prophet, though for CBS, on the grounds, that the role was too taxing for his voice.
The role went to McCracken instead. For though, essentially a lyric tenor, Vanzo is quite capable indeed, was extremely popular in Italian verismo roles.
Let his La Boehme speak for itself.
Narrative 5
Vanzo has one of those voices that are just made for the many wonderful duets, that are so frequent in French and Italian opera.
On that historic night, of the 20th of April 1965, when Marilyn Horne was replaced in Lucrezia Borgia, by the virtually unknown Montserrat Cavalier.
The man singing the role of Gennaro was Alain Vanzo, and he was with her again in Barcelona, with Anna Morpho in Monte Carlo, but Valerie Masterton in Balboa, with Elaina Contrabass in Paris and with Joan Sutherland in both Paris and Covent Garden.
But we take our farewell of him, trying Marilyn Horne and Nicolai Zuccari at the conclusion of Thomas' opera, Mignon.