The History of The Tenor Narrated
The History of Giuseppe Anselmi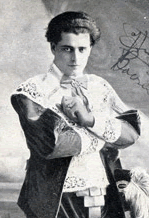 Giuseppe Anselmi
Born: November 16, 1876, Nicolosi
Died: May 27, 1929, Zoagli
Italian tenor.
Anselmi came from the Catania area on the east coast of Sicily. He studied violin and piano at the Naples Conservatory as a teenager, and then joined an operetta troupe with which he toured Italy and the Middle East. The music publisher Giulio Ricordi allegedly heard him and advised him to undergo vocal instruction with Luigi Mancinelli, one of Italy's leading conductors.
According to some sources, Anselmi's first appearance on stage in an operatic role happened as early as 1896, when he sang Turiddu in Greece. His Italian operatic debut took place in Genoa in 1900 and his career took off quickly from there. He appeared initially at the Teatro San Carlo, Naples, in late December of that year and, in 1901, at the Royal Opera House, Covent Garden, London. Engagements at La Scala, Milan, and the Monte Carlo Opera ensued in 1904 and 1908 respectively. He was much admired at the Teatro Colón in Buenos Aires and also sang in Brussels, Berlin and Vienna prior to World War I. His greatest triumphs, however, occurred in the cities of St Petersburg, Warsaw and, in particular, Madrid, where he even eclipsed the famous tenor Enrico Caruso in popularity.
Although his style of singing was not liked at first by the London newspaper critics, he nonetheless became a favorite with audiences in the British capital, and he sang intermittently at Covent Garden until 1909.
Anselmi's operatic career tailed off at the end of World War One. He spent his remaining years teaching and composing music in Italy. He also gave the odd concert. Anselmi died in 1929 of pneumonia at Zoagli in the Italian province of Liguria. He had retained a deep affection for Madrid and he bequeathed his heart to that city, where it was exhibited inside an urn at the Teatro Real museum.
Commentators often describe Anselmi (and his famous contemporary Alessandro Bonci) as being among the last exponents of the old bel canto method of Italian singing, which was largely supplanted in Italy during the early 1900s by a more forceful mode of vocalism associated with verismo opera.
Anselmi had a sweet-toned if rather throaty and fluttery lyric tenor voice which he employed with memorable grace and elegance. His upper range extended to a strong high C but his lowest notes were not so secure. He looked good on stage and was film-star handsome, which made him extremely popular with female opera-goers.
He was noted for his performances as Almaviva and Don Ottavio but he also excelled in the roles of Edgardo, Ernesto (in Don Pasquale), Duca di Mantua, Alfredo, Faust, Enzo, Cavaradossi, Loris and Lensky, among others.