The History of Lev Klementyev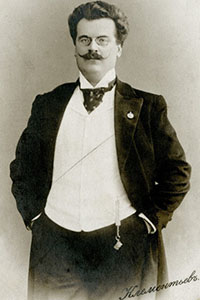 Lev Klementyev 1868 to 1910 was a Russian tenor, who first appears in 1887 in Krakow and St Petersburg.
The season 1888/89, he appeared with Settov, private opera in Kiev.
The 1889/90 season he spent in Tiflis.
Moscow saw him in 1890/1891 season, where he sang in operetta.
His success must have been noticed, as he was invited to join the Bolshoi company, where he appeared regularly in opera until his death in 1910.
During his stay at the Bolshoi, Klementyev was called upon to create many new roles, in the first performances of certain operas at that house.
Among these, were Bobyl in the Snow Maiden, Volinsky in Corishanko's Ice Palace, and Rodolfo in Que's Angelo.
His most successful interpretations, where those of Herman in Petedam, Raul in Les Euganot and Lenski in Eugene Onegin.
In 1903, a mamentive private opera in St Petersburg, he was the first Russian in Nero in Rubinstein's opera of that name.
You may remember that the creator of the role was a Herman Wilkommen.
Here is Klementyev in Nero's aria, Ah Mon Sort.
Ah Mon Sort / Nero / 1900 – Lev Klementyev

The History as it was Recorded