The History of The Tenor Narrated
The History of Mario Chamlee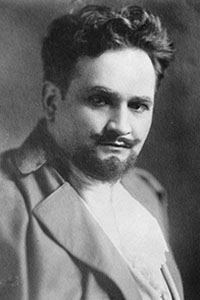 Chamlee, Mario
Born: May 29, 1892
Died: November 13, 1966
American tenor.
Mario Chamlee was born in Los Angeles, May 29, 1892.
His original name was Archer Cholmondeley. He first studied voice with Achille Alberti in Los Angeles, and later with Sibella and Dellera in New York. He made his debut in his native city in 1916 as Edgardo in Lucia di Lammermoor.
A year later Mr. Chamlee went on tour with the Aborn Opera company where he sang with soprano Ruth Miller who in 1919 became his wife.
With his two-year military service, during World War I, his singing career came practically to a total halt. Upon his return to the US in 1919, however, Mr. Chamlee devoted himself to developing his operatic talent.
Engagements followed with various opera companies in the US, the Scotti, Metropolitan, Ravinia summer opera in Chicago, San Francisco, and in Europe. Perhaps his most acclaimed appearance was in Henri Rabaud's Marouf at the Paris Opera.
Mario Chamlee retired from the opera stage at the age of 47.
He subsequently devoted himself to singing popular songs, taking part in talk shows such as Tony and Gus, and teaching voice together with his wife.
He recorded exclusively for Brunswick records.