The History of The Tenor Narrated
The History of Mattia Battistini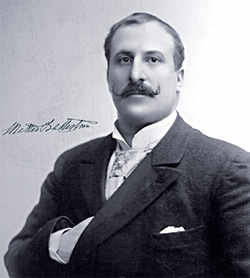 Mattia Battistini
Born: 27 February 1856
Died: 7 November, 1928
Italian tenor.
By the time he began his career at the age of twenty-two, he had already familiarised himself, through extensive study with the famous Persechini, with a considerable portion of the baritone repertoire, including principal roles in La Favorita, Aida, Don Carlos, Un Ballo in Maschera, Rigoletto, Luisa Miller, Lucia di Lammermoor, La Traviata, Don Sebastiano, La Forza del Destino, as well as Ruy Blas by Marchetti, Jone by Errico Petrella, and Giovanna di Guzman (the first version of I Vespri Siciliani).
Blessed with uncommon physical strength Battistini was known to give as many as thirty-four encores after a full recital. He was able to perform every night of the week, and found little difficulty in tackling different roles on consecutive days. The ardency of his devoted fans was such that they would tend to him, reverently wiping his brow, or, if deprived of his actual presence, would break shop windows so as to steal a photograph of him.
The Tsar of Russia, who only received the most elite in St. Petersburg, welcomed Battistini back for twenty-six winters, until war and revolution swept the land.
The Americas were also keen to witness the artistry of the last Divo, but were to be less rewarded: although he visited South America early in his career, the experience of a violent sea storm led to his vowing never to cross the Atlantic again.
He kept to his word, despite the blank cheques, extravagant promises and multifarious offers from opera companies in the United States.
He did, however, travel widely within Europe, and conquered his fear of the sea many times to visit England.