The History of The Tenor Narrated
The History of Dmitri Smirnov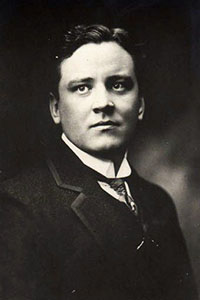 Born: November 07, 1882 in Moscow
Died: 14 July 1937, Barcelona
Russian Tenor.
While he never achieved internationally widespread popularity, Smirnov was one of the most admired Russian tenors of his day, with a fine natural technique, and the ability to impress in Russian, French, and Italian repertoire.
Relatively little is known about his early years, but Smirnov seems to have sung as a boy in church choirs and as a young man in the Mamontov Opera Company. His solo opera debut was in 1903 as Gigi in Esposito's Camorra at the Hermitage in Moscow, and he toured with the company in that role.
After this, he studied with Pavlovskaya, and in a singing competition, won a two year contract with the Bolshoi, where he made his unofficial debut in 1904 as Sinodal in Rubenstein's The Demon and his official debut later that year as the Bayan in Ruslan and Lyudmila. His first appearance outside Russia seems to have been a Paris concert in 1906.
His Monte Carlo debut was in 1908 as Nadir in Bizet's Les Pêcheurs de Perles. The following year, he made the first of nearly 100 recordings, for Gramophone. In 1910, he made his Metropolitan Opera debut as the Duke in Verdi's Rigoletto, and toured South America the next year.
He found his most congenial audiences in Europe, particularly France and Monte Carlo, choosing not to return to post-Revolutionary Russia, though he was, unusually for an expatriate, allowed to return to Russia for two concert tours.
In the 1920s and '30s, he focused more of his energies on teaching than on singing, though he still gave recitals and in 1928, played Peter the Great in a silent film, probably filmed in Berlin. ~ Ann Feeney, All Music Guide