The History of The Tenor Narrated
The History of Vasili Damaev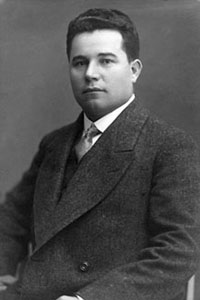 Born: 1878
Died: 1932
Russian Tenor
From 1903 to 1905 he studied at the Moscow school for music and drama. In 1906 he joined the Zimin Opera, where he prepared his roles with P. Olenin and Emil Cooper.
He made his debut as the False Dmitry in Boris Godunov, and he remained with the company until 1920, with a repertory of more than 50 roles. On the invitation of Serge Diaghilev, he sang the False Dmitry, Andrej Khovansky (Khovanshchina), and Mikhail Tucha (Ivan the Terrible) in the 1909, 1911 and 1913 seasons of Russian music in Paris and London.
After singing with several Moscow opera companies, including the Bolshoi opera, (in December, 1919, at the Zimin Opera, he sang the False Dmitry in casts headed by Fedor Chaliapin), he became the director of the Aquarium Theatre.