The History of The Tenor Narrated
The History of Lucien Muratore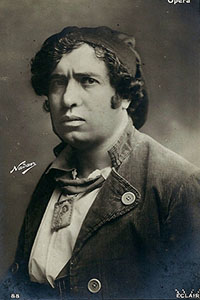 Born: August 29, 1878 Marseilles
Died: July 16, 1954, Paris
French tenor.
Narration 1
We could not select a more interesting artist to follow Ancelmi, than our next tenor the Frenchman, Lucien Muratore.
It will be fascinating to compare him immediately. Because Muratore was another of those very individual and stylish singers, that we come across from time to time in this survey, that, like Ancelmi, gained their reputations, not just for voice alone, but with a combination of style, elegance of dress, and deportment, charismatic stage presence and technique.
That Mario was first to demonstrate to the full in the 1860s and 70s. But which unfortunately, cannot be transferred to a gramophone record. Even here though, the very essence of the man can be caught in the careful attention to the mood of the peace and the grace and style of the singing. Not to mention lovely voice, which is used only as part of the integral whole, subservant to the music at all times and never as a vehicle to be shown off for its own sake.
He was born in Marseilles on August the 29th 1878, and in view of what has already been said, you will not be surprised to learn, that he was an actor before he started singing. He even appeared with none other than Sarah Bernhardt, where in the play he had something to sing.
The great French singer Emma Calve, happened to attend this performance and urged him to start studying singing. She herself coached him for the role of the king, in a new opera by Ronaldo Han the Carmelite, which received its world premiere at the opera comique on the 16th of December 1902.
Of course, with Calve in the title role and Muratore making his operatic debut in the premier of a major work at that time. Something for the Guinness Book of records perhaps. This auspiciously launched, Muratore's career flourished very quickly, and he was seen in big demand.
Being an actor, it was natural that his acting was far above any of his rivalry. In fact, he was always considered an actor singer. In much the same way as his illustrious predecessors, Neurite and Vigna.
He was Faust at the Paris opera in the famous revival of 1906, with a Francois Del Mar and on March 13th of the same year, he created the tenor lead in Verve's opera Monna Vanna, with the outstanding cast of Muratore, Breval, Delma, and Vanimarcou. Here is a memento of that occasion.
Narration 2
Other works he created at the opera where, Masne's Roma and also his Ariane. While at the opera Clinique, he sang in Traviata, Carmen and Minion. He also created several long-forgotten operas there, the most important of which was a Foree's Penelope in 1913.
His repertory embraced some 50 operas, ranging from lyric to dramatic, including Bel canto and contemporary styles, French and Italian. Though he did sing successfully in operas like Murelle and Lagme, he was at his best in interesting roles which gave him opportunity for strong acting. This he was considered by far the best Don Jose ever seen in Carmen.
He made Cavaradossi in Tosca, into a real human being and he helped operas, such as Fedora, Siberia, Germania, and Amore D'etrere to temporary success, because of his sublime interpretation of the heroes. A story that was told by his colleague Rubidoux chose the kind of artist he was.
In order to have his fencing in operas like Faust, Romeo and Euginos, look as authentic as possible, he took pains to take lessons from the greatest authority in historical fencing. So that his fighting in Euginaus, would have an entirely different spell from that in Faust.
Eubadore said that nobody in the theatre would notice such a detail. Muratore stiffened. And drawing himself to his full height declared, "there is always one person in the theatre who notices and who cares, and that is myself".
Muratore appeared regularly in Brussels, Bordeaux, Marseille, Nice and Monte Carlo. Before making his American debut at the Chicago lyric opera on December the 16th 1913 as Faust. And he was an instant success there.
We know already that Bassi, McCormick, Dalmorez, Constantino and Campagnolo were on the roster, but for nine years he was as popular as any, perhaps most popular of all.
Because the French repertoire was extremely popular in Chicago, because of the immense appeal of Mary Garden. And this gave him the chance to sing in the main repertoire of the house, with the great singing actress of the day, and no one could out act him.
His second marriage was to one of the most beautiful looking sopranos of all time, the delectable Lena Cavaliere, herself a popular artist of this period. And they appeared together in many parts, both in France and America.
In France his career continued until the mid-1930s, his last years were spent teaching in his beautiful studio in Paris.
He died in his studio after a lesson on July the 16th, 1954.
Let's hear him now, in both French and Italian roles. Firstly, from Masne's Mano, the famous, Ah Fuyez Douce maj and the equally famous Amor Ti Vieta, from Giordano's fedora which he sings quite happily in Italian, we note.
Narration 3
Leo Raymonds, the famous writer and collector, writes of his records thus. "It must be said that the Muratore's records always slightly disappointed me. One expects more, forgetting that he was a case as Chaliapin and Vani Marcoux".
He was an all-round artist, who should have been seen as well as heard. The voice in itself was not intrinsically a great one, but he used it with consummate artistry. And his records are object lessons in style. The first he made with Columbia on two-minute cylinders. Seven titles being known.
Then came three Pathe cylinders, also issued on disc and also made in 1903. The following year yielded two doutre cylinders, his first life Bearraza.
In 1905 followed a long list of two-minute Edison cylinders and then some more pathe discs. On needle cut records he made a few black G&T's in 1903, four titles for Odeon, and almost simultaneously, a number of green zona phones and black G&T's, probably of the same origin. Because many green zonas started their life as black G&T's. Then recorded for favourite, and the small French company, Eden. His most important records, however, were made in America, for the American branch of Pathe, using the hill and dale method. These include his only duet with Lena Cavaliere, and several items sung in Italian, both opera and song.
He even made a record in English of the star-spangled banner; those were made in 1916 to 1918.
For ten years he did not seem to have recorded, but in the electrical era, he returned on pathe, who in this group, much more extensive than in generally believed, he did not include operatic items, but concentrated on French art songs and popular Neapolitan songs.
What better way to finish up then, than to hear the only duet Muratore and Cavalier made together. A little song, Foret De Noel