The History of Edward Johnson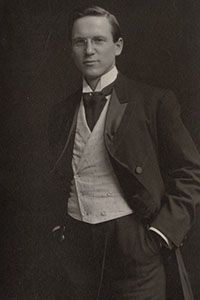 Born: August 22, 1878 – Guelph, Ontario, Canada
Died: April 20, 1959 – Guelph, Ontario, Canada
Canadian tenor.
The father of the Canadian tenor and impresario, Edward Johnson (Edoardo di Giovanni), hoped he would become a lawyer, but in 1899 he went to New York to study music.
In 1902 Edward Johnson was the hero in De Koven's Maid Marian in Boston, and he starred on Broadway in 1908 in Straus's A Waltz Dream. On Caruso's advice he went to Florence in 1909 to work with Vincenzo Lombardi.
As Edoardo di Giovanni he made his operatic debut in 1912 in Padua in Andrea Chenier. He sang in premieres of works by Pizzetti and Alfano, in Parsifal in Italian, making his La Scala debut in 1914, and in the Italian premieres of Puccini's Il tabarro and Gianni Schicchi (1919, Rome).
Edward Johnson left Italy to become the leading tenor of the Chicago Opera from 1919 to 1922, making his debut there as Loris in Fedora.
Following that enagement he was the leading tenor of the Metropolitan Opera in New York from 1922 to 1935, making his debut as Avito in L'amore dei tre re. He was favourite there as Pelleas, Romeo and Peter Ibbetson, a role he created in the Deems Taylor opera. Also in his repertory were Siegfried and Faust, a role he sang at Covent Garden in 1923.
Edward Johnson's musicianship, romantic appearance and ability to project a character were coupled with a lyric voice of good quality and range, a sound technique and a seldom-used but easy high E.
He followed Herbert Witherspoon, Gatti-Casazza's successor, as general manager of the Metropolitan from 1935 to 1950, successfully guiding the company through the war period.
Depuis Longtemps / Louise / 1900 – Edward Johnson

The History as it was Recorded