The History of The Tenor Narrated
The History of Nicolai Gedda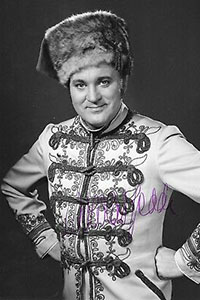 Born:
Died:
Swedish Tenor
The Swedish tenor Nicolai Gedda was one of the most versatile and cosmopolitan singers of the 50s and onwards, as much admired in concerts and recitals as in opera, and fluent on stage in at least six languages. He always used his strong, evenly produced and attractive voice with a fastidious sense of style and in order to communicate as directly as possible with his audiences. His considerable height and presence further enhanced his appearances on the concert platform.
He first came to international attention when the record company EMI got wind of his stage success in his native Sweden, and immediately cast him as Dimitri, the young pretender, in a groundbreaking recording of Boris Godunov (1952), with Boris Christoff in the title role. By the end of that year, he had also recorded Bach's Mass in B minor with Herbert von Karajan. These discs immediately disclosed the beauty and strength of Gedda's gleaming tenor, and his course was set.
Sign up for the Sleeve Notes email: music news, bold reviews and unexpected extras
Read more
Karajan took him to La Scala, Milan, where he made his debut as Don Ottavio in Don Giovanni (1953). Another early success in a taxing role was the occasion of his Paris Opéra debut, when he undertook the exacting part of Huon in a revival of Weber's Oberon (1954).
In 1955, he made his first appearance at Covent Garden, as the Duke of Mantua in Rigoletto, a debonair and vivid reading. Then, in 1957, the Metropolitan in New York beckoned: he made his debut at the house in one of his best roles, the title part of Gounod's Faust, announcing his gifts in French opera. During the following years he sang more than 250 times with the company in no fewer than 22 parts, among them Anatol in the premiere of Samuel Barber's Vanessa (1958) and Kodana in the first American performance of Menotti's The Last Savage (1964).
One of his outstanding successes came in the title role of Berlioz's Benvenuto Cellini, which he first undertook at the Holland festival in 1961, then at Covent Garden in 1966, creating some of the decade's – maybe the 20th century's – most compelling sounds in the tenor repertory. In 1972 he recorded the part in Colin Davis's notable Berlioz cycle.
Gedda was an unforgettably poetic Lensky in Tchaikovsky's Yevgeny Onegin, a noble Lohengrin, a romantic young lover in Gounod's Romeo et Juliette, lovelorn in the title role of Massenet's Werther, an ebullient Riccardo in Verdi's Un Ballo in Maschera – and a complete master of the lighter idioms of Offenbach, Johann Strauss and Lehár, as his long list of EMI's recordings in that genre demonstrate.
Gedda was helped into music by his background. He was born to poor parents in Stockholm and brought up by his aunt, Olga Gädda, whose maiden name he adapted and used professionally. Olga's Russian husband, Michael Ustinov, was a member of the Kuban Cossack Choir and subsequently choirmaster of the Russian Orthodox church choir in Leipzig.
From childhood, Nicolai was able to speak Swedish, Russian and German, to which he soon added English and French at school and, in the course of his career, other languages. As a boy in Leipzig, he also learned to read music and sang in a children's quartet. The family left Germany for Sweden in the 1930s, and although he sang in church in Stockholm when his voice broke, he seemed to be destined for a career in banking. But one of his customers, a member of the Royal Opera orchestra, advised Gedda to seek out Carl Martin Oehmann. He took lessons with this notable Swedish tenor, whose voice Gedda's closely resembled, for two years, and also studied composition at the Swedish Royal Academy of Music.
In 1951, he made his stage debut, at the Royal Opera in Stockholm, in a modern work, Heinrich Sutermeister's Der Rote Stiefel. The following year he undertook the part of Chapelou in Adam's Le Postillon de Lonjumeau. His elegant and exciting performance of the character's fiendishly difficult aria, which he soon recorded for posterity, won him his spurs with the public.
For all his stage activity, Gedda found plenty of time for the interpretation of song both in recital and on disc. His repertoire in this field extended from Schubert through Richard Strauss to French and Italian art song, but he was perhaps at his most winning in Tchaikovsky and Rachmaninov. To their romances he brought an uninhibited ardour combined with the nostalgia that permeates so much Russian song. There was always a sure, instinctive understanding of the style needed for different genres.
His fluency in English is shown in his recording of Elgar's The Dream of Gerontius (1975), under Adrian Boult. Gedda once commented: "To know a language is not enough. You must study the inflections and speech rhythms so that you understand all the shades of meaning. Only then can you reflect what the composer is trying to say."
He went on singing well into his 70s. One of his last appearances on stage came in 1997 as an elderly patriarch in Covent Garden's staging of Hans Pfitzner's Palestrina, the title role of which he had sung and recorded more than 20 years earlier.
Over a career of more than 40 years, he brought pleasure to all those who appreciate a discerning interpreter with a heaven-sent voice. In person, Gedda was charming, exceptionally intelligent, gregarious and always ready to discuss his art with a view to improving it.
In 1977 he published his memoir, Gavan Ar Inte Gratis (The Gift Is Not Free, 1977) with the writer Aino Sellermark (pen name Anna Maria Berman), whom he married in 1997. In it, he wrote frankly about his indifference to fame and dedication to art.