The History of Luigi Alva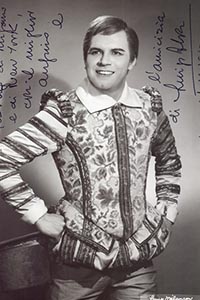 Born:10 April 1927
Peruvian Tenor
As we have discovered during our survey, a rare bird is the South American tenor.
I have expressed surprise before, that no internationally known tenor has yet emerged from Argentina or Brazil, both countries that idolized many of the earlier subjects of this survey.
On this occasion, our introduction is to Luigi Alva, born on the 10th of April 1927 in Lima, the capital of Peru.
He studied in Lima with Rosa Morales and later in Milan with Emilio Ghirardini, at La Scala school.
He then spent a year as a cadet in the Peruvian Navy.
His debut was in 1949 in Lima, in a zarzuela called Luisa Fernanda.
His European debut was at the Theatre Nuovo, Milan in 1954, as Alfredo, in Verdi's La Traviata.
He sang in Cimarosa', the Secret Marriage, to open the now famous, Piccolo Scala in 1955 and in 1956 at la Scala itself, he sang Rossini's Almaviva in the Barber of Seville. A role in which his admirable, sense of comedy, and lack of exaggeration, were to win him admiration on many of the world's stages.
When I looked through my own collection, to see what I could discover of the singer, I was surprised to find, that I had extracts from, no less than, three complete recordings of the Barber with Alva as Almaviva.
That being the case, I've decided to let you hear a little from all three. In a roundabout way, that is.
The celebrated aria, Ecco Ridente is in two parts, the second part beginning the faster section with the runs.
I've taken the first part, from the 1972 Decca recording with the London Symphony Orchestra, under Abadi, when the singer was 45.
And the second part from the HMV 1963 recording with Victoria Guy conducting the Royal Philharmonic Orchestra.
Then back to his earliest recording, made during the late 50s, for a bit of fun with Callas and Gobbi.
Ecco Ridente / Barbiere / 1972 & 63 – Luigi Alva
Trio with Callas with Gobbi / Barbiere / 1958 – Luigi Alva
Alva has sung regularly in Milan, including two premiers of modern works, and at the Metropolitan Opera, where he made his debut, as Fenton, in Verdi's Falstaff in 1964. And he has appeared at the Aon Provence, Salzburg, and Glenburn Festivals, where his elegant and refined style, were much admired in Rossini and Mozart.
He must have had a good reputation with conductors, for an audition to Barbers for Galliera, Guy and Abado, he was chosen by Richard Boyne for Alcina, Clempera for Cossi van Tutti, Varveso for the Italian and Algiers, Serafin for Elysia Damore, Von Karajan for Falstaff, and by Juillene by Don Giovanni.
John Steane describes his il Mio Tesoro in this Don Giovanni, as a model of technical mastery and artistic brightness.
So, that seems a good point to take our farewell.
Il Mio Tesoro – Luigi Alva

The History as it was Recorded