The History of The Tenor Narrated
The History of Rudolf Schock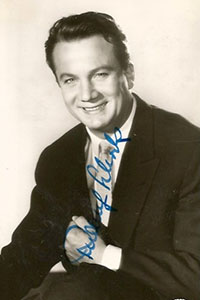 Born: September 4, 1915
Died: November 13, 1986
German tenor.
The German tenor, Rudolf Schock, was born in Duisburg on the 4th of September 1915.
Schock was the direct successor of Richard Tauber in Opera, Operetta in concert in Germany and Austria.  And he was popular here.
I recall with great pleasure, many an evening, spent with a friend listening to his weekly broadcasts in the 1950's.
He began in the chorus of a Duisburg opera in 1936.
In 1937, he had been promoted to leading roles at Brunswick, Pinkerton in Madame Butterfly, the Duke in Rigoletto, and Tamino in the Magic Flute.  And he was only 22.
The second world war interrupted all his plans, and it was 1945 before he could resume his career.  This time with the opera at Hanover.  Then came the state opera in Berlin.
1948 saw him at the Bioroid festival and in 1949, he was the first German singer, to appear at Covent Garden after the war.
Success came fast and furious from now on.  The Vienna State Opera in 1951, the Edinburgh Festival in 1952, and appearances in Munich, Dusseldorf, and Hamburg.
The Vienna State Opera made him a calmer singer in 1954 and in 1959 he was at Bioroid again, singing Walter in Mastersinger.
And all during his years, he was performing in concerts and operetta all over Germany and Austria.
So, let's sit back and enjoy some of his many fine recordings.  The best being made during the 1950's, when he was at the height of his powers.
I have chosen four diverse items.
A quick peak at his Mozart, Seraglio.
Something from his Italian repertoire.
The MassBall.
Then a rarity from the German School, from Korngold's opera, Die Tote Stadt, the Dead City.
And from his beloved operetta, Johann Strauss's, Tassilo's Song in Vienna.