The History of The Tenor Narrated
The History of Rudolf Schock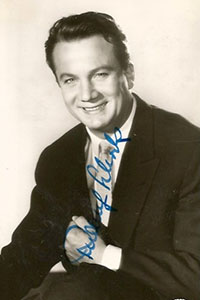 Born: September 4, 1915
Died: November 13, 1986
German tenor.
Rudolf Schock was a tenor with a wide repertory from operetta to Lohengrin, recording among others opera and lieder, doing television, radio and film work. Slim and handsome, he made many films.
His voice falls almost ideally into the heldentenor fach, but Schock explored roles slanted more towards a spinto tenor with effectiveness. Colored distinctly with a rich baritonal quality, Schock's instrument demonstrates impressive flexibility in range and a heroic ring even in its upper reaches. Schock first burst on the scene after World War II in 1947. He was one of the first Germans to sing at Covent Garden in 1949. He sold over 3 million records and his German films made him almost a superstar of his day.
Schock's most impressive performances include the roles of Paul in Die Tote Stadt (Korngold), and multiple Puccini principles.
Schock also interested himself in the develpoment of younger singers. After discovering Karl Ridderbusch at asinging contest, Schock part-funded the bass's musical training.