The History of Ivan Kozlovsky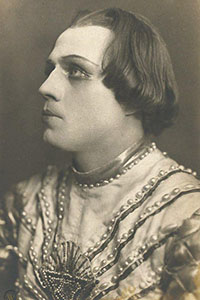 Born: 24 March 1900
Died: 21 December 1993
Russian Tenor
When we come to discuss the Russian tenor, Ivan Kovlovsky, and Sergei Lemeshev, we run into the problem of the cultural iron curtain.
During the 30s and 40's, some very fine Russian musicians remain hidden from our eyes and ears, because of this barrier.
After the war, when their records began to trickle through, it was obvious, that many fine singers, instrumentalists, and conductors, had come to fruition during this period.
One of these was, Ivan Kozlovsky, who is born in Marana Cova, a small rural town in 1900. And he was to sing at the Bolshoi from 1926, well into the 50's. And was still a popular concert artist in his 70's.
Some years ago, that doyen of vocal art, Desmond Shaw Taylor gave a talk on this singer.
This did not escape the eagle eye of Eddie Findlay, and after much searching, we are able to let you have the rare opportunity of hearing some extracts from this broadcast.
Desmond Shaw-Taylor
After the war, when Soviet musicians began to trickle through in our direction, our first contacts were with the fine new generation of instrumentalists. Oistrakh, Alleles, Rishta, and then Rostropovich. Singers were rare visitors.
Most of them never, or hardly ever, came to England at all, and was only by repute and through the gramophone, that we began to discover their characters and merits.

Gradually, the picture cleared, it seemed that at least four remarkable artists, born around the turn of the century, had come to prominence before or during the war.
The oldest was Nadezhda Obukhova, a splendid contralto, later to be immortalized in an admiring discussion in Sloganize novel, the First Circle.

Then came the magnificent base, Mark Raisin, born in 1895 and still living in retirement.
Last, there were two almost contemporary tenors, Sergei Lemashev, who lived from 1902 to 1977, and Ivan Kozlovsky who was born in 1900, and continued his career, to a ripe old age and retired not so very long ago.

The careers of these two tenors ran on similar lines and I imagine that they must have been regarded as rivals, for most of their professional lives.
They began in provincial opera houses, reached the Bolshoi Theatre while still in their 20s, and completed about 30 years of regular service in that famous Moscow house.
Their repertories too were very similar including all the Russian lyrical tenor roles and leading parts in the same category in French and Italian opera.
Little or no Mozart and a Wagner, only Lohengrin and Tannhauser, and I dare say they were not on stage.

Lemeshev had the stronger voice and more masculine style of the tool. Kozlovsky was the more tender and elegiac.

Response to the human voice is a very personal thing and on hearing my very first Kozlovsky record, I realised at once that his sweet tone and caressing style, especially his individual and loving way of uttering words, was just what I most value and most enjoy.

His debut role at the Bolshoi was the Simpleton or Idiot in Movlaski's, Boris Godunov. And this remained one of his famous parts. He played and sang it in the Russian film of the opera.
You may think him rather slow, as he laments the ancient eternal sorrows of Russia, while snow falls about the lonely, bedraggled figure, but no one else makes an impression of such deep numbed pathos in this music.
Idiots Introduction / B-Godinov / 1948/54 – Ivan Kozlovsky
Desmond Shaw-Taylor
During his first decade at the Bolshoi which began in 1926, he interestingly overlapped with some famous singers on earlier generation. In 1933, for example, the famous tenor Sobinoff celebrated his 35th anniversary at the Bolshoi, with a mixed programme, including two scenes from Tchaikovsky's Eugene Onegin, in his famous role of Lenski.
One of these was the scene of the country ball, in which, I believe, the young Kozlovsky sang the little part of Msr Treackae, the French tutor. If so, that would have been a good occasion to catch.

Kozlovsky also used to appear with the famous soprano, Neshdaniva and in 1939 they recorded together with the piano, some duets, including that from the last act of la Traviata with liberal use of portamento.
Parigi O Cara w Neshdanova / Traviata / 1939 – Ivan Kozlovsky
Desmond Shaw-Taylor
But it's time to hear him on his own, in one of the major parts in which he soon showed himself the true successor of Sobinoff and Smirnoff. So, let's have the whole of Lenski's aria in the dual scene from Eugene Onegin.
I say, the whole of it because his performance is much slower and I think, more affecting than anything we are used to nowadays, at any rate, outside Russia.

In the cold snowy dorm, the young poet Lenski, is waiting for the arrival of his best friend, Onegin, with whom he is about to fight a stupid duel and he has a clear premonition of his imminent death.
In this famous scene, I am moved not only by Kozlovsky's tone and phrasing, but by his loving cherishing enunciation of Pushkin's words.
Lens ky Aria / E-Onegin / 1948/52 – Ivan Kozlovsky
Desmond Shaw-Taylor
Song, especially the large and fascinating corpus of Russian song, has played a big part in Kozlowsky's career and now having listened to something so long and slow as that, I should like to show him as a miniaturist, in a setting by Glinka, of more words by Pushkin, "Where Is Our Rose"?

Surprisingly Glinka sets this tiny lyric to music with five beats to a bar, "Where is our rose my friends, yes, it is faded but there is no need for conventional comparisons with the brevity of youth or of life, rather sigh gently and point out to us, a Lily instead".
Where Is Our Rose / Glinka / 19xx – Ivan Kozlovsky
Desmond Shaw-Taylor
When song as well as in opera, Kozlovsky was a prolific record maker, who branched out in many directions. Like most Soviet singers of his generation, he stuck firmly to the Russian language, but he recorded in translation, a complete set of Schumann's Vishwa Lieber and still more surprisingly, Britain Serenade for tenor, horn, and strings, with Gennady Rajesh Penske as conductor.

I'm not sure, quite how long ago this curious unconventional version was recorded, but I doubt, if the justly admired principal conductor of the BBC Symphony Orchestra, would now allow a singer, however eminent to take such liberties, in time and dynamics.
Holding on the top notes, singing phrases that are marked loud, very softly, and vice versa and at the end of The Tennessean setting, actually transposing the two final phrases for the voice on the word dying, an octave higher, and in such a way that the second one supplies, so to speak, its own echo.
How horrified the composer would have been if he had heard it and perhaps, he did.
Serenade Faor Tenor & Horn / (Britten) / 19xx – Ivan Kozlovsky
Desmond Shaw-Taylor
In many ways musical and otherwise, Russia is far more conservative than any western country and Kozlovsky's drawing room style, not of which changed, I should say, since that of pre-revolutionary days, and his free and easy way with composers, notes, and instructions, belong to a tradition now abjured in the West.

But even his Britain record, naughty as it is, contains many beautiful things and reveals a true feeling for the music.
Nevertheless, I must leave Ivan Kozlovsky on his native soil, so to speak, in the music that belongs to him, and suits him to perfection.

What shall it be? Perhaps a suitable choice would be, that hackneyed song of the Indian merchant, in Rimsky Korsakow's opera, Sadco.
Kozlovsky makes us feel as though we are hearing it for the first time, as he spins out its long phrases, yet keeps the whole thing within a single great curve, up to and away from the central climax, finally back again to the seductive and sinuous phrases, with which it began.

This is a merchant, that few customers could resist.
Song Of India / Sako / 1948/54 – Ivan Kozlovsky

The History as it was Recorded