The History of Zurab Anjaparidze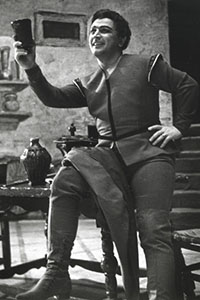 Born: April 12, 1928
Died: April 12, 1997
Russian Tenor
When Georgene Yellop died suddenly in 1957 at the early age of 53, Russia was left without a recognised genuine spinto dramatic tenor. The hunt was on for a successor.
The Bolshoi's net spreads the entire length and breadth of the Soviet Union and good reports are coming in from the southern Republic of Georgia of a young tenor who had graduated from Tbilisi state conservatory in 1952, by the name of Zurub Anjaparidze.
He had made his debut the same year at the Tbilisi state opera and ballet in the role of Burnham in Pagliacci Villi's opera, La Tavra and had developed his career there in such operas as Carmen, Queen of Spades, Aida, Tosca, Aleco, and in several operas by Georgian composers.
But the part which had won him recognition, was as Abessalons in the opera Abessalon and Eterl, Mia Georgia's most famous composer Pallia Schiavelli.
Pallia Schiavelli's operas are considered to be the apex of Georgian opera classics.
They are based on fragments from Georgian folklore. The plot of his opera, Abessalons and Eterl, first performed in Tiflis in 1919, is adopted from the legend e'Tyriana.
It tells the story of the tragic love of King Abessalons to a girl of the Eterian people.
The aria 'I longed for happiness' from Act 3, is full of grief and anguish as the hero mourns his beloved who was poisoned by a sly vizier.
Mokkhah's aria from his opera, Deise is also one of deep sorrow.
During his long absence, his bride Marro, thinking him to be killed, became betrothed to another man.
Both arias are sung in the original Georgian.
Abessalons Aria / AB & EterI – Zurab Anjaparidze
At the world's festival of youth and students in Moscow in 1957, Hansa Parritz had the title of Lorette conferred upon him.
And in 1959 was engaged as a soloist at the Bolshoi opera.
His first appearance there was in Bizet's Carmen and was highly successful.
The review stating that the young Georgian singer, fascinated the audience, by his beautiful voice, phrasing is unusual, but rich timbre, the ease of his vocal technique, fervent temperament, sincerity, and scenic charm.
And so, the singer established himself at the Bolshoi, in such operas as Aida, Don Carlo, Traviata, Rigoletto and Faust, in addition to the usual Russian fair, including special presentations of Pali Villi's operas, Abessalon and Eterl, and Devai.
His fervent temperament has already been mentioned, Georgian men have a decidedly macho image.
So, when he gets the chance to let go in Puccini, we hear this.
No! Passon Son / M / Lescaut – Zurab Anjaparidze
Anjaparidze was a great favourite all over the Soviet Union.
He frequently toured the country, participated in many operatic radio broadcasts, and appeared in many musical festivals in his native Georgia.
He has appeared in Italy, Yugoslavia, Bulgaria, Canada, East Germany and in Scotland.
I heard him in Motherwell, yes Motherwell.
He was a member of a group of a Georgian dancers and singers but of course, at that time, around 1959/1960, he was completely unknown outside the Soviet Union. And in fact, just starting his big career there.
I retain a distinct impression of both his appearance and his singing.
He was a burly young man with heavy dark wavy hair, and with a shiny pail skin.
I remember being rather surprised at that, too much practicing indoors, and not enough sunshine, I concluded.
I did not find the voice particularly beautiful, there was a vibrato, but it was not over intrusive, rather a dry tone, I thought, and a little suspect on intonation at times.
But the top register was brilliantly electrifying and brought the audience to its feet.
Come to think of it, I could have said much the same about Lori Volpi.
We return to Russian opera, to take our farewell of him.
Part of the duet from Tchaikovsky's last opera, Iolanthe, first produced in 1892.
The blind Iolanthe, who was cured by her strong love and passionate wish to see the world.
The theme of the opera being, the victory of light over darkness, of love over death.
Here Anjaparidze is joined by his Georgian compatriot, Maia Amiranashvili.
Finale w Amiranashvili / Iolanthe – Zurab Anjaparidze
FOURTH ARIA – Zurab Anjaparidze

The History as it was Recorded