The History of The Tenor Narrated
The History of Hipólito Lázaro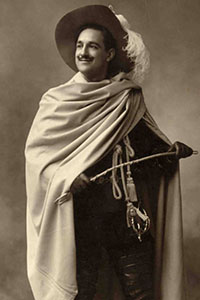 Born: 13 August 1888 in Barcelona, Spain
Died: May 17, 1974 in Barcelona, Spain
Spanish tenor.
Lazaro managed to carve out a brilliant and long-lasting career in an era rich with great tenors, not to mention Enrico Caruso.
Born to a poor family in Barcelona, Lazaro had not so much as a minute of formal training before he made his debut in his hometown in 1910, and though he proved greatly popular from the start, only afterward did he travel to Italy to study voice. Not wanting to dilute his name and reputation, Lazaro sang popular material under the stage name of "Antonio Manuele" for a time to make ends meet while in Italy and by 1913 he had gained the attention of composer Pietro Mascagni, who cast Lazaro in his new opera Parisina at La Scala in Milan.
Lazaro was a success, and this helped pave the way for his triumphant comeback to Barcelona as Rigoletto in 1914. Through the years of the Great War, Lazaro traveled extensively throughout Europe and in 1918 joined the cast of the Metropolitan Opera in New York for a stint lasting two years.
Lazaro did not return to Spain until 1922, when he became embroiled in an open competition with established favorite Miguel Fleta, the public taking sides as to who was a "Fletista" and who was a "Lazarista." Whereas most rivalries of this kind among artists are born of publicity and nurtured by the press, in Lazaro's case it appears that the competition with Fleta was real; in his memoirs published as Memorias y Mi mé todo para el canto in 1947, Lazaro stated about Fleta "I can sing better than that old uncle."
Ultimately, Lazaro returned to the United States and rejoined the cast at the Metropolitan, where he remained a regular staple until his retirement in 1940 at age 53, though he would make special appearances in Spain through about his 60th birthday. Lazaro invested heavily in property in Cuba, and lost it all when Fidel Castro seized the country in the 1959 revolution.
Lazaro subsequently founded a singing school where he helped train a small number of handpicked talents, and it kept him busy until his death at the age of 86 in 1974.