The History of The Tenor Narrated
The History of Georges Thill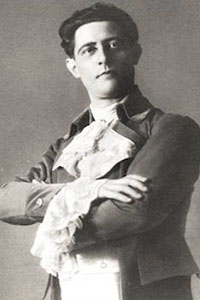 Born: 14 December 1897
Died: 17 October 1984
French tenor.
Narrative 1
We have encountered the name of a George Thill before in this survey.
He was more or less dismissed from Covent Garden in 1928, because of his unsatisfactory attempts to sing Radames in the production of Verdi's Aida there.
He probably took the huff, because he never sang there again and so, one of the France's finest artists, was lost to Covent Garden forever.
He was born in Paris on the 14th of December 1897.
His first studies were at the Paris Conservatoire, which he entered in November 1918, his teacher being Aundrea Gress, who incidentally was Asansho Penza to Chaliapin's Don Quixote at the world premiere of Masni's opera at Monte Carlo in 1910.
In July 1920, he walked off with second prize, after singing the final scene from Lucia de Lammermoor, this did not seem to satisfy Georges, for he decided to study further, with none other than the great Fernando de Lucia, (who we met on our very first page)
He studied with deLucia from 1921 to 1923 at Naples. Got married back in France, also in 1923, and auditioned and was engaged for the Paris opera in 1924, making his debut in Masni's Thais, on the 24th of February 1924.
Nothing recorded from Thais I'm afraid, but here he is, in another Masni piece, Le Cid.
Narrative 2
So, he started right at the top, and there he was to remain for the next 31 years. The Paris Opera was to be his great stage.
He sang there from 1924 to 1940.
I have counted 447 performances there. Needless to say, his popularity at the opera was unbounded. French and Italian opera came naturally to him, De Lucia had seen to that, and he could easily tackle the more lyric German roles. Radames for Covent Garden was a bad choice. Although he was successful there in Samson and Delilah, one of the heaviest of French roles.
Monte Carlo heard him first in 1929 in Romeo, Lohengrin, Carmen, Parsifal, and in a Tosca with Tio, Coznezkov, and Vanimarkou, conducted by Victor de Sabata. And he appeared there again, in every successive year, until 1938.
1929 also saw Thill making his South American debut, at the Cologne in Buenos Aires, singing in Turandot, Andrea Chinae, Pagliacci, Samson, Faust, and Carmen. His colleagues including Raisa, Gianforte, Pazarro and Journee, and he was back again for both the 1930 and 1931 seasons, adding Don Carlos, the Girl of the Golden West, Sadco, Lohengrin, Tosca, Manon, and Mephistofele.
In addition to Buenos Aires, he sang in Rio and Sao Paulo in 1936.
His final appearances at the Cologne were in 1938, when he sang Enruiz Inverta.
He was at La Scala Milan in 1930, singing in Turandot with Nemat, the Girl of the Golden West and Andrea Chinae.
The big event for 1931, was his Metropolitan debut on the 20th March in Romeo and Juliet, with grace Moore and either Tibet or de Luca.
Then came Faust, with Rutberg, Tibet and Pinza and Aida with Retberg, Pinza and Deneze, conducted by Seraphin.
He was back in 1932, for Faust and Romeo again and adding Sadko, and a splendid Lakme, with Tio, Vinnie Ponzi, Routhier, DeLuca and Pinza.
Here then is his Fantasia from Lakme.
Narrative 3
Now we come to one of those special points in our survey.
It would be interesting I think, to be able to study the diary of a famous singer, at the height of his parts. Such information is rarely available of course, but we have it in Thill's case.
I have chosen 1935. When he was 37. And in a year unaffected by war, and the subsequent restriction in travel.
Here then, is the workload of our singer for that year.
I hope you find it instructive:
2nd January, Paris Opera, Faust.
7th January, Paris Opera, Rolaund by Rabo.
11th January, Paris Opera, Lohengrin.
18th January, Concert.
20th January, Lyon Opera, Lohengrin.
23rd January, Paris Opera, Faust.
25th January, Anvert, Theatre Royal, Esqua Mon Masni.
27th January, Lyon, Carmen.
30th January, Vervier, Faust.
1st February, Paris Opera, Faust.
6th February Paris Opera, Lohengrin.
8th February, Paris Opera, Aida.
13th February, Paris Opera, the Damnation of Faust, Berlios.
16th February, Paris Opera, Faust.
22nd February, Nice, Pagliacci.
25th February, Paris Opera, Lohengrin.
27th February, Paris Opera, Maroof, Rabo.
1st March, Paris Opera, Aida.
2nd March, Paris, the Trocadero, Rigoletto.
4th March, Paris Opera, Faust.
7th March, Bordeaux, the Grand Theatre, Faust.
10th March, Bordeaux, Herodiade, Masni.
14th March, Bordeaux, Lohengrin.
19th March, Toulousse, the capital, Lohengrin.
23rd March, Monte Carlo, the Opera, Faust.
27th March, Nice, Aida.
31st March, Lyon, the Opera, Herodiad.
3rd April, Lyon Opera, Pagliacci.
6th April, Nonce, La Traviata.
12th April, Paris Opera, Herodiad.
15th April, Sherbourg, concert.
17th April, Paris Opera, la Traviata.
22nd April, Paris Opera, Herodiad.
24th April, Paris Opera, Lohengrin.
27th April Casablanca, Faust.
30th April Casablanca, Carmen.
3rd May, Rabat, Pagliacci.
7th May, Paris at the post Parisienne theatre, Gala concert France Leha, conducted by the composer.
14th May, Amia, concert.
22nd May, Paris Opera, Pagliacci.
25th May, Paris Opera, Herodiad.
27th May, Paris Opera, the Damnation of Faust, Berlios.
29th May, Laharve, Concert.
31st May, Paris Opera, Faust. Also in May, he was in Paris, to collect the Grand Prix de disc, an award for the finest vocal record of the year, for his outstanding performance in the great scene from Berlios Opera, the Trojans at Carthige.
3rd June, Paris Opera, Romeo and Juliet.
14th July, Vichi, the Casino, Faust.
20th July, La Bou, Concert.
23rd July, Vanyo de Orne, Concert.
25th July, Vichi, Romeo and Juliet.
28th July, Orange, the Damnation of Faust.
1st August, Et Le Bar, Romeo and Juliet.
3rd August, Vichi, the Damnation of Faust.
7th August, Beylabar, Faust.
11th August, Vichi, Herodiad.
13th August, Neri le Bec, Concert.
15th Aug, Truville, Concert.
17th August, Dinar, Concert.
20th August, Notbelgium concert.
22nd August, Hilversum in Holland, concert.
24th August, Ostend, in Belgium, concert.
27th in Builon, Faust.
31st Aug, Vichi, Verta.
15th September, Vichi, Herodiad.
18th September, Villaban, Theatre, Verta.
20th September, Valaunce, Verta.
22nd September, Vichi, Romeo and Juliet.
25th September, Haute concert.
28th September, Anghe, concert.
1st October, Cologne, concert.
4th Oct, Non, Concert.
7th October, Paris Opera, the Damnation of Faust.
9th October, Paris Opera, Lohengrin.
11th Oct, Paris Opera, Aida.
14th and 23rd of October, Paris Opera, Samson and Delilah.
16th October, Paris Opera, Romeo and Juliet.
20th October, Paris concert.
30th October, Paris opera comique, Carmen.
3rd November, Paris opera comique, Verta.
6th November, Paris the opera comique, Carmen.
10th November, the Paris opera comique, Verta.
12th and 18th of November in Geneva, Romeo and Juliet.
21st November, Budapest, Belgrade and Athens in concert.
1st December, Tunis the opera concert.
5th and 8th of December, Tunis, the opera, Carmen.
10th December, Algiers, opera Verta.
12th of 15th December, Algiers opera Carmen.
14th of December, Algiers, the opera, Samson and Delilah.
17th of December, Oran opera, Samson and Delilah.
19th of December, Oran, the opera Carmen.
25th December Fez, concert.
27th of December, Rabat, concert.
29th December, Casablanca, Concert.
So, after such a busy year, let's see if he has enough breath left, to sing us something from Halevy's opera, The Jew, La Juive.
Narrative 4
In 1933, Thill was at the Alessio in Barcelona, singing in Samson and Delilah.
He was involved in a bad road accident in June 1934, and it was December of that year before he was fit enough to resume work.
At the end of 1936, and the beginning of 1937, he toured Russia singing concerts in Moscow, Leningrad, Odesa, Kiev, and Carto.
His only appearance in costume was in Riga, where he performed Lohengrin.
In 1939, with war clouds looming, he sang at the royal Stockholm opera, then it was France for the rest of the war, in opera and concerts.
His final appearance at the Paris opera was on the 30th of December 1940 in Samson.
He arranged a final concert, at the Theatre du Chateaulet in Paris on the 25th of March 1956. And unlike most artists, that was it. No comebacks. No further public appearances.
He was an exclusive Columbia artist, like Rogatschevski. And began recording for them in 1925 and continuing until 1943. 78 double sided records were issued, plus abridged versions of four operas, Carmen, Verta, Louise and Otello.
And there were two non-Columbia items late in his career.
I suppose you may have guessed, what our final record of him will be.
The great Tour de Force, from Hector Beryllias, the Trojans at Carthage, which won him a Grand Prix award in 1935.
Our hero, having completed the Mission of the Gods, and now having to rest himself from the pleasures of Carthage and the Love of Queen Dido, reads this moment of farewell, as his ship weighs anchor.