The History of The Tenor Narrated
The History of Georges Thill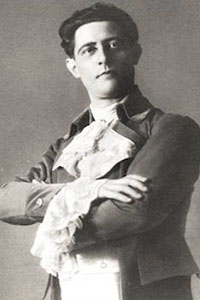 Born: 14 December 1897
Died: 17 October 1984
French tenor.
Born in Paris, his career lasted from 1924 to 1953, peaking during the 1930s.
He was considered to be one of France's greatest lyric-dramatic tenors.
A pupil of the Neapolitan tenor Fernando De Lucia (1860-1925), he made his first appearance at the Opéra as Nicias in Thaïs in February 1924, and continued to sing there regularly until 1940. He appeared at London's Covent Garden in 1928 and 1937.
He made his Metropolitan debut in New York as Romeo in March 1931, remaining on the company's roster until 1932. His farewell appearance was as Canio at the Opéra-Comique in 1953.
His outstanding roles included Don José, Romeo, Julien in Louise, Aeneas, and Samson. He was also a fine singer of Italian and German roles.
Thill made many 78-rpm discs of French, Italian and German operatic arias and recorded a complete performance of Massenet's Werther for French Columbia in 1931.
These records are freely available on CD transfers. The best of them display the gleaming tone of his voice in its prime, as well as demonstrating his exemplary taste. Thill also appeared in several French films.