The History of The Tenor Narrated
The History of Fritz Wunderlich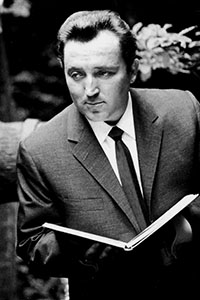 Born: 26 September 1930
Died: 17 September 1966
German Tenor
Narrative 1
On the 17th of September 1966, the German tenor, Fritz Wunderlich, was staying with a wealthy friend who lived near Maulbronn.
He was on a hunting trip there and had retired to his room on the ground floor, for the night.
He left it again, shortly after, to get a book from the library on the first floor. He had slipped his shoes on again but failed to do up the laces.
And on the way back to his room, he seems to have stepped on a shoelace and tripped.
He grabbed at the thick rope, that ran down the side of the stairs, to steady himself. The rope came away, from the wall in his hands and the singer fell headlong onto the stone floor beneath.
He must have turned as he fell and hit the back of his head on the flag stones, for he was already in a deep coma, when he was found and taken to hospital in Heidelberg.
He never recovered consciousness.
Fritz Wunderlich was dead, not quite 36 years of age.
Narrative 2
That was from Nicolai's opera, the Merry Wives of Windsor.
Wunderlich was born the child of poor musicians in Kusel, a small town in the Rhineland, then still part of Bavaria, on the 26th of September 1930.
It was the time of worldwide depression and mass unemployment when people had to count every penny.
His father died early, and his mother eat out a living, giving music lessons.
He was very attached to his native palatinate and its motto, 'rolls, sausage and wine' seemed very appropriate to him.
Especially as he became an amateur, port butcher in his spare time. Spare time, because it looked as if Fritz was destined to become a musician, like his mother and father.
He achieved a fine level of virtuosity on the accordion at an early age, learned several other instruments and found the French horn particularly appealing. Indeed, it was to this wind instrument that he attributed his powerful lungs and long breathe.
He enrolled at the Freiburg Conservatoire with the intention of becoming a horn player, but his fine tenor voice was noticed and was subsequently trained by Maria von Winderweldt, whom Wunderlich always considered, his true mentor.
This next record is from the Czech composer, Smetana's Opera, the Bartered Bride.
Narrative 3
It was the Frieburg Opera House then, that took young Fritz in as an apprentice.
At the age of 25, he was taken up by the Whittenberger theatre in Stuttgart, where he had his initial success.
Wunderlich never lost his love for the theatre and the fatherly figure of Eric Schafer, its administrator. And continued to appear there occasionally after he became famous.
The Munich opera called in 1958 and Vienna shortly after that. And by 1959 he was already featuring in the Salzburg festival.
In Munich, it was chiefly in Mozart roles that he became the star attraction. Tamino, Ferando, Octavio, and Demonte were his roles there and I can never forget that he sang Tamino, for the last time, just a few days before his sudden death, only a few miles away, at the Edinburgh Festival.
Narrative 4
Of course, Wunderlich's early death deprived him of a truly international career.
He sang regularly at the Frankfurt, Munich, and Vienna operas. Guest appearances included Holland, France, Switzerland, and Berlin.
In 1965, he was heard at Covent Garden in Don Giovanni. There seems little doubt, that given time, he would have become a major star during the 70s.
As it is, we are fortunate, that from 1960 he was recorded extensively, so we have those few precious years that have given us, for all time, the memory of this lovely singer.
To take our farewell of him, I've chosen two very contrasting recordings.
From his Italian repertoire, I've selected the love duet from Madam Butterfly, where he is joined by the Spanish soprano, Pillar Loringar, who rather surprisingly, spent most of her career in Germany.
And from the operetta, Das Lied Von Leben from Kunneke's , Die Grosse Sunderin.
A final testament comes from his accompanist, Hubert Giesen. He was an all or nothing man, a man who unswervingly strove to make the best of what nature had given him.
What distinguished Wunderlich above all else, was not just his voice, clear beyond words, not just the intelligence and serious application, with which he studied, but something that can best be described as aggressiveness.
Every note, shot out of his body, he believed in every note, his heart was in every note.