The History of The Tenor Narrated
The History of Emile Scaramberg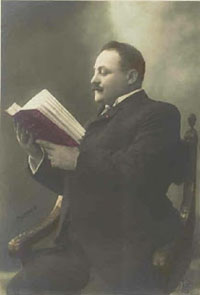 Born: 26 April 1863
Died: 1938
French tenor.
Emile Scaramberg 1863 to 1938 was one of those late starting French singers, that seem to crop up from time to time.
He was 30, when he made his debut in one of Goretti's operas Richard Lelenhertz, in 1893.
He was at the opera comique within a year, and in big demand all over France.  One of his partners being, Adelina Patti, no less.
He sang at the Monet, Covent Garden, Monte Carlo, Antwerp, Moscow and of course the Paris Opera.
His recordings are scarce.  Some favorites of 1905 and 1906, and a few Odeon's.
Here he is, in Lend Me Your Aid from Gounod's opera, the Queen of Sheba.