The History of The Tenor Narrated
The History of Emile Scaramberg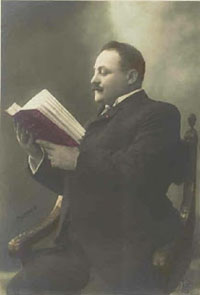 Born: 26 April 1863
Died: 1938
French tenor.
Émile Scaramberg (not Scaremberg, as the name is often spelled) was born on 26 April 1863 in the eastern city of Besançon, historical capital of France-Comté.
After being educated in Paris, he took singing lessons in his native city with a tenor named Perrin, and also played the horn in a local military band. He completed his vocal training with Charles Nicot (1843–1899), whose daughter, taking the name Nicot-Vauchelet, became a distinguished Manon in Massenet's opera.
Scaramberg made his Opéra-Comique debut in April 1893 in Grétry's Richard Coeur-de-Lion. Édouard Noël and Edmond Stoullig, in their Annales du théâtre et de la musique, noted Scaramberg's "very pretty voice, with a likeable timbre, moreover used in a most clever way."
He remained with the company for two years. He also began to appear at opera houses in the provinces—Bordeaux, Lyons (where he sang Werther), Marseilles, Nantes, Nice, and Vichy (where, in 1898, he was Fernand to Louise Homer's Léonor in La favorite on the occasion of her stage debut). In 1894 he sang Turiddu at Monte Carlo.
In the 1896–1897 season, he partnered Nellie Melba at Nice. In 1897, he made his Covent Garden debut as Dominique in the revival of Alfred Bruneau's L'attaque du moulin, which had had its English premiere in 1894. For this London revival, Marie Brema was Marcelline and Jean Noté was Merlier.
In London, Scaramberg also appeared as Raoul in Les Huguenots and as Roméo with Frances Saville, the California soprano, as Juliette.
That same year, Scaramberg sang his first Tannhaüser in Antwerp.
This probably brought him to the attention of the Belgian-Flemish composer Jan Blockx, in whose Herbergprinses (La princesse d'auberge) he sang the part of Merlyn at the French-language premiere in 1898 at the Théâtre de la Monnaie. Kutsch and Riemens mention that Scaramberg appeared at the Bolshoi Theater but do not specify dates or roles.
Recruited by Pedro Gailhard, director of the Opéra, who heard him in Bordeaux, Scaramberg made his Palais Garnier debut as Lohengrin on 23 May 1903, with Louise Grandjean as Elsa and subsequently Aïno Ackté. Stoullig, by then sole author of the Annales, commented on his "likeable voice" and "good stage presence."
His other roles at the Opéra were Roméo, opposite Jane Noria, who made her own debut as Juliette in 1903; Faust, which he sang often, especially during his first two seasons and notably in 1905 for the 1000th Parisian performance of the opera; the Duke of Mantua, invariably with Jean Noté as Rigoletto; Tannhaüser in 1904, with Ackté as Elisabeth; Raoul, with Lucienne Bréval as Valentine, also in 1904; Shabaharim, the second tenor role in Reyer's Salammbô, alongside Bréval and Charles Rousselière; Don Ottavio, with Jean-François Delmas as Don Giovanni, in which role Stoullig pronounced Scaramberg "de style parfait."
In 1904, Scaramberg alternated with Albert Alvarez as Bar-Kokéba in Camille Erlanger's Le fils de l'étoile, alongside Lucienne Bréval and Jean-François Delmas. In 1905 and 1906, he appeared as the Danish Knight in the first modern revival of Gluck's Armide in Paris, with a splendid cast that included Lucienne Bréval in the title-role, Augustarello Affre as Renaud, Dinh Gilly as Ubalde, Jean-François Delmas as Hidraot, Alice Verlet as the Naiad, and Geneviève Vix as Melissa.
His last major role at the Opéra was Radames, which he sang in 1906.
Sudden vocal difficulties cut short Scaramberg's brilliant career in early 1907, and he spent the remainder of his professional life teaching singing in Besançon where he died in 1938.