The History of The Tenor Narrated
The History of Giuseppe Lugo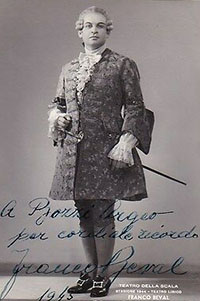 Born: 1899
Died: 1980
Italian tenor.
Giuseppe Lugo was born in Rosolotti di Sona (14 kilometres from Verona), the son of a farmers' family. As a little boy, he moved with his family to Milan after his mother's death. Because of financial hardship, they later immigrated to Belgium, where he started to work in a number of different jobs, to make a living. He worked as a train driver, an employee of the Post Office and also in a coal mine.
Between 1915 and 1918, he did military service and then continued on with odd jobs. In his free time, he sang in a local cafe of Charleroi. One night, by sheer chance, Giuseppe was heard by the leader of the local church and asked whether he was interested in contributing to the church as a choir singer. Giuseppe discovered he had a voice not too many people were blessed with and so he started practising.
In 1924 he returned to Italy to study singing seriously but, being over the age limit, entry to the Milan Conservatory was denied. Luck assisted him when someone from the House of Ricordi heard him sing and referred him to Maestro Tenaglia, who agreed to give him singing lessons for free. On his return to Belgium, he studied under Maestro Gaudier, who later became his father-in-law.
In early 1931, Giuseppe Lugo entered the Roubaix competition and won it.
In October 1931, he made his debut at the Opera Comique, sang Cavaradossi and signed for a three year contract. From 1931 to 1935 he sang in Tosca, Les Pêcheurs de Perles, La Bohème, Rigoletto, Madama Butterfly and Werther in France and Belgium. Between 1936 and 1938, he sang Cavaradossi at Covent Garden with great success and went back to Italy as a fully fledged opera star. In Italy, he made his debut at the Teatro alla Scala as Cavaradossi in January 1937.
He sang in all major opera houses of Italy and extended his repertoire with new roles.
He was Calaf, Johnson and Faust (Boito's Mefistofele). In 1939 he was contracted by the Opera Comique to sing the title role of Werther at a sumptuous gala celebration of the opera's one thousandth performance. He was still in good voice in 1950 but suddenly he stopped singing on the stage. Even his wife, who bore him six children, never knew the reason(s) why, overnight, he stopped singing .
During World War II, he took on a film career but sang on the stage and profusely throughout Italy.* The film 'La mia canzone al vento' earned him great popularity in his native country. Between 1946 and 1949 he made a few wrong financial investments so he decided to return to Belgium to make a fresh start there, with the hope of becoming successful again.
He appeared in small theatres and with little success. He went back to Italy but never made it to the big theatres. In 1949 he made an appearance as Cavaradossi in Tosca at the Teatro Manzoni of Pistoia and in 1950 at Asti, which marked the end of his career. He went back to his native Rosolotti, where he devoted himself to farming for a few years.