The History of Giuseppe Lugo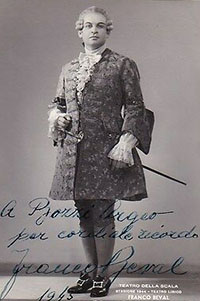 Born: 1899
Died: 1980
Italian Tenor.
With our last subject Rudolf Schock, we came to the end of tenors born before 1920, were to appear in our main survey.
From 1920 on, we have artists, whose prime years could take them into the stereo year of the 1960's.
So, before we begin to look at what we might call the "stereo tenors", we must again pause to look back at some interesting artists with recording careers, that before the advent of stereophonic reproduction.
Giuseppe Lugo for example, although born in Verona in 1900, studied in Belgium and sang for most of his career, in France and Belgium. Making his debut at the Comique in 1930.
He did appear in Italy though, at La Scala in 1936. And at Verona, several times during the late 30's.
I have selected two examples, one from his French Repertoire, the "Pearl Fishers", made in 1932.
And from his Italian, the aria "Recondita Armonia" from Tosca, which he recorded in 1939.
De Mon Amie / P-Fishers / 1932 – Giuseppe Lugo
Recondita Armonia / Tosca / 1939 – Giuseppe Lugo

The History as it was Recorded